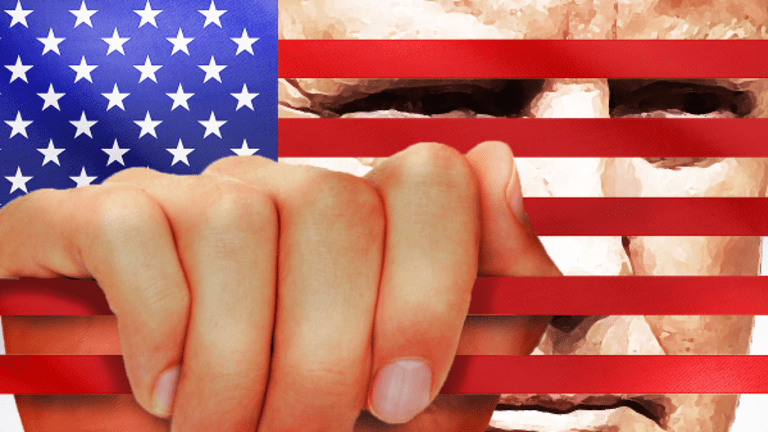 Patriotic Consumers Will Buy American, But on Their Own Financial Terms
The Trump administration's "Buy American" campaign seems to be resonating with much of the nation, but with specific spending limits.
As President Trump touts American-made products, a new study shows that U.S. adults want to buy American, most consumers are on board, but they only want to pay a premium of 15% in doing so.
Here's the skinny.
According to a new study from ReportLinker.com, 57% of Americans say they'll gladly pay more to purchase American-made products, which should be music to the ears of the Trump administration, which is pushing hard on its fledgling "Buy American, Hire American" initiative.
In the ReportLinker survey, over 50% of survey participants say they believe local products "are better quality than goods imported from elsewhere."
"This is especially true among older generations, 59% of whom feel that way," ReportLinker states. "For those consumers who consider origin when buying a product, they're more likely to believe US-made products are higher quality. They prefer to buy American food (64%), beauty and personal care (69%), and clothes (66%) for this reason."
Another 57% say they "value local products and are willing to pay more for them."
But it's the 15% "premium ceiling" that Americans are willing to pay for domestic goods that really stands out.
According to ReportLinker's survey, 80% of those who are willing to pay extra say they're willing to pay a 15% premium, and more than half of respondents said they'd spend 30% more for electronics made in the U.S.
Unsurprisingly, the individuals backing the "Buy American" initiative consider themselves patriots, and are backers of President Trump. In fact, just ask one - he or she will proudly tell you all about it.
"As a former single mom who went through two separate, two-year layoffs years ago, I support President Trump's push to buy American products if and when possible," says Mary Kaarto, a resident of Missouri City, Texas. "The U.S. is a beautiful tapestry of a country filled with a multi-ethnic population among its citizens. We all deserve the opportunity to work to provide for ourselves and our families."
Kaarto says she recently began the practice of closely reading all labels of everything she buys, to see if it's been made in America. "I'll even buy different brands or pay higher prices in order to do so," she adds.
Not everyone is on the same page, as some consumers and business owners cite pricing and availability as obstacles to truly buying American.
"My general impression is that "American-made" is a nice to have, but not a necessity for most consumers," says Andrea Borcea, owner of the Clever Element boutique in Carlsbad, Calif.
Borcea says that finding American-made products at a reasonable price is "actually incredibly challenging" in every retail division, except for women's apparel. (She says it costs her boutique $25 wholesale for a simple men's T-shirt, making it harder to "mark up" and sell the shirts.)
Plus, manufacturers that are claiming to produce items in America "with pride & love" are actually opting to have these items Made in China, Borcea adds.
"I have had to return about 20% of merchandise that I purchased because it was 'Made in America' only to have it arrive 'Made in China,' she says. "Angered, I talked to one of these designers who said they often can't get their ordered items from American factories in a timely manner." Borcea says a clothing designer in L.A. is being quoted "8 to 12 weeks out" by a manufacturer down the block from them, as opposed to "2 to 4 weeks" by manufacturers in China. "Since we still live in a 'fast fashion' economy, 8 to 12 weeks out means the clothing won't sell at all, because it's out of season."
There are some decent, built-in advantages to the "Buy American" mindset, to both consumers and businesses.
"Because shoppers are buying directly from the American hands that make the products, there are no middlemen or other tariffs to be paid," says Jacqueline Verdier, director of Sugarloaf Craft Festivals, in Germantown, Md.
Verdier says that buying American also means you know where your products are coming from, and shoppers feel good knowing they are supporting small businesses and local economies. "At Sugarloaf Craft Festivals, shoppers buy directly from our talented artisans - you can literally shake the hands that make the products, ask about the process, and feel good about your purchases," she says. "It's a fun and creative community where shoppers and artisans connect and build relationships, which is simply not possible if you're buying products from overseas."
"The biggest con is that shoppers might spend more money on a given product," she adds. "But, because the quality is so much better and the meaning so much greater, shoppers feel good knowing that their goods will last a long time and also benefit the American economy."
In the end, most consumers just want to get the best deal, and if that means buying American, great. If it means buying a product from overseas, as long as it fits their needs, that's great, too.
"As a consumer, I'm not always focused on buying American," notes Mike Gnitecki, a Texas resident who works in the medical sector. "To be honest, I am perfectly happy buying foreign if the quality is there and the price is right."
"Besides, I think some of the 'buy American' sentiment is more about not buying Chinese products, anyway," he adds.