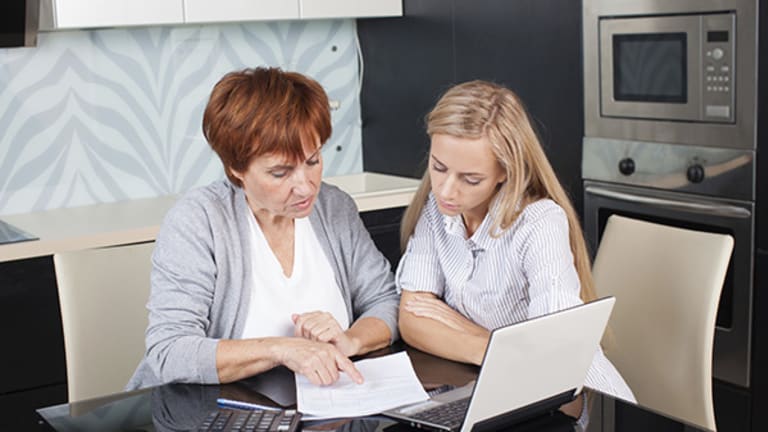 Parents to College-Bound Kids: 36% Of the Bill is Yours
Parents are fighting the cost of college doubling every nine years by getting kids involved, starting 529 funds and a few other techniques.
Parents are fighting the cost of college doubling every nine years by getting kids involved, starting 529 funds and a few other techniques.
NEW YORK (TheStreet) — The projected four-year cost of attending a private college this year is $129,700, according to SavingForCollege.com, while parents with a newborn can expect to pay a staggering $312,000 in another 18 years. That could pay for a five-bedroom/four bathroom home in Conway, Ariz.
Or how about this? A 35-year-old career professional who has $312,000 in his or her retirement account will have $3.2 million for retirement by age 67, assuming an annual income of $55,000 and a 15% annual savings rate.
These figures could lead some to question the sanity of anyone who would spend Between $100,000 and $300,000 or more on college, but that's exactly what parents face in college costs — gritting their teeth, possibly.
But there's a wrinkle these days in college spending: Parents want the kids to help foot the bill.
Fidelity Investments notes in its annual College Savings Indicator Study that the cost of college doubles every nine years, but that parents are combating the escalation by paying 64% of the total and handing the rest over to their son or daughter.
That actually is a good deal for college-age kids, at least in relative terms. In 2012, parents covered 57% of college costs, and they paid 62% of college costs last year. The rest has to come from kids' bank savings, cash from part-time work and student loans.
Parents have come to this decision grudgingly, Fidelity reports. Eighty percent of respondents told the investment firm they are worried about the potentially high cost of student loans, but that's not stopping them from asking their children to help pay for their own college costs.
"Parents are taking a team approach to college funding, which is perhaps a more practical way to look at it, since it can be valuable for kids to have some skin in the game when it comes to their education," says Keith Bernhardt, vice president of college planning at Fidelity.
Fidelity advises parents to create a road map for college that includes input from their kids, a strategy that gives parent and child "peace of mind." Using College 529 plans is another good move — 93% of parents who use them say such plans are a great way to save for college, as well as inspiring confidence that college costs can be managed.
Another tip: Take the money you've been spending on day care (an average of $790 per month, Fidelity says) and put it into a 529 savings plan as your child leaves day care for grade school. 
Parents should also make it known to grandparents, family and friends that gifts for their child for things such as birthdays or graduations should come as a "gift to college savings," Fidelity says. Only 21% of parents make such requests, but Fidelity research shows family and friends are receptive to the idea.
These strategies may not preclude you from asking your son or daughter to pitch in for their own college education. 
That's OK — college students should have some financial skin in the game, and in doing so, they're taking a pressure off their parents and preparing for the financial realities that life brings in adulthood.