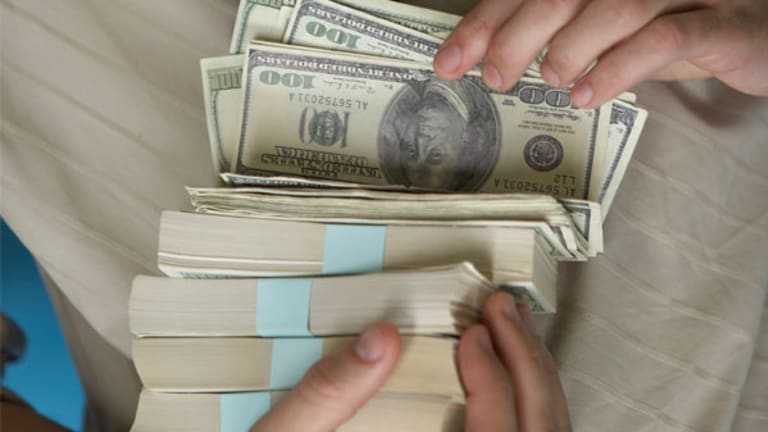 Parents Don't Want to Talk Money With Their Adult Children
Older Americans are putting off talking about retirement preparedness, eldercare and estate planning, and Fidelity says it's not helping.
NEW YORK (TheStreet) -- Money is too often a taboo subject at kitchen tables across the U.S.
But when almost two-thirds of U.S. households of older parents and adult children can't agree on when to talk about family finances, you know you have a problem. A disagreement among 64% of respondents to a Fidelity Investmentssurvey have parents wanting to wait until after retirement for serious talks about such things as retirement preparedness, eldercare and estate planning, while their adult children want to talk before their parents retire or get sick. 
The survey shows families perennially "at odds" over money discussions, with part of the problem being the older generation's hesitancy to discuss personal finances, even with family. It's a combination of respect and privacy issues -- older parents still see themselves as the financial stewards of the family and don't want their sons or daughters taking control, even it's in their best interests, even as a separate 2012 study from Ameriprise Financial shows that only 33% of baby boomers say they are highly confident of their ability to provide financial security for themselves and their family, compared with 51% in 2007.
But what adult children and their parents worry about when it comes to money varies widely.
Also see: More Complicated Modern Families Come With Financial Complications Too
Also see: More Complicated Modern Families Come With Financial Complications Too>>
The Ameriprise report says the top concern among baby boomers is "poor investment returns," understandable given the need to build some capital appreciation for retirement during a boomer's working years. But parents of boomers aren't as concerned about their investments -- their No. 1 money concern is "changes to Social Security" (although both groups do worry about health care costs, Ameriprise reports).
The lack of discussion could lead to big surprises at difficult times. The Fidelity study notes that adult children underestimate the value of their parents' estate significantly, by more than $300,000. Only two years ago, this figure was $100,000, according to Fidelity, and nobody is really sure why that gap is widened.
"These discussions aren't always easy, but there can be real emotional and financial consequences when they don't happen or lack sufficient depth," says John Sweeney, executive vice president of retirement and investing strategies at Fidelity. "It's absolutely critical that families take the time and break down any barriers to sort through important matters related to retirement preparedness, caregiving responsibilities, estate planning and the tax implications of an inheritance. The alternative is putting these matters off until a crisis occurs, at which point the options may be limited and there could be unintended financial repercussions."
Also see: 42% of New Parents Have No Money or Less Than $1,000 Saved
Also see: 42% of New Parents Have No Money or Less Than $1,000 Saved>>
To close that "conversation gap," Fidelity recommends initiating family financial discussions as early as possible. A full 93% of families who did said in the Fidelity survey that it gave them greater "peace of mind."
Fidelity notes that  although adult children should have a say in any money discussion with older parents, final say rests with the parents unless they are mentally or physically incapacitated.
In addition, don't make those family money discussions a one-off. Schedule regular meetings (once a month or quarter should suffice) and keep those appointments.
That should give you and your family a firmer foundation for money discussions, vastly increasing the odds of achieving that financial peace of mind every family wants, but find it hard to get.