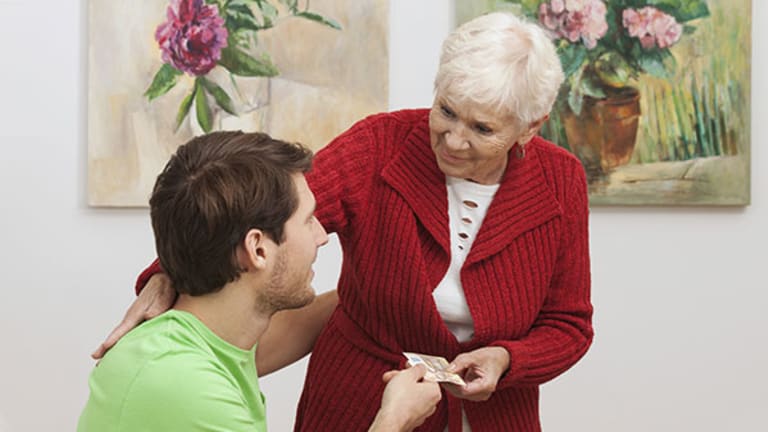 Parents Are Hurting Their Retirement by Doing This for Their Kids
This practice could catch up to folks come retirement.
On the surface, it's tough to say mom and dad are squandering their savings on their children.
It's a harsh charge, until you peel some layers and check key facts and figures -- numbers that make the case for "wasteful" spending by parents on their offspring.
T.Rowe Price has the evidence, in a new release out this week on parents' spending habits:
- 46% of parents have gone into debt to pay for something their kids wanted.
- 57% of kids agree with the statement, "I expect my parents to buy me what I want."
- 58% of parents agree with the statement, "I worry that I spoil my kids."
- 55% of parents have used their emergency funds to cover non-emergencies, including day-to-day expenses (24%), paying off debt (22%), kids' education (20%), and daycare/childcare (13%).
- 41% of parents spent $200 or more on their child's birthday presents in the past 12 months. 
Parents, no doubt, are well-intended in family spending areas, but that attitude is hurting their long-term savings.
For example, according to the T.Rowe Price survey, 67% of parents said that saving for their kids' college education was more important than saving for retirement.
Family finance experts aren't sure that all that spending is strictly wasteful, but any spending that leads to debt can't be categorized as "healthy" spending, either.
"I wouldn't use the word 'wasting'; however, I do notice that parents are spending more on children's financial wants and falling into debt," notes Leslie Tayne, a New York-based finance and debt attorney, and author of Life & Debt.
"As a single parent myself, I'm very honest with my children when it comes to our financial situation," she said. "It's important to communicate your children not only about 'needs' versus 'wants' but also what you can and cannot afford. Their needs to be a financial limit set to avoid falling into debt because of your child's wants."
One big red flag on family spending? If your retirement savings are waning, it could be because you're lavishing the kids with swag they really don't need.
"You should be able to still contribute to your retirement savings while supporting your children's needs and wants," Tayne adds. "Once this gets out of hand, you need to immediately re-evaluate your budget."

One effective way to control family spending is to educate children on the value of a dollar and teach them the importance of sticking to a budget. "Because the spending is often driven by a desire to provide the best for their kids, parents may be more successful in sticking to a budget if they view it as being in their kids' interests," says Shannon McNulty, founder of The Savvy Parents Group and a legal planning attorney based in New York City. "Teaching children about money and responsible spending is one of the most valuable lessons kids can learn."
Parents should also know saving for their own retirement is one of the best gifts they can give to their children, McNulty says. "When children get older, they're unlikely to think an expensive fifth birthday party was worth it, when they're stuck trying to financially support both their own children and their parents," she says. 
Also, simple math tells us that the more unnecessary spending on the kids really does get in the way of a better retirement. "Parents are spoiling their kids by giving them what they want when they want it, but this is dangerous because the earlier they save for retirement, the more they will gain through compound interest," explains Ash Exantus, financial empowerment coach at BankMobile. "Waiting too long can cost parents hundreds of thousands of dollars."
Kids may be used to instant gratification, but not putting restrictions on this behavior can allow finances to spiral out of control. "This can be detrimental to children as they grow older, because they tend to mimic what their parents do, so we perpetuate generations of people having to work well past retirement." Exantus adds.
In a larger sense, spending too much money on children can also become a control issue. The more you spend on them, the less control a parent has over the entire family.
"Stressing about savings while somehow coming up with the money for your kid to attend an extra week of horseback riding camp is something that parents do all the time," says Elaine Rose Glickman, author of the forthcoming book Your Kid's A Brat And it's All Your Fault. "Not only does it give kids an unrealistic understanding of how finances work -- i.e., there is no endless supply of money available to fulfill their needs and wants -- but it also creates a dynamic in which a kid's desires take precedence over the family's well-being. And that's bad for everyone."