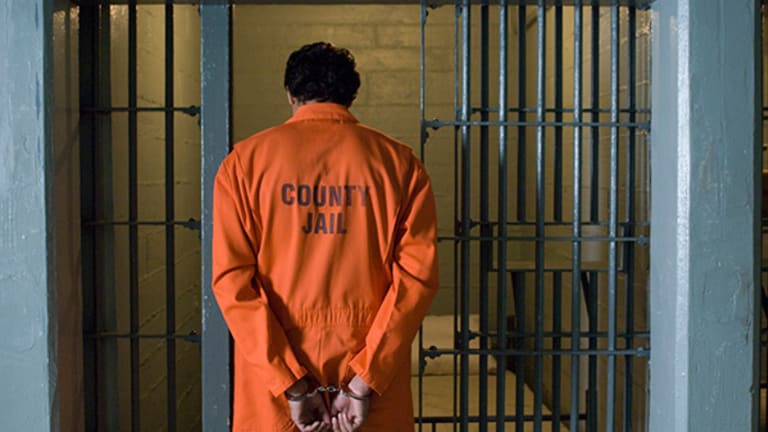 Parental Incarceration Can Be Worse For a Child Than Divorce or Death
The United States has the highest incarceration rate in the world, with over 2 million people behind bars. There have been many studies on how this adversely impacts the economy.
The United States has the highest incarceration rate in the world, with over 2 million people behind bars. There have been many studies on how this adversely impacts the economy.
NEW YORK (MainStreet) — The United States has the highest incarceration rate in the world, with over 2 million people behind bars. That is taking its toll on the incarcerated, local communities and the economy at large.
View Today's Auto Loan Refi Rates
A few years ago, the Vera Institute of Justice reported that the aggregate cost of prisons in 2010 for the 40 states they analyzed was $39 billion. In New York alone, that amounted to $60,000 per prison inmate (in New York City, it's even more expensive at $167,731 per inmate).
Incarceration has become so commonplace in American society that even the public television children's show "Sesame Street" recently introduced a Muppet named Alex, whose father is in jail. More recently, a segment on John Oliver's new HBO show, "Last Week Tonight" took the U.S. justice to task for jailing so many of its own citizens as to necessitate "Sesame Street" characters with parents in prison.
And now a new study published in the September edition of the Journal of Health and Social Behavior explores the actual impacts of being the child of someone in prison.
, which was conducted at the University of California-Irvine, found that the children of those who are serving jail time often suffer from serious health and behavioral problems. In fact, the study suggests that parental incarceration can be more detrimental to a child's overall well-being than either divorce or the death of a parent.
"About 2.6 million U.S. children have a parent in state prison, federal prison, or jail at any given time," said Kristin Turney, study author and an assistant professor of sociology at UC-Irvine.
For her research, Turney analyzed data from the 2011-2012 National Survey of Children's Health, which focuses on a population-based and representative sample children ages 0 through 17.
Specifically, she compared children from similar demographics within this survey, including socioeconomic status.
Her analysis revealed that those children who had a parent in prison also tended to have higher diagnosis rates of attention deficit disorder/attention deficit hyperactivity disorder (ADD/ADHD), as well as being more likely to have behavioral problems, learning disabilities, speech difficulties and developmental delays. Additionally, since poor people and minorities are incarcerated at much higher rates than their white and wealthier counterparts, there are often enormous class and racial disparities in these impacts.
Read More:
"We know that poor people and racial minorities are incarcerated at higher rates than the rest of the population, and incarceration adversely affects the health and development of children who are already experiencing significant challenges," said Turney, who presented her study's findings at the 109th Annual Meeting of the American Sociological Association in mid-August.
A 2013 survey by the Pew Research Center found that blacks are incarcerated at six times the rate of whites. Meanwhile, Hispanics are incarcerated at a rate that is 2.5 times that of whites.
The racial implications of this are that minority children suffer disproportionately from having an imprisoned parent.
According to Turney, about half of all black children who have fathers without a high school diploma will experience parental incarceration by age 14, compared with 7% of white children with fathers who have similar educations.
"[G]iven its unequal distribution across the population, incarceration may have implications for racial and social class inequalities in children's health," Turney said. "Physicians serving poor communities where incarceration is common may consider screening children for parental incarceration, as it is a [health] risk factor."
However, some wonder if it is so much incarceration that is impacting the children as the reason for incarceration, such as mental illness, substance abuse and domestic violence, as well as the fallout of parental incarceration, which often results in children being moved around from home to home and put into the foster care system.
Turney said her study did take into account psychological effects and trauma but noted that many children whose parents are incarcerated are often suffering from a host of issues that can compound the impact of incarceration.
"Children of incarcerated parents often face an accumulation of disadvantage that includes poverty," says Turney. "Coupled with the poor health, which is related to incarceration, these youth have a host of risk factors that makes them vulnerable as they transition to adulthood."
Turney believes working to erase some of the stigma associated with being the child of someone in prison can also help address some of the problem.
"Children of incarcerated parents may be stigmatized by their teachers, peers, or neighbors--or may at least feel that they are being stigmatized--and this may influence their health, especially mental health," says Turney "Efforts to de-stigmatize incarceration, such as the introduction of a character on Sesame Street, may help ameliorate some of the stigma that children face."
--Written by Laura Kiesel for MainStreet