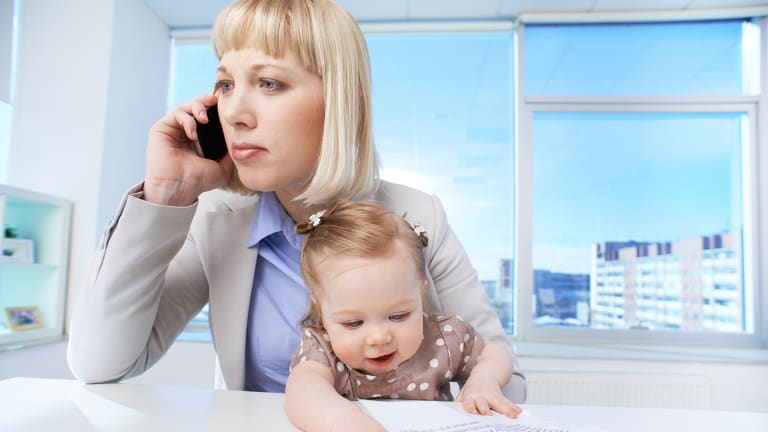 Publish date:
Paid Family Leave Stands to Advance in the U.S.
Generous family leave policies are catching on in the public and private sector alike across the United States.
Generous family leave policies are catching on in the public and private sector alike across the United States.
When one domino falls the others must soon follow. So it goes for paid family leave policies, which are catching on in the public and private sector alike across the United States.
Various multinational tech companies like Facebook, Amazon and Spotify made big news last year expanding their generous paid parental leave policies to workers. Netflix is now extending 100% paid time off for all employees, salaried or hourly, for varying lengths of time, while Facebook's four-month paid leave policy applies to all staff worldwide.
Yet the vast majority of Americans - about 87% of private industry workers - do not have viable options that allow them to take paid time off for taking care of a new child, or tending to a sick family member. Policy experts and paid leave advocates say that a recent momentum of activity could offer American workers some hope for 2016 and the coming years.
"It is absolutely a revolutionary moment in the U.S.," said Jane Waldfogel, a professor at Columbia University's School of Social Work who studies work-family policies. "We have three states that have passed paid family leave laws and all of these private firms voluntarily expanding, including some large public employers like the military... It changes the conversation."
Paid family leave has been found to have minimal impact on business operations and either a positive or no noticeable effect on productivity. And employees who receive paid family leave often return to work more focused, and less likely to rely on public assistance, says Vick Shabo, the vice president of the National Partnership for Families.
In recent years, some states have caught on to the apparent benefits. As of January 2014, California, Rhode Island and New Jersey all have state paid family leave insurance laws. Workers in these states back these programs slightly differently, but generally pool a small percentage of employee annual wages into a fund. Workers contribute to the pool on a sliding scale. In California, an employee can contribute a maximum of about $960 in 2016. Depending on their state, workers could then receive four to six weeks of paid leave, earning amounts ranging from 55% to 66% of their full income for that time.
Ellen Bravo, the executive director of the national network Family Values @ Work, says there may be a doubling of states by the end of 2016 that have paid family leave policies. Connecticut, New York and Massachusetts, as well as Washington, D.C., are among those that have "robust campaigns and champions" for paid leave plans, she says.
A New York bill that would give new parents and caretakers of sick relatives up to 12 paid weeks at home cleared the State Assembly February 2. The measure, which would give people an average two-thirds of their weekly wage, still needs to pass the State Senate and be signed by the governor.

Some businesses are not waiting for state or federal policies to take hold. The United States remains the only developed country in the world without a federal paid maternity leave policy. The 1993 Family and Medical Leave Act protects many workers - but not those who work for small companies or part-time workers - to take up to 12 weeks of unpaid time off.
Amy Beacom, the founder and CEO of the Center for Parental Leave Leadership, consults with companies that are either expanding their leave policies or considering implementing one.
Some of her organization's work involves employee training and conducting internal audits. The conversation is relatively new in the U.S. and managers can lack the tools to support employees considering leave, she says, believing "it is something you don't talk about, that it is an issue rife with gender discrimination and lawsuits."
But she is finding that smaller companies, like the Portland, Ore.-based Boora Architects, make the numbers work. These types of establishments tend to place a high value on retaining talent and keeping employees happy, Beacom says.
Companies Beacom knows that have successfully moved to paid leave policies all have stories involving employees who got involved. She recommends people interested should take action at their local level, talking with someone from benefits or a chief financial officer who can run some initial data.
"Businesses are either ahead of the curve, smart enough to already provide this or want to but cannot afford to undertake the costs," said Greta Twombly, a paid leave expert and campaigns manager at the American Sustainable Business Council.
There are also a few major incentives for businesses to support a national paid leave policy, for which both Democratic Presidential candidates Hillary Clinton and Bernie Sanders have advocated. Businesses would cut their costs and efforts creating internal leave measures for employees, and, as Bravo says, a federal policy would benefit their customers, putting more money in their pockets.
Paid family leave rolling out in the U.S. arrives not without complications and shortfalls.
The policies in California and New Jersey have not been well publicized, for example. New Jersey has seen 160,000 claims filed for leave since July 2009, according to Karen White, the director of the working families program at Rutger University's Center for Women and Work. She says 80% of those claims for up to six weeks of paid leave have been for bonding with a child while the other 20% were geared towards caring for a seriously ill family member.

The amount employees typically receive - up to a maximum of two-thirds of their wages in some cases - can also fall short for people short on savings to take time off.
Yet Waldfogel, of Columbia University, notes that most generous paid leave programs in other countries do not offer 100% of people's earnings.
"I think the main hurdle in this country is getting some sort of paid leave and once we have that we can think of making the rate of pay more generous," she said. "The majority of workers in this country do not have any type of paid leave at all right now."