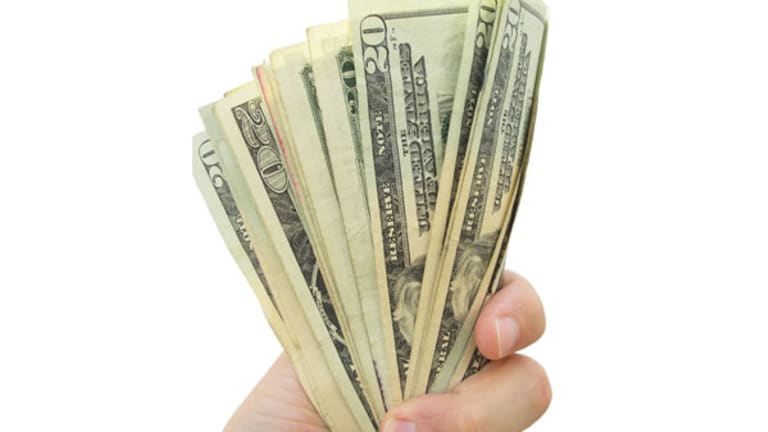 Overdraft Fees: Banking Comeback Player of the Year
Overdraft fees, a big bank revenue generator before Dodd-Frank financial reform took aim, are on the rise again.
NEW YORK (
) -- The 2010 Dodd-Frank financial reform bill fought back against bank overdraft programs that had been ripping off consumers.
Has the legislation helped?
Bank overdraft fees were considered a plague among customers but a boon to financial institutions. And while the overdraft fees trended down in the immediate aftermath of the Dodd-Frank reform, overdraft fee revenue is on the rise again.
A report out from
Moebs Services shows overdraft fee revenue rising 2.1% through the first half of 2012, to $31.5 billion, a rise of $700 million.
Do consumers never learn? Bank overdrafts have made a strong comeback this year due to demand from consumers who see the fees as not as onerous as they used to be, according to the Lake Bluff, Ill.-based economic analysis firm.
In June 2008, Moebs says bank overdrafts accumulated $36.8 billion in revenues for financial institutions. But by June 2011, overdrafts had fallen to $30.8 billion.
Banks aimed to make up lost overdraft revenue by adding fees to ATM transactions, checking and savings accounts, and cutting debit and credit card rewards programs. Consumers should not expect banks to curb their account fees or add perks to card rewards programs just because overdraft fees are rising.
Don't expect banks to rein in overdrafts, either, even though Congress and consumer advocacy groups are watching closely, Moebs says.
"It is important to notice this ... is playing out against the backdrop of increased scrutiny of overdrafts by the government and consumer advocates,"
explains Michael Moebs, economist and CEO of Moebs Services. "Despite regulation and legislation, such as 2008's Truth in Savings, 2010's Reg E opt-in requirements and the 2011 overdraft guidelines issued by the FDIC, consumers' use of overdrafts shows no indication of going away."
Moebs also reports that the median cost of a bank overdraft rose by $1, to $28 per overdraft -- still way lower than what so many saw on bank statements back in 2008 and 2009.
Geography counts, too. The Moebs data says bank consumers in Green Bay, Wis., paid, on average, $8 per checking account overdraft, while consumers in Gainesville, Fla., were socked with overdraft fees as high as $45.
Most banks stick customers with overdraft fees of between $20 and $29 (51% of all U.S. banks, Moebs says). But 43% are also in the $30 to $39 range.
The data suggests that consumers have more power than they think if they shop around. "Price diversity allows the consumer to opt for a low price overdraft service with a financial institution which has a safety net approach, as opposed to choosing a more expensive approach at a depository whose policy is to treat overdrafts as penalties," Moebs says.
More on personal finance
:
401(k) industry gets fat while savers' accounts remain lean
What would you give up to buy your dream home?
What to do before Fido's vet bill hits $16,000
--By Brian O'Connell
Follow
TheStreet
on
and become a fan on