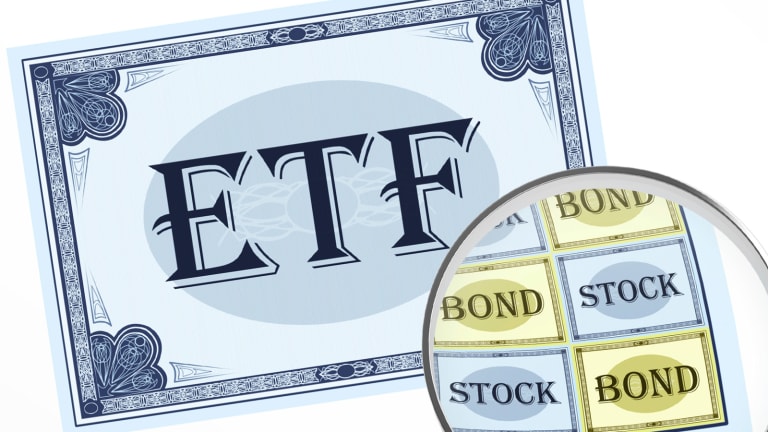 Out With Mutual Funds: Should Your Entire Retirement Portfolio Consist of Only ETFs?
As exchange-traded funds or ETFs have become more popular, some investors now only own these baskets of stocks instead of mutual funds in their retirement portfolio.
As exchange-traded funds or ETFs have become more popular, some investors now only own these baskets of stocks instead of mutual funds in their retirement portfolio.
NEW YORK (TheStreet) -- With exchange-traded funds rising in popularity, some investors have made an extreme move in their financial planning: They own only these baskets of stocks, instead of mutual funds, in their retirement portfolios.
Investors are drawn to ETFs because of their lower fees and portability. As such, assets in ETFs now exceed $1.7 trillion, and there are more than 1,600 ETFs for investors to choose from.
ETFs are an "advantageous way" to invest for retirement since the fees are much lower than with traditional mutual funds and they trade like a stock by tracking an index, such as a commodity or a group of assets, said Wayne Connors, a managing partner of Retirement Investor, a Glastonbury, Conn., company that allows investors to build their own IRA portfolios.
Although ETFs have been around since 1993, their attractiveness has soared in the past few years as more 401(k) and IRA plans are offering them as an option. A decade ago, the total amount of funds in ETFs totaled $200 billion and investors could chose from only a few dozen options.
ETFs are a better option than mutual funds because they are transparent and consumers can trade them at any time during the day, said Matthew Tuttle, CEO of Tuttle Tactical Management, based in Stamford, Conn. When you purchase shares in a mutual fund, you can buy them only at the end of the trading day, which is when the stock market closes. Mutual funds also typically require investors to purchase a minimum amount, especially when they are buying shares in one not previously owned. ETFs have a simpler structure, and investors can purchase as little as one share.
"It is simple -- ETFs blow mutual funds away," Tuttle said. "They are usually cheaper and you can get in, out and back in again at any time without penalties. All things being equal, investors should map over their mutual funds to comparable ETFs."
ETFs are the best way to avoid the expenses and hidden fees that are frequently found in mutual funds, said Koosh Saxena, co-founder of TipdOff, a Mountain View, Calif., investing social network platform.
"There's no need for mutual funds in anyone's portfolio unless you are looking for a distinct type of exposure that can't be replaced with a lower cost ETF," he said.
Before purchasing an ETF or mutual fund, be sure to review the expense ratio, since it "represents the percentage of the fund's assets that go purely toward the expense of running the fund," Saxena said.
In a comparison of ETFs and mutual funds tracking a variety of U.S. stocks, ETFs come out ahead because of their lower fees. ETFs have an expense ratio of 0.38%, while a no-load mutual fund charges 0.46%, according to Morningstar.
A majority of actively managed mutual funds for which a manager choses the individual stocks cannot exceed the performance of their benchmark index, so choosing a passive one with much lower fees and tracking an index is a better option, said Saxena.
"There's no guarantee that a mutual fund manager will beat the market," he added. "Look at their five- to 10-year track record, and see how it sizes up to an index like the S&P 500. If they can't beat it, why not just buy a low-cost ETF that tracks the market?"
A portfolio that consists of a mix between ETFs and mutual funds can provide the best returns for investors, said Melinda Kibler, a certified financial planner at Palisades Hudson Financial Group in Fort Lauderdale, Fla.
When an active manager is not needed, ETFs can give an investor the exposure desired without making consumers pay unnecessary fees. If an investor wanted to include U.S. large-cap equities in his or her retirement portfolio, buying an inexpensive ETF that tracks the S&P 500 index or a mutual fund that is not actively managed and has a very low expense ratio would help realize the same result.
While investors can receive a good rate of return having the majority of their portfolio invested in ETFs, some active management is "worth having in your portfolio," said Patrick Morris, CEO of New York-based Hagin Investment Management.
If an investor lacks the "patience and skill to time the market," then using a financial adviser to make investment decisions on a portion of the portfolio helps mitigate some of the risks, he said. Another option if a portfolio only consists of only ETFs is to rely on a financial adviser for helping in choosing them.
ETFs are a "superior vehicle" compared to mutual funds, especially if someone's investment strategy focuses more on index funds than actively managed strategies, said Daniel Kern, president of Advisor Partners, in Walnut Creek, Calif. But some caution everything in moderation and advocate against going cold turkey when it comes to mutual funds. 
"Since our approach is a blend of active and index and passive strategies, we use both ETFs and mutual funds," Kern said. "If and when the supply of actively managed ETFs increases, we will revisit the mix that we use."