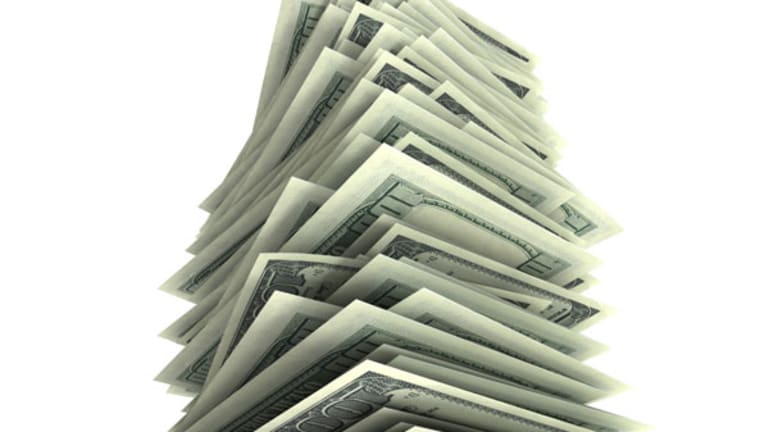 Publish date:
Our Use of Prepaid Cards Has Doubled Since 2009, But Dangers Remain
Checking accounts are still safer for consumers than prepaid cards, but that doesn't matter to consumers who find prepaid cards a better deal.
Checking accounts are still safer for consumers than prepaid cards, but that doesn't matter to consumers who find prepaid cards a better deal.
NEW YORK (TheStreet) -- More and more Americans are turning to prepaid credit cards to fix their toxic credit problems, but consumers need a reality check on so-called "GPR" cards, a study says.
That study comes out at a time when "general purpose reloadable" prepaid credit cards are being used heavily by consumers.
The Pew Charitable Trusts issued a Consumers Continue To Load Up On Prepaid Cards study last week showing U.S. cardholders loaded $64 billion into prepaid cards in 2012, twice as much as in 2009.
The market isn't just Americans leaning on prepaid cards because they have bad credit and can't get a traditional card.
"More consumers are turning to prepaid cards as a convenient tool to control spending and fees," says Susan Weinstock, director of Pew's safe checking research division. "While prepaid cards offer many benefits to consumers, they are a relatively new product with little oversight. A lack of protections undermines prepaid cards as a safe and easy way to manage money."
Also see: We're Using Our Credit Cards Again, Because We're Feeling Better>>
The Pew study offers some additional insights, some good and some not, for prepaid cardholders:
Prepaid card cards are a better deal for consumers than they were two years ago largely because of heightened competition among card providers and there being fewer "fly-by-night" prepaid card companies in the marketplace.
Prepaid cards are also now a better deal than bank checking accounts.
Prepaid cards "do not offer consumers the limited liability protection required by federal law for checking accounts." That's because some financial liability has been "shifted" to card consumers.
Not all prepaid cards are covered for financial losses by the Federal Deposit Insurance Corp.
If there is a problem with prepaid cards, it's up to prepaid cardholders to bring in their own third-party "decision maker" to mediate the issue, and possibly make a decision that works against the cardholder.
Also see: 3 Alternatives for People Sick of Banks>>
Pew has a few recommendations for prepaid cardholders in advance of new Consumer Financial Protection Bureau regulations covering the industry.
Pew wants to make prepaid cards "safer" for consumers by protecting them against liability "for unauthorized transactions that occur either when a card is lost or stolen or a charge is incorrectly applied."
Prepaid card companies should always provide access to consumer account data and card transaction histories, and they should be covered by FDIC funds against losses, Pew adds.
The consensus? While prepaid cards are growing in popularity, questions about risk exposure for consumers are starting to grow, too. Answering those risk questions won't be easy, and the CFPB will surely take a leading role, but consumers won't wait.
Prepaid cards are a good deal, in their minds, and any risk issues can be put on the back burner -- for now, anyway.