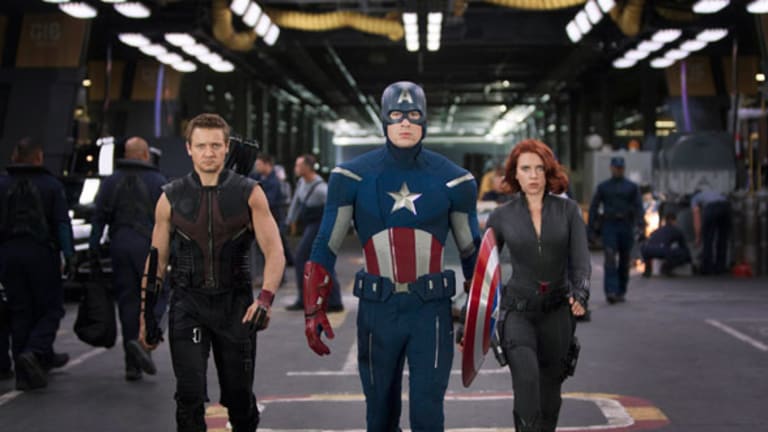 Oscars' 9 Best Pictures Are Extras In a World of Box Office Heroes
Cultural divide? The take of 2012's top-grossing film was 156 times that of the lowest-grossing Best Picture nominee.
PORTLAND, Ore. (TheStreet) -- Marvel and D.C. Comics can put as many of its superheroes on screen as they'd like. All their might combined won't move the Academy of Motion Picture Arts and Sciences to nominate their films for Best Picture.
The Avengers
and Batman made off with everybody's movie money this year, but you'd have to dig down to the 14th most-popular film of 2012 (
Lincoln
) to find a Best Picture nominee.
That shouldn't surprise anyone who's watched the Academy Awards in recent years or noted the disparity between its nominees and those at the top of the box office earning list -- or on the guest list at the People's Choice Awards. Since the Oscars were first handed out in 1929, the most popular movie in the country has won Best Picture just 18 times. In the past 40 years, the only box office champions to break through to the Academy voters were
The Godfather
(1972),
Rocky
(1974),
Kramer vs. Kramer
(1979),
Rain Man
(1988),
Forrest Gump
(1994),
Titanic
(1997) and
The Lord of the Rings: The Return of the King
(2003). That's right, it's been almost a full decade since the last time it happened, and the gap hasn't closed much since.
Statistician William Briggs checked box office receipts and found that, since 1940, 15 Best Picture winners made 25% or less of the haul of that year's highest-grossing pictures. It's happened five times in the past decade:
Shrek 2
's $441 million overshadowed
Million Dollar Baby
's $100 million in 2004, the final
Star Wars
installment's $380 million dwarfed
Crash's
$54 million in 2005,
Spider-Man 3
trounced
No Country For Old Men
by $336 million to $74 million, while the record $750 million raked in by 3-D spectacle
Avatar
in 2009 more than quadrupled
The Hurt Locker
's $17 million take in its opening weekend alone. In 2011, the $381 million made by
Harry Potter and the Deathly Hallows: Part 2
blew away the scant $44 million made by black-and-white, silent Best Picture winner
The Artist
.
Just to provide some idea of how far this year's list of Best Picture nominees drifts from box office reality, we've listed the Top 9 highest-grossing films of last year and matched them up with their corresponding Best Picture nominee. Just to give you some idea of how different the ends of the spectrum are, the top-grossing film's take was 156 times that of the lowest-grossing Best Picture nominee. Grab your popcorn, sit back and watch the cultural divide deepen:
9. Ted
Studio:
Universal Studios
(CMCSA) - Get Free Report
2012 U.S. box office take:
$219 million
Oscar No. 9. Amour
Studio:
Sony Classics
undefined
2012 U.S. box office take:
$4.1 million
Perhaps no two films embody the polar ends of the 2012 moviegoing experience quite like
Ted
and
Amour
. After watching each film, however, viewers might want to consider watching the other just to balance themselves out again.
The Michael Haneke-directed
Amour
made less than 2% of
Ted's
take, but that's a completely realistic number for a movie that's A) In French and B) About an octogenarian watching his wife die a slow, painful death after a stroke.
Ted
, meanwhile, benefited from the same fan base of manchildren that made the
Hangover
series a success and gave director Seth McFarlane carte blanche to follow up
Family Guy
with a diminishing resume including
American Dad
and
The Cleveland Show
and still earn a hosting gig on
Saturday Night Live
.
Ted
and its Boston-based tale of bros letting go only looks lightweight compared with an emotional boulder such as
Amour,
but it taps the same vein of humor Judd Apatow and and Paul Feig have been mining for years with
Freaks and Geeks
,
Knocked Up
and
Bridesmaids
. It's abrasive, but remarkably resonant and explores the human condition in ways that don't cause its core audience the same discomfort as something like
Amour
. The audiences of each film may sneer at each other in public, but privately they have more in common than they're willing to admit.
8. Brave
Studio:
Disney
(DIS) - Get Free Report
2012 U.S. box office take:
$237 million
Oscar No. 8. Beasts of the Southern Wild
Studio:
Fox Searchlight
2012 U.S. box office take:
$12 million
The Oscars have really enjoyed the dour and the artistic in recent years, which makes the Terrence Malick-style fantasy
Beasts of the Southern Wild
that's ostensibly about the effects of Hurricane Katrina a natural for the awards judges.
That said, it also lingered around the art theater circuit for months at a time. That gave it quite a bit in common with Disney's latest Pixar-drawn epic
Brave,
which rode its tale of teen angst, told through a filter of cartoon humor and Scottish mysticism, to the best U.S. box office performance by an animated film this year.
Brave
underwhelmed in the early offings and was still outperformed worldwide by Fox's
Ice Age: Continental Drift
and DreamWorks Animation's
Madagascar 3: Europe's Most Wanted
, but lingered in U.S. theaters for about half a year until it had wrung every dollar it could out of the kiddie market.
In an entertainment environment where films are typically out on Blu-ray, DVD, on-demand and even streaming mere weeks after their theatrical release,
Beasts of the Southern Wild
and
Brave
are fantastic examples of how a slow burn can still work if studios and theaters show a little patience.
7. The Amazing Spider-Man
Studio:
Sony
2012 U.S. box office take:
$262 million
Oscar No. 7. Zero Dark Thirty
Studio:
Annapurna Pictures/Columbia Pictures
2012 U.S. box office take:
$88.5 million
We understand that superheroes make money and that a PG-13 comic book popcorn flick is going to draw more dollars than a hyperrealistic R-rated two-and-a-half-hour portrayal of a real-life military operation and killing, but ... really, America?
Spider-Man
already got the blockbuster trilogy treatment once in the 21st century. Remember Tobey Maguire kissing Kirsten Dunst upside down? Remember Thomas Hayden Church turning into a CGI shape-shifting pile of sand while Topher Grace tried his best to be the ripped, alien-suited bad guy Venom? Don't you people remember any of this? Do you even remember yesterday?
No. Yesterday's too far down the
Twitter
feed, so naturally you were just fine with letting Sony put Andrew Garfield in a suit, give you Emma Stone to look at and distribute downer Kathryn Bigelow films about current events they won't even deign to read about. Fine, but when
Zero Dark Thirty
gets shown in history classes while Justin Bieber's son stars in the next
Spider-Man
series, don't waste too much air complaining about it.
6. The Twilight Saga: Breaking Dawn Part 2
Studio:
Summit Entertainment
2012 U.S. box office take:
$292 million
Oscar No. 6.Silver Linings Playbook
Studio:
Weinstein Company
2012 U.S. box office take:
$100 million
There is one universal truth that binds these two films: Someone got dragged to one or both of them under the premise that there would be some making out later on.
The
Twilight
series, its shimmery vampires and chaste teens literally ripped asunder by pregnancy have been relegated to the bargain bin with worn, black Stephanie Meyer paperbacks and old copies of
Teen Witch
,
Monster Squad
and
Dark Shadows
. The Pacific Northwest can now sleep soundly knowing that crossover SUVs full of high school students will no longer be holding up the line at the espresso stands outside the gas stations of its gray, damp lumber towns.
Silver Linings Playbook,
meanwhile, continued the Oscar trend of throwing a bone to populist, star-studded, tear-jerking money makers such as
Erin Brockovich
and
The Blind Side
. That it did so while getting typecast jackass Bradley Cooper a Best Actor nomination in a film where he shares the screen with Robert De Niro is no small feat. But come on, the story of a bipolar guy hurt by the woman he loves who finds redemption in dance and a widow with a heart of gold? Were there an Oscar category for date movies, this film would have run away with it.
5. The Hobbit: An Unexpected Journey
Studio:
Warner Brothers
(TWX)
2012 U.S. box office take:
$300 million
Oscar No. 5. Life of Pi
Studio:
20th Century Fox
(NWS) - Get Free Report
2012 U.S. box office take:
$111 million
So maybe Peter Jackson's denizens of Middle Earth took it out on Ang Lee's religious allegory by a nearly 3-to-1 ratio. That doesn't mean Lee's film didn't put the hurt on Jackson's aesthetically and thematically.
Much as with the
Spider-Man
reboot,
The Hobbit
offered the sense that the audience had been there before in the not-so-distant past. Zippy, television-style frame rate aside,
The Hobbit
brought back the J.R.R. Tolkien franchise and the lush New Zealand scenery without offering a whole lot of new elements to its prequel. It also makes viewers painfully aware that it's the first in yet another three-film series of epics that is going to cost them plenty of hours and dollars in the near future.
Lee's
Pi
, however, tells its story all in one shot and uses its lush imagery and 3-D technology to advance the narrative instead of just wowing the audience. Like
Avatar
with better source material,
Life of Pi
lit up both the neurons and the senses, even if audience members weren't particularly taken with its somewhat thin argument for the existence of God.
4. Skyfall
Studio:
Sony
2012 U.S. box office take:
$304 million
Oscar No. 4. Argo
Studio:
Warner Brothers
2012 U.S. box office take:
$127 million
So Canadian spies and the Central Intelligence Agency's real-life plot to get U.S. diplomats out of Iran during the 1979 Iranian hostage crisis versus a Jason Bourne-style James Bond once again tangling with supervillains who have their own private islands and armies of assassins.
Maybe we can see why the Academy went with the Ben Affleck-directed effort here, though it didn't bother to nominate Affleck for his work behind the cameras. Daniel Craig's James Bond could bag groceries at
Tesco
for an hour and a half and still bring in $500 million worldwide, so it's not entirely surprising a return to form for the Bond franchise cleared $1 billion easily.
While
Skyfall
's Oscar nominations are limited to sound mixing and editing, Roger Deakins' cinematography, Adele's work on the film's title track and Thomas Newman's score,
Argo
already earned Affleck some hardware at the Golden Globes and Critics' Choice Awards for taking an already tense real-life narrative and executing it on screen with minimal gunfire. Pulling yet another commanding performance out of Alan Arkin didn't hurt, either, but Affleck deserves a whole lot of credit for making a Canadian cover story about scouting out a sci-fi movie set in Iran sound more plausible than Javier Bardem's 21st Century
Skyfall
cyberterrorist.
3. The Hunger Games
Studio:
Lion's Gate Films
(LGF)
2012 U.S. box office take:
$408 million
Oscar No. 3.Les Miserables
Studio:
Universal Studios
2012 U.S. box office take:
$146 million
Young adult fiction readers vs. drama kids? Jennifer Lawrence be damned, the Academy's going with the lady who can belt out
I Dreamed A Dream
every time.
Lawrence got her Academy Award nomination this year, but it wasn't for rushing around zones in a dystopian future firing arrows.
Silver Linings Playbook
snagged her a second Best Actress nomination after her 2011 nod for
Winter's Bone
, but Anne Hathaway's cup of coffee on screen as Fantine in Les Miz has been the Hollywood talker since roughly Christmas. It only got her a Best Supporting Actress nod, but unless Helen Hunt lobbies hard for her role as a sex surrogate in
The Sessions
, Hathaway looks to have this sewn up just for being in a film people actually saw.
The Hunger Games
trilogy still has two films to go and plenty of times to use its narrative and Lawrence's chops to the best of its ability, but this year it seems trite compared with Andrew Lloyd Webber pushing Hugh Jackman past Wolverine in the
X-Men
series and into the movie musical pantheon.
2. The Dark Knight Rises
Studio:
Warner Brothers
2012 U.S. box office take:
$448 million
Oscar No. 2. Django Unchained
Studio:
Weinstein Company
2012 U.S. box office take:
$157 million
Wow, so you're going to end the
Batman
series with allusions to Occupy Wall Street, an intellectual terrorist and one this year's Best Supporting Actress nominees in the same catsuit that pumped the brakes on the careers of Sean Young, Michelle Pfeiffer and Halle Berry?
That's great. We'll be over here watching the one about the slave who exacts revenge on the master who stole his wife while dropping racial epithets about as often as you'd expect to hear them in the days preceding the Civil War. The end of Christopher Nolan's
Batman
trilogy was about as dark and bombastic as predicted and raked in a whole lot of cash, but limped it was to a merciful end that in no way lived up to the promise of the Heath Ledger-led
The Dark Knight
in 2008.
Django Unchained
, meanwhile, came tethered to its own controversy and made Spike Lee madder than two-straight late-game Reggie Miller three-pointers against the Knicks. Audiences and Academy members didn't care, though, as
Django Unchained
became the highest-grossing film of Quentin Tarantino's career and earned the film five Oscar nominations including Best Picture and Best Original Screenplay. While Batman films are usually good for a few technical award nominations here and there, this year's installment was shut out of the Oscars entirely.
1. The Avengers
Studio:
Walt Disney
2012 U.S. box office take:
$623 million
Oscar No. 1. Lincoln
Studio:
Walt Disney
2012 U.S. box office take:
$176 million
We once again find ourselves with two films with more in common than they let on.
Lincoln
is about as close as a historical narrative comes to a superhero film, especially with Stephen Spielberg at the helm, Daniel Day-Lewis playing yet another lanky historical figure and Sally Field, Joseph Gordon-Levitt, Tommy Lee Jones, Hal Holbrook, Jackie Earle Haley, David Strathairn and James Spader representing just a small portion of the supporting cast. Applaud Jaime Foxx blasting the bejesus out of Leo DeCaprio and his slaveholding family all you'd like, but Day-Lewis makes pushing through the 13th Amendment abolishing slavery while holding both the Union and his family together seem like a far more grisly business.
Meanwhile, balance out a CGI Hulk whipping bad guys around like rag dolls with a wisecracking Robert Downey Jr. in a rocket-propelled, weaponized suit serving as comic relief for a superhero team built from a years-long multifilm franchise, and you had a near-perfect summer blockbuster. There were no parallels to current events, no overarching allegory, no human enemies in harm's way and almost no part of the set that wasn't computer generated. Thanks to the thinking man's sci-fi director Joss Whedon taking the reins, this big chunk of popcorn fun didn't seem nearly as mindless as its release date suggested nor as long as its more than two-hour run time.
Granted,
The Avengers'
$220 million budget was still more than
Lincoln's
gross, but both came up big at the box office this year. By taking in more money than big-budget fluff such as
The Bourne Legacy
,
Ice Age: Continental Drift
,
21 Jump Street
and especially Disney's
John Carter
,
Lincoln
and Disney did some serious damage to the argument that the Academy doesn't nominate films folks actually buy tickets for.
-- Written by Jason Notte in Portland, Ore.
>To contact the writer of this article, click here:
Jason Notte
.
>To follow the writer on Twitter, go to
.
>To submit a news tip, send an email to:
.
RELATED STORIES:
>>5 Seemingly Small Hard Ciders and Their Big Corporate Owners
>>10 Cities Poised For Greatness In 2013
>>10 Used Cars To Consider Before Buying New
Jason Notte is a reporter for TheStreet. His writing has appeared in The New York Times, The Huffington Post, Esquire.com, Time Out New York, the Boston Herald, the Boston Phoenix, the Metro newspaper and the Colorado Springs Independent. He previously served as the political and global affairs editor for Metro U.S., layout editor for Boston Now, assistant news editor for the Herald News of West Paterson, N.J., editor of Go Out! Magazine in Hoboken, N.J., and copy editor and lifestyle editor at the Jersey Journal in Jersey City, N.J.