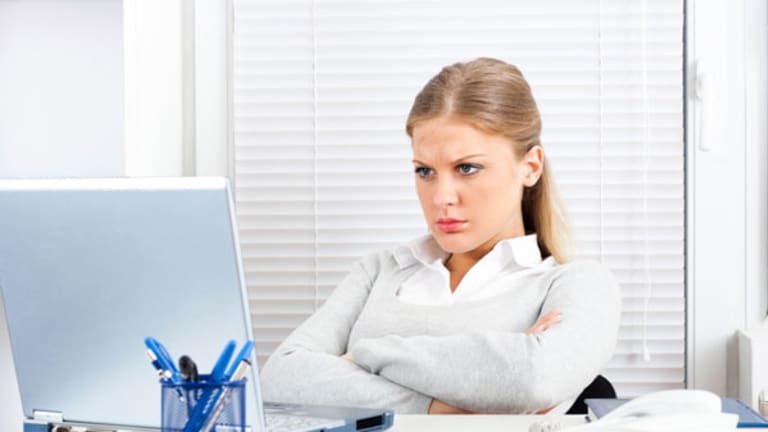 NEW YORK (
) -- Bank customers feel generally positive about online banking, but a study from
Maxymiser, a New York City data testing and marketing analysis firm
, shows that online banking consumers also have little patience for slow or no service.
Especially vexing for online users are glacially slow downloads and lousy interaction with online customer service.
According to Maxymiser:
68% of online banking customers won't wait more than six seconds for a page to load.
42% of digital banking users will leave a website or mobile site after experiencing poor customer service.
Also see: We Don't Trust Online Review Sites, Especially the Small Ones>>
Survey respondents may not be coming entirely clean with study researchers, at least when it comes to showing patience online.
"Of all of the survey questions we posed to consumers in this study, the answer that was most surprising is that 22% of consumers are willing to wait up to three seconds for pages and images to load on a bank's website or mobile site," says Jared Polidoro, vice president of U.S. client services at Maxymiser. "But what they were telling us doesn't match their actual behavior."
That is, they're even more impatient:
"What's been proven over and over again is that there's a two-second threshold of acceptability before consumers will get frustrated and click away from a site or page," Polidoro says.
There are also a number of banking customers with surprisingly low thresholds for subpar treatment online.
Also see: 3 Groups Who Are Finally Adopting Digital Wallet Technology>>
"Another interesting finding came in response to our question about what consumers would do if they were presented with a single 'bad' experience or shown an irrelevant offer," Polidoro says. "What's most interesting to me is not that 42% would abandon their transaction and leave a site/page altogether. Instead, it's that 15% of consumers would consider changing their banking institutions."
That means banking consumers aren't going to forgive bad experiences and may not think twice before pulling all of their money, credit cards, 401(k) and retirement accounts if they feel their bank isn't listening to them and their needs, Polidoro says.
The message to banks looking to attract and keep customers? Improve those online and mobile banking experiences, especially in terms of speeding up information downloads and adding more staff to help customers online.
Or be prepared for customers to bypass your site, and possibly bypass your bank altogether.