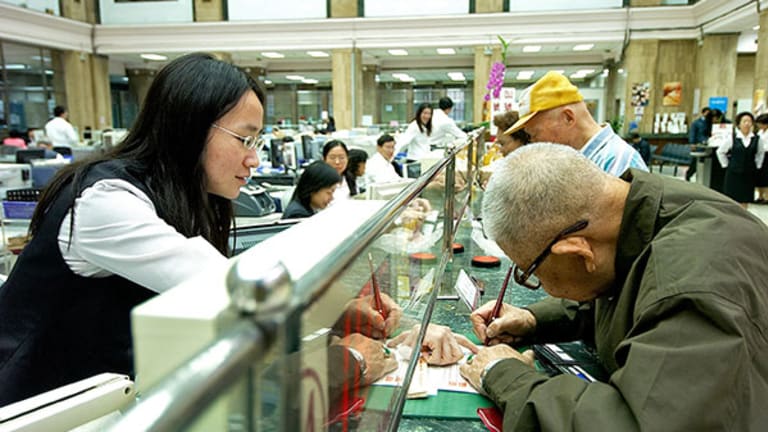 Publish date:
One-Third of Bank Tellers Are on Public Assistance
They handle great sums of money each day, but they're not earning enough to live on.
They handle great sums of money each day, but they're not earning enough to live on.
BOSTON (MainStreet) -- Fast food and Wal-Mart workers are not the only ones scraping by on minimum wage and depending on public assistance to make ends meet. Bank tellers also often make barely living wages and have to rely on government aid to get by.
According to a report from The Committee for Better Banks, made up of labor groups, $899 million in tax dollars are spent each year to fund public aid benefits for bank tellers and their families, and about one-third of bank tellers get at least one form of public aid such as Medicaid or food stamps. Broken down, it's about $534 million in Medicaid and low-income medical insurance for children, $250 million in tax credits and more than $100 million for food stamps.
The report's findings were based on research conducted by the Center for Labor Research and Education at the University of California at Berkeley. The committee also interviewed 5,000 bank tellers, customer service representatives and technicians on the details of their employment, including salary and benefits.
"This is the wealthiest and most powerful industry in the world, and it's substantially subsidized by our tax dollars," Deborah Axt, co-executive director at Make the Road New York, told The Washington Post.
Also see: Fast-Food Companies Pay the Minimum, So We Pay Their Workers $7B a Year>>
In New York State, host of the nation's financial center, about 40% of bank tellers are on some form of public aid -- costing the state an estimated $112 million annually.
"Bank workers in New York, across the nation and around the globe are being squeezed, very much as other hourly workers in the economy are. Banks' internal employment practices, just like their external practices, increasingly drive inequality," the report says.
The committee's report not only further debunks the myth that all public aid recipients are lazy and unemployed, but underscores that many people getting low wages are not just found in so-called "unskilled" or "low-skilled" positions (as fast food and retail jobs are often considered) but in more traditional white-collar work as well.
"The money I made [20 years ago] is the same that they're paying tellers now to start: $10! And the workload is so different," said a 38-year-old man who works as an assistant branch manager in New York and had started out as a teller to Al-Jazeera America. "The three women [tellers] I work with all receive public assistance. [The head teller] shows up for work on time, she has a great personality, she works hard. [With welfare], you have the image of someone lazy collecting a check, so for me, that was eye opening."
The report also calls attention to the large disparity in pay between upper-level workers in the banking industry and the tellers with whom the general public has the most contact.
Also see: Higher Ed Is Working Faculty to a Pauper's Grave>>
Annual salaries for the top 50 financial chief executives rose by 20% in 2011 and 26% in 2010. Well Fargo CEO John Stumpf earned $22.9 million last year -- a nearly 16% increase from his 2011 salary. Wells Fargo also reported $12.4 billion in profits last year, and is No. 23 on the Fortune 500.
But the average Wells Fargo bank teller makes less than $11 an hour, or approximately $22,600 a year, according to job site Glassdoor. That's less than the recent nationwide estimates of median annual income for a bank teller by the U.S. Bureau of Labor Statistics: $24,100, or $11.59 an hour.
Well Fargo is far from an isolated case. Bank of America has more than $2.2 trillion in assets and made $134 billion in revenue last year. And as reported by TheWashington Post based on figures of SNL Financial, the nation's banks netted more than $141.3 billion in profits last year - the highest since the onset of the recession - with the median annual salary for a CEO about $552,000.
Low pay is not the only concern among bank tellers and labor groups. Layoffs are also a threat, particularly in New York, where nearly 20,000 positions in the state's banking industry have been lost since the financial crisis even while the industry's profits reached an unprecedented high.
As with retail and fast food workers, the Committee for Better Banks and other worker advocacy groups have been working to unite bank tellers for formal protests.