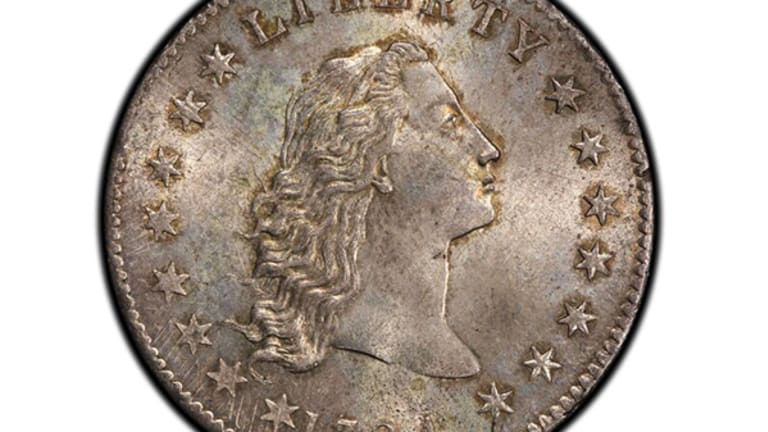 One of the 'Most Famous' American Coins and Others to Fetch Millions at Upcoming Auction
You'll need more than a coin purse if you want to get your paws on these numismatic gems.
NEW YORK (MainStreet) -- Sure to make numismatists drool, Stack's Bowers Galleries and Sotheby's are putting up their second auction of the D. Brent Pogue Collection for ultra-rare coins which will bring in millions. Several historically and monetarily significant coins will shine at the auction starting on September 30 in New York City.
The very first American dollar, the 1794 Flowing Hair Silver Dollar, ancestor to the $1 bill, is one such piece. It is "one of the most famous of all American coins," says Stack's Bowers Galleries numismatic expert John Kraljevich.
"It's a numismatic triple threat," he adds. First, it's the first dollar coin ever made. Second, of 135 known existing coins, this one is considered the "second finest" of all, he explains. Third, the coin has been completely "hidden from view" after being taken to England and remaining in private hands, finally emerging onto the public eye after being sold as part of a collection of Major the Lord St. Oswald, M.C., in 1964.
"It is expected to sell for $3 million to $5 million, making it one of the most valuable coins in the world," says Kraljevich.
Another notable coin expected to grab $750,000 to $1.2 million – a "conservative pre-sale estimate," notes Kraljevich – is the Pogue 1795 Eagle, a gold coin worth $10 when it was struck.
"The eagle was the biggest American coin struck until the California gold rush, and this is the single finest example of the first year of production," Kraljevich says. "It's blessed with every superlative an early U.S. gold coin can have. It also has a famous provenance." 

The coin was owned by the son of of legendary Baltimore railroad tycoon John Work Garret in 1879. Before then, it is suspected to be part of a German aristocrat's collection, according to Kraljevich.
Other than their historical significance, these all-American ancestor coins struck in Philadelphia's U.S. Mint share a common interesting history. During the 1790s, the Mint regularly shut down due to outbreaks of yellow fever that took a chunk out of the City of Brotherly Love's population every summer. Kraljevich says Benjamin Rush, the Mint's treasurer, was a physician who risked contracting the sickness every year and also a signer of the Declaration of Independence. Rush "would have put his hands on each and every one of the gold and silver coins struck during his time at the Mint," Kraljevich says.
Furthermore, David Rittenhouse, a famed American astronomer and surveyor who also helped establish boundaries between states such as New York and New Jersey, who became the first director of the Mint until 1795, "personally deposited the silver to have it struck – so every single 1794 dollar was once his property," according to Kraljevich.
In March, an ultra-rare 1792 Birch cent auctioned off by Stack's Bowers sold for nearly $1.2 million.
There are modern ties to these coins as well. Owners of these coins include Franklin Delanor Roosevelt's treasurer; the son of Hetty Green – better known as 'The Witch of Wall Street'; and the last monarch of Egypt, King Farouk.
"There's a reason why numismatics is called 'the hobby of kings," says Kraljevich.
That, and you'd have to be a king (or CEO) of a prominent business to afford the rarest of the rare. Lots from the first auction sale from the Pogue Collection –a collection of mind-bogglingly valuable coins recently put on the market by lifelong numismatist D. Brent Pogue – netted over $25 million, according to Stack's Bowers. The entire collection is believed to be worth $200 million.
"The coins in the D. Brent Pogue Collection represent the very finest surviving quality, and connoisseurs are willing to pay enormous premiums for coins in a high state of preservation," says Kraljevich.