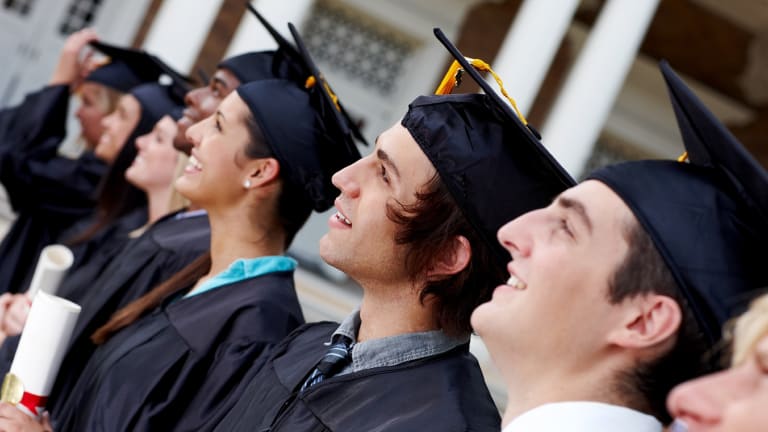 One Last Lesson for College Grads: How to Get a Job When You're Starting From Zero
Here's a crash course for the young adults who have never set foot in a school career guidance office or held an internship and don't know how to find employment.
NEW YORK (MainStreet) — Parents may have spent more money on a child's education than they did on their first home, even deferring retirement savings so their children could go to the best college. Now that the kids are finally graduating, career coach and author Ford R. Meyers asks, are they prepared to find a job?
"Many of today's new college graduates have never set foot in their school's career guidance office or held an internship, nor do they know how to find employment," says Myers, author of Get The Job You Want, Even When No One's Hiring. "It's now up to parents to share the real truths about finding a job in today's tenuous employment climate."
For example, Myers says, one key message parents need to get across to their college graduates is that the most qualified job candidate does not necessarily get the job offer. "In today's difficult job market, strong qualifications and accomplishments are necessary," he says. "However, the candidate who will get the job is the one who self-markets best and demonstrates to the employer that she is the right fit for the company's needs, problems and challenges."
Another tip: Kids must research their way to a dream job. "Pay attention to local, regional and national sources of business intelligence," Myers says. "Study everything you can about the companies you're most interested in. Learn to frame your ideas and value in terms that are relevant to the current business and economic landscape."
Moms and dads who want to get their grads going on the job hunt need to be compassionate but firm. "My middle daughter is about to get her double diploma from Oberlin this weekend, and we've been supporting her in trying to find a job for the past few months," says Laurie Riedman, founder of Canandaigua, N.Y.-based Riedman Communications. "But it isn't an easy thing to do — especially as a parent. You need to empower your children to let them make mistakes, yet also offer up wisdom that may help and support them from the sidelines."
Part of that empowerment is showing kids how to show self-confidence. "You have to teach them to be their own best advocate," she says. "Believe in yourself … if you don't, that will unfortunately come through in your resume, cover letter and interview."
Riedman also advocates parents pushing their college grads to network as much as possible and to be authentic on their job hunt. "Let your kids' resume show who they are, and don't be afraid to show your passions and your weaknesses," she says. "[They] should focus on what brings value to a company, such as fresh thinking, passion, energy and vision."
Jeremy Schifeling, a former student marketing director at LinkedIn and current vice president of marketing at Fidelis Education in Brooklyn, N.Y., highly advises parents to have their children "automate" the job search — and fast.
"It can be so easy to get burned out," he says. "Forcing yourself to get out there and search every day can totally wear you down. So let technology put your search on autopilot." Schifeling says it's easier than either parents or their college graduate offspring think. "You don't have to know a lick of programming. All you do is go to LinkedIn and run a job search. Then, in the upper-right hand corner, click 'Save search.' You've got perfect jobs delivered to your inbox every single day. No muss, no fuss."
— Written By Brian O'Connell For MainStreet