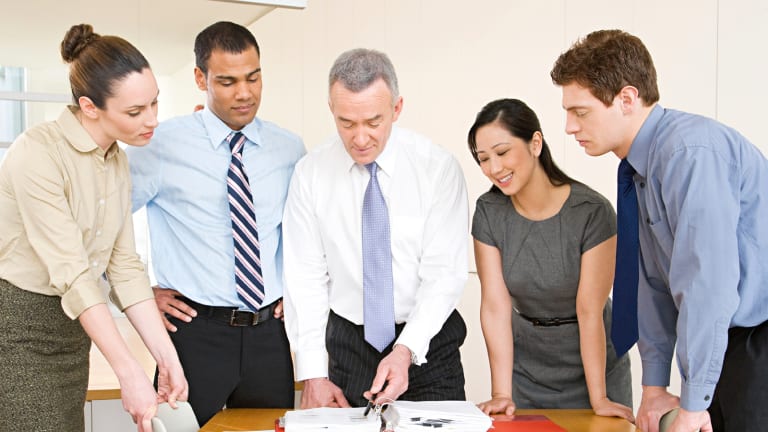 Older Workers Bring Valuable Knowledge, Younger Workers Are Better at Learning New Skills
Study finds that while older workers bring more wisdom to the table, younger workers are more skilled at abstract reasoning.
NEW YORK (MainStreet) — If you think age matters when it comes to the workplace, you'd be right. Yet, both younger and older workers have different abilities to contribute to the workforce.
A recent article featured in the American Psychology Association's Journal of Applied Psychology sheds some further light on how age can impact cognitive abilities. Namely, it reveals that while older workers exhibit more general knowledge and wisdom than their younger peers, younger workers are more adept at thinking on their feet and adapting to changing processes.
To come to these findings, researchers from the University of Minnesota, The City University of New York at Baruch College and General Dynamics Information Technology analyzed a sample of 3,375 individuals ages 20 to 74 who applied to executive-level jobs either as vice presidents or in general manager positions within professional, technical, line and sales occupations. The application process for these positions included standardized psychological tests, as well as tests that gauged cognitive abilities.
The cognitive abilities that were measured included "fluid" cognitive ability and "crystallized" intelligence. Fluid cognitive ability does not depend on prior learning but rather on abstract reasoning, whereas crystallized intelligence includes verbal skills and other in-depth knowledge that often comes with long-term experience.
In one test that measured fluid intelligence, applicants were instructed to identify one of four pictures that best matched a target picture, while another test involved showing participants a series of letters and asking them to identify the letter that would complete the sequence. Meanwhile, crystallized cognitive abilities were analyzed by a vocabulary test.
The results indicated that older individuals have higher aptitude for crystallized intelligence than their younger co-workers. However, fluid cognitive abilities showed large declines with age, as did inductive reasoning. Overall, mental ability seemed to decrease gradually across age groups relative to applicants under age 30, with more marked declines for groups older than 59. The researchers replicated these findings in several large, representative general population samples.
The results pose a dilemma for employers, which may unwittingly be hiring with an age bias depending on what tests they are administering.
"Given the rising numbers of older employees in the workforce, as well as the rise in age-based discrimination cases, it is increasingly important for employers to be careful regarding which tests of cognitive abilities they administer," said study lead researcher Rachael M. Klein, a doctoral candidate at the University of Minnesota.
In the meantime, older workers might also benefit from keeping their skills updated to compete with younger counterparts.
"Older workers should continue to make use of training opportunities offered to keep their knowledge and skills relevant," says study co-author Stephan Dilchert, an assistant professor at the Zicklin School of Business at CUNY's Baruch College.
On the other hand, some professions require and value experiential intelligence. According to Dilchert, many highly complicated and prestigious career fields such as medicine and law are very compatible with those individuals who possess superior crystallized cognitive abilities.
"Ultimately, job-relevant knowledge and skills are the factors that directly relate to performance in any job – and demonstrating them can be just as important as demonstrating 'raw' cognitive ability," says Dilchert.
Unfortunately, some employers still don't seem to be valuing what older workers can offer.
In 2012, the Urban Institute published a study that found that workers in their 50s were about 20% less likely than workers ages 25 to 34 to become re-employed during the recession. Though things have improved slightly in the past couple of years, many older works still face formidable challenges getting hired or holding on to their positions.
"The U.S. is home to an aging population, one-third of which is 50 years of age and older," says 88-year-old Bill Zinke, founder of Enrich Life Over 50, or elo50, which focuses on enhancing the lives of people over 50 in the workplace and beyond. "We need to pay attention to and shift common negative mindsets about how we view older workers. It's important to acknowledge and utilize the talents and capabilities of older workers who can add value."
Zinke, who worked as a HR management consultant for over 40 years, ascribes four specific attributes to older workers that lend them an advantage in the workforce: experience, expertise, seasoned judgment and proven performance.
Jeff Fermin, the 25 year-old cofounder of Officevibe--an online employee engagement online for HR departments--agrees with Zinke that older workers undoubtedly offer added value to businesses.
"I work for a tech company, and we have older gentlemen and women who are extremely knowledgeable about sales and networking," says Fermin. "As a young gun, I listen to [the] advice they give me when it comes to networking and making connections with industry leaders."
At the same time though, Fermin thinks older works can also learn and benefit from working with younger colleagues and that managers should foster positive collaborations between workers of different age groups.
"I think it's vital that both [younger and older workers] do their best to use each other's strengths to create a better team atmosphere and learn from each other," says Fermin, who often teaches older workers about online tools.
Increased collaboration among those of varying ages can have a host of benefits--for both businesses and the workers themselves.
As Dilchert notes, those who work past retirement age actually experience a delay in cognitive decline, while also bringing valuable experience to the table in their chosen profession. At the same time, it's important that older employees are in fields that are compatible with their skills and abilities.
"Older workers can bring a wealth of knowledge and experience to the table, and we generally see it as a positive trend that organizations are starting to capitalize on this," says the study's co-author Deniz Ones, a professor at the University of Minnesota. "It is also beneficial that individuals who spent many years acquiring necessary skills through higher education and practical training can continue to use and apply their skills. However, our society will benefit from such demographic and economic trends only if people work in jobs that they are well matched to, leading to their own satisfaction, well-being, and ultimately, productivity."
Written by Laura Kiesel for Main Street