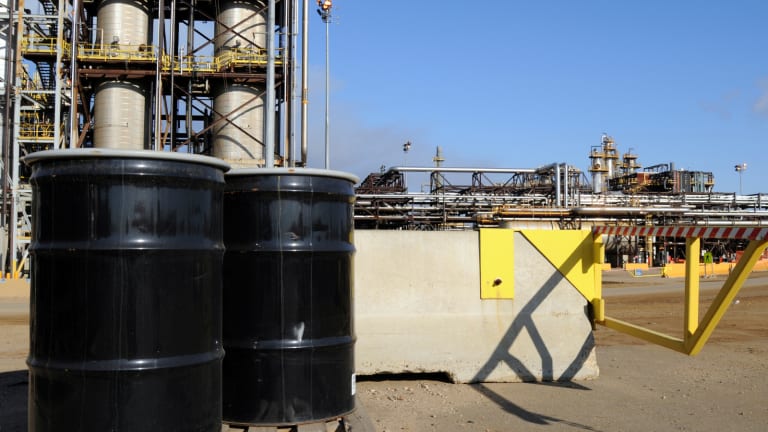 Oil Prices Volatile In the Wake of Iran Deal, Prices at Gas Pump Could Dip
The volatility in oil prices will persist in the wake of a potential deal for Iran's nuclear program, but the short-term impact will be minimal.
The volatility in oil prices will persist in the wake of a potential deal for Iran's nuclear program, but the short-term impact will be minimal.
NEW YORK (MainStreet) — The volatility in oil prices will persist in the wake of a potential deal for Iran's nuclear program, but the short-term impact will be minimal.
Although oil prices declined on Tuesday after Iran and six other countries announced their agreement to limit Tehran's nuclear program, there will not be much of an impact on prices in the next few months until the deal is completed, said Tony Starkey, energy analysis manager Bentek Energy, the Denver-based unit of Platts, an energy and metals data provider.
The agreement will lift the previous sanction on Iran to export oil, but "no one expects additional barrels to physically hit the market" until 2016, he said.
Even without the pressures of Iran and weakening of Chinese demand contributing to the glut of oil and the impact of the Federal Reserve raising interest rates, the current oversupply is "significant and won't clear anytime soon," Starkey said. Prices will remain volatile, and West Texas Intermediate (WTI) crude oil prices will remain capped at $60 to $65 per barrel "to the upside over the next six months to a year," he said.
While the stock markets have already begun to factor the impending deal into the current price of oil, other aspects such as the length of time it will take to verify and remove all sanctions have not been considered yet, said Matthew Tuttle, CEO of Tuttle Tactical Management, based in Stamford, Conn.
"Iran's production will be released slowly back into supply," he said. "Tankers will benefit, since they continue to pump and need a place to store."

Impact of Iran's Supply in 2016
The timing of when Iran's supply hits the market will be important in the long-term, Starkey said. Since Iran has not received investments from other countries and their companies for many years, estimating the amount of depletion in the country's oil wells is difficult. Another important factor is how open Iran is to international companies to start drilling again, which results in "a big wild card" for the country's production. Once Iran's supply hits the market by mid to late 2016, its production could add 500,000 to a million barrels of oil per day, he said.
The oversupply of the global market is expected to last through early 2016, so if Iran's production coincides and comes back online at that time, "it will just exacerbate the issue," Starkey said.
The "re-entry of more Iranian oil could result in a $5 per barrel to $15 per barrel lower baseline price forecast for 2016," said Jonathan Cogan, spokesman for the U.S. Energy Information Administration, the independent statistical arm of the Department of Energy based in Washington, D.C. On July 7, the EIA released its outlook and forecast that Brent crude oil prices will average $60 per barrel in 2015 and $67 per barrel in 2016 and that WTI crude oil prices in both 2015 and 2016 will average $5 per barrel less than the Brent price.
Another mitigating concern includes the timing of the suspension or termination of the sanctions. What's more, Iran's ability to bring online "previously shut-in volumes and increase exports depends on several factors, including the current condition of oil fields and infrastructure that were shut in, the pace of sanctions relief and the ability of Iran to find buyers in the present market," Cogan said.
Although the market started to price in the news of finalizing negotiations on July 6, oil prices could be even more unpredictable over time, said Rob Desai, an energy analyst at Edward Jones in St. Louis.
While current estimates predict that Iran's output could add 500,000 barrels of oil per day in 2016, if the volume increases or is exported sooner, "prices will remain under pressure and stay under $60 per barrel through 2016," he said. If the opposite occurs and there is less supply, oil prices will recover and increase to the $60 range, Desai added.
"Our view is that we are positive on oil prices long term, as we believe demand will catch up with supply in the next two year," Desai said. "In the near term, there is too much supply to get constructive on prices."

China's Impact on Global Oil Prices
The lower economic growth in China remains a concern since "hard evidence" of greater oil demand does not exist, and experts must rely on anecdotal evidence such as the rise in the sales of cars and industrial output, said Starkey. China's crude imports and refined products rose in June, but it is unclear if that demand growth will be sustained, he said.
Growth in China could be curtailed, and if a "significant slowdown on consumption occurs, there could be more pressure on oil as well as most equity classes," said Tuttle.
"China could be affecting prices on the short term since commodities are being used as collateral for margin," he said. "As margins are being called, commodities are being sold to cover."
Lower prices are not an issue for China, who has "all along pushed for an Iranian deal," said Walter Schubert, a professor of finance at La Salle University in Philadelphia.
"Russia and China have pushed for this deal for other reasons since they have Sunni issues and they tend to favor Shias over Sunnis currently," he said. "Saudi Arabia and Israel are also on the same side in this issue. It is not just about oil, power is also at play."
Although China's rapid economic growth rate has halted, the county remains the world's largest importer of crude oil, said Bernard Weinstein, associate director of the Maguire Energy Institute at Southern Methodist University's Cox School of Business in Dallas.
"Though China's growth may slow further over the next 12 months, faster growth rates in India and other Asian nations, as well as parts of Latin America and Africa, should help boost global oil demand," he said.
Prices To Dip at the Pump

Once the sanctions are lifted, Iran can export its oil more easily and the increase in supply will benefit consumers since prices will continue their downward trend, said Schubert.
"If the global economy continues to perform poorly, prices will stay low," he said.
The "aggressive" buildup in crude oil inventories will "spill over" into prices especially during the fall and early spring when refineries reach their maintenance season, said Starkey.
"Consumers have a good chance of a decline in prices then," he said.
Once the Fed implements its interest rate hike, the action will impact and lower the demand for oil in following year or two years, said Starkey.
"For the past 30 years, there has typically been a lag effect after the Fed raises rates," he said.
A surplus of 2 million barrels is primarily responsible for the 50% dip in oil prices over the past year, said Weinstein.
When Iran ramps up its production of oil by 500,000 to one million barrels per day, it should not impact prices negatively, because oil output has started to decline in the shale plays of the U.S. while global demand for oil in 2016 is expected to "accelerate," he said.
Oil prices will remain under pressure into early 2016 even without "outside forces such as Iran and China persisting," Starkey said.