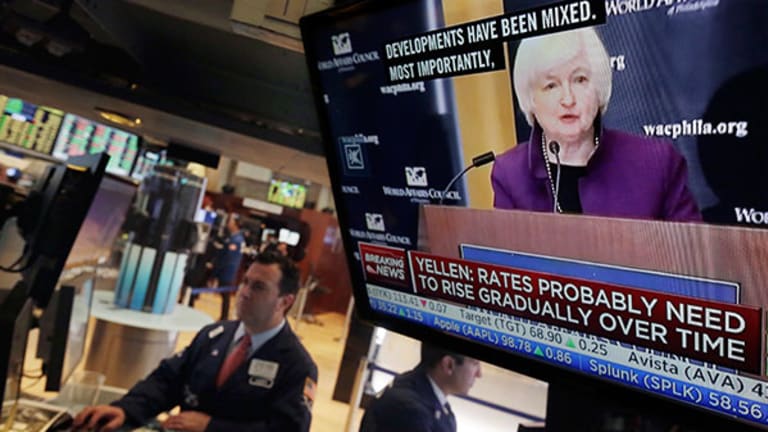 Publish date:
Odds of Negative Interest Rates in the U.S. Are Slim
The odds of the U.S. lowering interest rates to negative levels remain low because other forms of monetary policy such as quantitative easing could be adopted first.
The odds of the U.S. lowering interest rates to negative levels remain low because other forms of monetary policy such as quantitative easing could be adopted first.
The odds of the U.S. lowering interest rates to negative levels remain low, because other forms of monetary policy such as quantitative easing could be adopted first.
The odds of utilizing quantitative easing are "quite high" or policies such as the use of repurchase agreements and the term deposit facility, said Michael Kramer, a portfolio manager on Covestor, the online investing marketplace and founder of Mott Capital Management, a registered investment advisor in Garden City, NY.
Choosing a negative interest rate policy (NIRP) in the U.S. would also affect the stock markets immensely and hinder bank profits.
"Due to the size of treasury and money markets, it could have some very severe ramifications," he said. "In my view, our treasury markets are the safest and most liquid in the world."
Investors would seek a higher return on capital elsewhere such as higher paying bonds which carry more risk, Kramer said.
"This could become problematic for the US government which is dependent on issuing debt to fund the government operation," he said.
Negative rates in the U.S. would result in too much risk and backlash and would only occur if all other attempts by the Fed failed.
"At this point, the Fed has a few other tools it can use before it has to use the tool of last resort," Kramer said.
The use of negative rates remains divisive despite the growing adoption of them in the central banks of the Eurozone along with Denmark, Japan, Sweden and Switzerland. In countries such as Japan and Germany, investors are forced to pay a fee instead of earning interest.
Lowering current interest rates to negative ones "would not be a panacea," said former Federal Reserve Chairman Ben Bernanke, now a distinguished fellow in residence at a meeting hosted by the Hutchins Center on Fiscal and Monetary Policy at Brookings last week. He also said the effect on consumers would be nominal.
During periods of low inflation, negative interest rates are now a more likely option to policymakers, but they have not proved to be a solution to boosting lackluster economies. The use of negative rates has not proven that they are an effective monetary tool, said Torsten Slok, chief international economist for Deutsche Bank, at the meeting.
Negative rates have produced anxiousness among investors who are seeking greater yield.
"We have never seen such significant outflow of money from European fixed income [due to the use of negative rates]," he said. "The point of fiscal and monetary policy isn't making portfolio managers happy."
When negative rates are used, they demonstrate the inability to stimulate an economy, said Beth Hammack, global head of short term rates for Goldman Sachs. The rates "send a bad signal about the economy," she said at the Brookings meeting.
The outcome of adopting them has proven that they do not improve the economy, Slok told TheStreet.
"I think the European experience with negative interest rates proves that it is not working," he said. "Negative interest rates are ineffective and increases financial instability."
If negative interest rates came into play, it would have to be coordinated with other monetary policies because it is "not a silver bullet," said Lara Rhame, a senior economist for Franklin Square Capital Partners, a Philadelphia-based alternative investment fund provider.
"We hope we never have to use them and our forecast is for the U.S. to not require a negative interest rate policy," she said.
Negative rates would only result in global investors seeking investments elsewhere because the dollar would decline in value and U.S. exporters would be more competitive, said Robert Johnson, president of The American College of Financial Services in Bryn Mawr, Pa.
Effect on Consumers
Consumers would not fare well, because not only would banks not be able to pay any interest, they would still charge account maintenance fees to maintain profitability.
"The theory on NIRP is that when it becomes more costly for U.S. banks to keep money at the Fed, they will have incentive to do something else with it, specifically lend it out to consumers or businesses," he said. "I think the odds of a negative interest rate policy are virtually nil. Some have raised the possibility after the disappointing May jobs report, but I believe that is an overreaction."
The probability of U.S. banks paying consumers interest on their mortgages even though Danish banks are paying borrowers interest on them remains scant, said David Reiss, a law professor at the Brooklyn Law School. The interest rates of adjustable rate mortgages (ARM) are typically set for the first five or seven year and resets to a new rate. The new interest rate is the combination of an index and a spread with the index often being the London Inter Bank Offered Rate (LIBOR), which has flirted with 0%.
The majority of ARMs have a clause which limits the amount the interest rate can be changed annually, including ones offered by Fannie Mae.
"A lot of stars would have to align -- the negative interest rate of the index would have to be greater than the spread, the annual cap on changes in the interest rate could not be acting as a brake on the interest rate going down and the mortgage note could not contain a lifetime floor of 0% or more on the interest rate," he said.
Instead of lowering rates, increasing them would increase returns for investors, especially for consumers saving for retirement.
"Through Fed timidity and inaction, it was allowed to become the defining economic policy of the past decade, creating economic distortions and choking off investment returns for retirees and risk averse savers along the way," said David Twibell, president of Englewood, Colo.-based Custom Portfolio Group. "Unless the Fed envisions rates staying near zero forever, it is long past time to start weaning the economy off them. The economy and stock market will be better off over the long haul with a strong Fed whose focus is more on the future health of the economy rather on the short-term fluctuations of the equity markets."