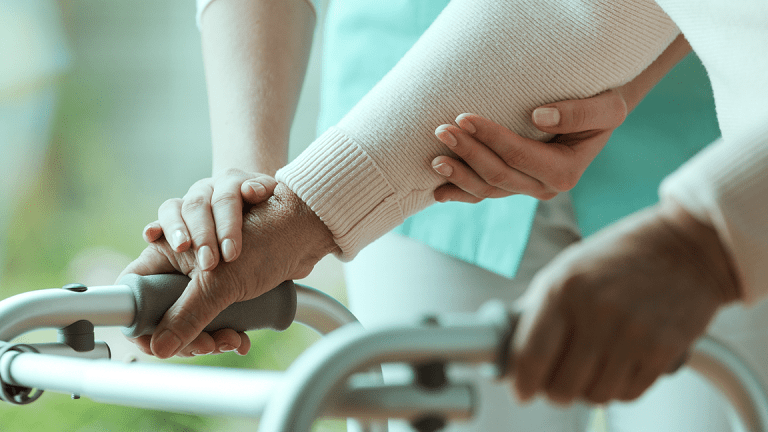 How Much Does an Occupational Therapist Make?
The average occupational therapist's salary is around $84,000 per year, as of 2018. But, some salaries can range upward of $121,000.
The ultimate goal for many professionals is to make a difference in their career while still making a competitive salary. With occupational therapists, both these conditions are met, according to recent national salary statistics. So, how much do occupational therapists make, and what do they do?
Occupational Therapist Salary
As of reports in May 2018, the average median salary of an occupational therapist rests at around $84,300 per year, according to the U.S. Bureau of Labor Statistics. As a comfortable average salary, occupational therapists hold a fairly covetable job, as salaries can range upward of nearly $121,000.
Top Occupational Therapist Salary by State
According to the U.S. Bureau of Labor Statistics, the highest paying states for occupational therapists are Nevada, making an average annual salary of $100,970 in 2018. Following close behind, the average occupational therapist in New Jersey makes a mean annual salary of $96,600, while occupational therapists in California make an annual average salary of $95,160.
National Average Occupational Therapist Salary and Statistics
Based off of estimates, occupational therapists have a fairly wide range of salaries and employment opportunities. And, with a 20% to 24% expected employment increase by 2026, occupational therapists are way ahead of the curve (much faster than normal) for job opportunities. 
National average mid-range salaries: $84,270 per year as of May 2018.
Top 10% salaries: $120,750 per year as of May 2018.
Advanced-range salaries (75%): $100,890 per year as of May 2018.
Entry level salaries: Rests around $55,000 per year.
Highest-paying sectors: Company management, child day care services and management, scientific, and technical consulting services.
Number of jobs (2016): 130,400, expected to increase 24% by 2026.
What Does an Occupational Therapist Do?
Boiled down, occupational therapists work with patients who have problems or disabilities to rehabilitate their lives through everyday activities. According to the American Occupational Therapy Association's, or AOTA, website, the general job description includes the treatment of individuals to "help people across the lifespan participate in the things they want and need to do through therapeutic use of everyday activities (occupations)."
Put simply, occupational therapists engage in a variety of treatments to help their patients lead normal and fulfilling lives while they struggle with physical, emotional, developmental or psychological problems - like children with disabilities adapting to a school environment or elderly people adapting to the physical challenges of aging.
Occupational therapy can include work and play activities, self-care and others to help patients increase their independence or adaptability to their disabilities.
Typically, occupational therapists work in various settings, including patient's hospitals and rehabilitation centers, school systems, nursing homes, clinics and industry, to name a few.
Occupational Therapist Job Expectations and Tasks
Because the range of activities for occupational therapists are so vast, there really is no one job description. However, occupational therapists' job expectations and tasks are all pertaining to the improvement and adaptation of their challenged patients to normal life.
Tasks therefore can include things like helping patients get ready in the morning, eat, or go to school or work. For this reason, occupational therapists are not the same as physical therapists.
Because of the nature of the tasks of occupational therapy, they typically must have excellent interpersonal and communication skills, critical thinking, and skilled hands-on experience.
In order to become an occupational therapist, you must have either a bachelor's or master's degree and complete an OT or OTA program, according to the AOTA.
Occupational Therapists vs. Physical Therapists
Samia Rafeedie, a doctor and assistant professor at the University of Southern California, eloquently summed up the difference between physical and occupational therapy.
"Physical therapy teaches people how to walk, and occupational therapy teaches them how to dance," Rafeedie told U.S. News.
The central difference between physical and occupational therapy is that occupational therapy seeks to help patients perform everyday activities in order to overcome problems or disabilities, which are not limited to the physical.
Still, physical therapists make more on average than occupational therapists, earning a reported median salary of $87,930 per year as of 2018 - almost $4,000 on average more than occupational therapists, according to the U.S. Bureau of Labor Statistics.
Occupational Therapist Facts
According to the AOTA, occupational therapists typically see a raise in salary after the first six years to the tune of $10,000.
Additionally, occupational therapists in the academic, home health, and long-term care or nursing facilities tend to have the highest compensation, reports say.
In fact, according to the U.S. Bureau of Labor Statistics, occupational therapists in company or enterprise management make an annual mean wage of around $94,170 per year as of 2018, while those working in child day care services make an annual mean wage of about $93,720 per year. Occupational therapists working in management, scientific and technical consulting services tend to rake in about an annual average of $93,370.
The best sectors for the highest concentration of employment are offices of other health practitioners, with about 35,130 employed, or a 3.86% of industry employment, as of 2018. Following are specialty hospital sectors, with 2.35% of industry employment, while home health care services make up 0.82% of industry employment.
Still, U.S. News ranked occupational therapists #9 in Best Health Care Jobs and #11 in The 100 Best Jobs based on "their ability to offer an elusive mix of factors," according to its website. TheStreet also ranked occupational therapists #23 on a list of the fastest-growing jobs in the U.S. in 2018.