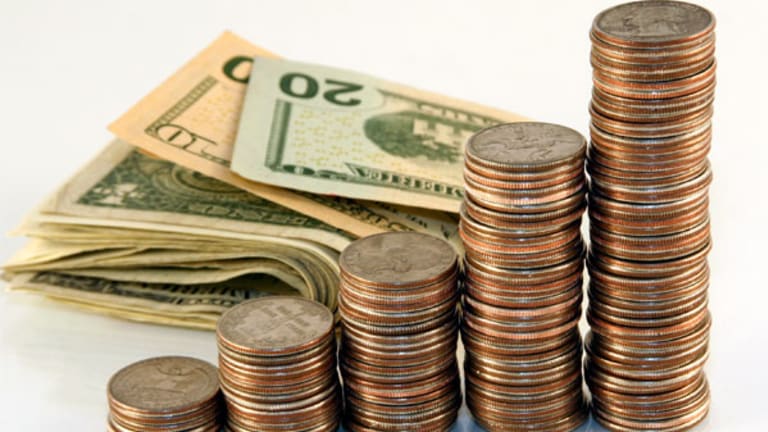 Obesity Epidemic Carries Costs, Opportunities
Something for all to think about, not just investors: U.S. obesity far outpaces other developed nations.
Something for all to think about, not just investors: U.S. obesity far outpaces other developed nations.
The world is experiencing an obesity epidemic. Fifteen percent of the world's population is overweight and 5% is obese, with the United Nations conceding that even in developing countries there are more obese than hungry people. Among developed nations, the U.S. has more obese people than any other by far.
We know health care costs are growing, and obesity is adding to the costs. Every citizen should think about them; investors have even more interest, since they should think not only in terms of their own health, but in terms of their portfolio's health.
Data show two-thirds of adult Americans are overweight, adding to national health care costs but possibly opening avenues for investors.
How bad is America's weight problem? Comparing data just analyzed by the Congressional Budget Office with the body mass index, a generally accepted measure looking at weight and height, reveals an alarming-sounding but easy pair of statistics to remember: basically, two-thirds of adult Americans are overweight; one-third is obese.
This has worsened dramatically just since 1980. A recent National Health and Nutrition Examination Survey found that 15% of U.S. adults were obese in 1980, a figure that has more than doubled, to 34%. The number of obese children has more than tripled, and now 16.9% children age 2 to 19 are obese.
There are a growing number of excellent studies on the risks and costs of obesity. Last year's Trust for America health report,
F as in Fat: How Obesity Policies Are Failing in America
, shows:
Heart disease is the leading cause of death in the U.S., and strokes are the third-leading cause. Being overweight increases the risk of both.
Cancer is the second-leading cause of death in the U.S., and 20% of cancer in women and 15% of cancer in men is attributable to obesity.
Diabetes kills almost 4 million people annually and accounts for 11% of U.S. health care costs. There is a direct link between diabetes and being overweight: 80% of people with the primary type of diabetes are overweight.
Obese people are 83% more likely to develop kidney disease than those not overweight.
The CBO study suggests the per capita health expenses of morbidly obese people exceed normal by $1,680 (154%).
It should be noted that looking only at obesity-related diseases omits a significant amount of overweight- and obesity-related costs. In informal discussions, doctors say the vast majority of patients they treat have such problems and need medicines and outpatient treatments. There are also other costs, such as sick days and lower productivity.
Investors might ponder, given the well documented problems, what government might do to reduce obesity.
From alcohol and drugs, we know outright bans on products don't work -- and when it comes to obesity, what would you ban?
While U.S. policies to curb cigarette smoking -- taxes, warning labels on packages and education -- are probably the best model, it's interesting to note that efforts to curtail smoking work against efforts to curb obesity. Quitting smoking does increase the risk for weight gain, and may actually cause more weight gain than previously thought; one study found that the average weight gain among former smokers was about 21 pounds, rather than the five to 15 pounds commonly cited.
The greater prevalence of smoking outside the U.S. contributes significantly to lower obesity rates overseas.
Smoking deaths are thought to be more than 5 million a year globally, and more than 400,000 a year in the U.S., and they significantly reduce long-term health care costs. (Medical services for living smokers essentially offset these savings.)
The two most obvious plays for investors:
Tobacco companies:
The New York Times reported that "cause" funds are switching from anti-smoking to obesity prevention campaigns, which should mean pretty smooth sailing for tobacco companies. With cigarette taxes contributing significantly to governments at every level, there is little chance the tobacco companies will encounter serious problems from governments in the foreseeable future. For tobacco company investments, check the tobacco portfolio of the
Vice Fund
(VICEX) - Get Report
. Its top three tobacco positions are Philip Morris,
Lorillard
(LO)
and
Altria
(MO) - Get Report
.
Fitness centers:
Fitness centers have had their financial ups and downs, but the survivors by now should be pretty savvy. Health insurance companies are increasingly approving fitness center memberships as reimbursable health expenses. These reimbursements, coupled with fitness centers hooking up with hospitals to provide rehab services, should make them a pretty good investment in coming years. "Up until this recession, the feeling was that our industry was recession-proof ... but that was not case in this recession. Quite a few operations have gone under, mostly smaller, lower-priced operations," says Armand Janjigdian, CEO of The Kingsbury Club, a good sized fitness/sports center. "I believe you are correct in saying this industry has great investment potential, but probably in larger operations that are able to integrate physical therapy, rehab, etc. with local hospitals."
>To submit a news tip, email:
.
RELATED STORIES:
>>Weight Watchers Isn't Swallowing Biotech Cure
>>Hotels Build High-End Gyms for Business Elite
>>Financial Resolutions Update: What a Waste
Follow TheStreet.com on
and become a fan on
Elliott Morss is not an investment adviser, and nothing he writes should be taken as a recommendation to buy or sell an asset. Morss is an economic consultant and an individual investor in developing countries. He has taught at the University of Michigan, Harvard University, Boston University, among other schools. Morss worked at the International Monetary Fund and helped establish Development Alternatives Inc. He has co-written six books and published more than four dozen articles in professional journals.