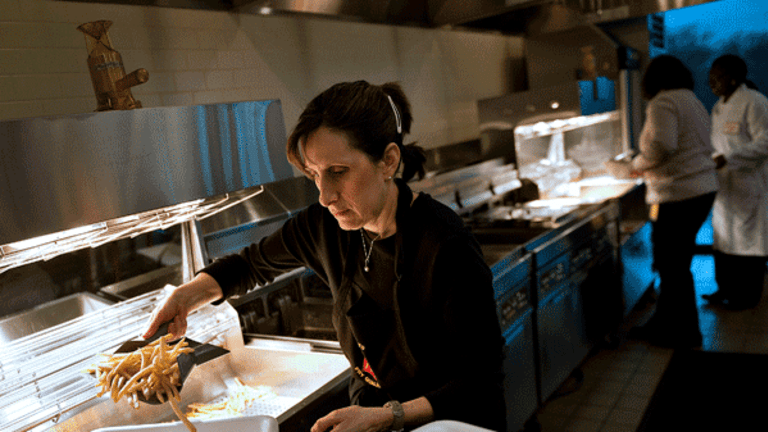 Obamacare Has Already Hurt Hiring by Small Business, Franchises
Small businesses have already taken action against the Affordable Care Act, cutting down on employee hours to prepare for 2015.
NEW YORK (
) -- Small businesses and franchises have already taken action against the Patient Protection and Affordable Care Act, by either not hiring or by cutting down on employees' hours enough to get them underneath the law's definition of "full-time" in preparation for the onslaught of health care expenses coming in 2015 as a result of the new law.
According to a freshly released report by the International Franchise Association and the U.S. Chamber of Commerce, the controversial Affordable Care Act is already resulting in higher costs of health coverage, which in turn means businesses are cutting full-time jobs.
Despite the postponement of the so-called
provision of the law to 2015, which calls for businesses with at least 50 full-time employees to offer health insurance to them, small-business owners and franchisees are worried.
The report found 64% of business decision-makers in franchise-owned businesses and 53% of non-franchisee-owned businesses believe the ACA will have a negative impact on their businesses.
Approximately 31% of franchise and 12% of non-franchise businesses said they have already reduced worker hours because of the impending law. Additionally, 27% of franchise and 12% of non-franchise businesses have already replaced full-time workers with part-time employees because of the law, the report found.
The research also shows that -- when fully implemented -- the law's employer mandate will mean that 28% of those businesses report that they will drop coverage for their employees.
"In effect, among this segment of businesses, the employer mandate will almost double the percentage of franchise-owned businesses and more than triple the percentage of non-franchise businesses that will not offer health care," the release says.
The research also shows that the ACA's employer mandate will specifically hurt business growth at companies with 40 to 70 employees. Among those business owners, 59% of franchises and 52% of non-franchises say that they "will make personnel changes to stay below the 50 full-time equivalent threshold."
The survey was conducted by Public Opinion Strategies, polling more than 400 businesses (franchise and non-franchise) with 40 to 500 employees.
Businesses of this size account for more than 42 million jobs and employ 25% of all Americans, the release says.
"This research clearly confirms what the anecdotal stories have already conveyed. Small-business owners are already cutting full-time jobs and reducing hours for many of their employees due to the ACA," IFA President and CEO Steve Caldeira. "This research should serve as a major red flag to Congress and the administration that unless there is a statutory change to the definition of a full-time employee in the ACA, there will be fewer full-time jobs, more part-time workers and fewer overall hours available for Americans to work as business owners adjust their workforce to comply with the law."
Brands from
Papa John's
(PZZA) - Get Papa John's International, Inc. Report
to
College Hunks Hauling Junk
have expressed concern over the effects of the heath care law on their businesses.
The franchise trade association and the U.S. Chamber are working toward what they see as a solution: changing the definition of full-time employees under the health care law to 40 hours a week from 30 hours a week.
The two organizations support bipartisan legislation introduced by Sens. Susan Collins (R-Maine) and Joe Donnelly (D-Ind.) titled the Forty Hours is Full-Time Act of 2013, which would change the definition of "full-time" in the law to 40 hours per week and the number of hours counted toward a "full-time equivalent" employee to 174 hours per month as well as other sponsored House bills with similar goals. The Web site
was created to generate support for the bills.
-- Written by Laurie Kulikowski in New York.
Disclosure: TheStreet's editorial policy prohibits staff editors, reporters and analysts from holding positions in any individual stocks.