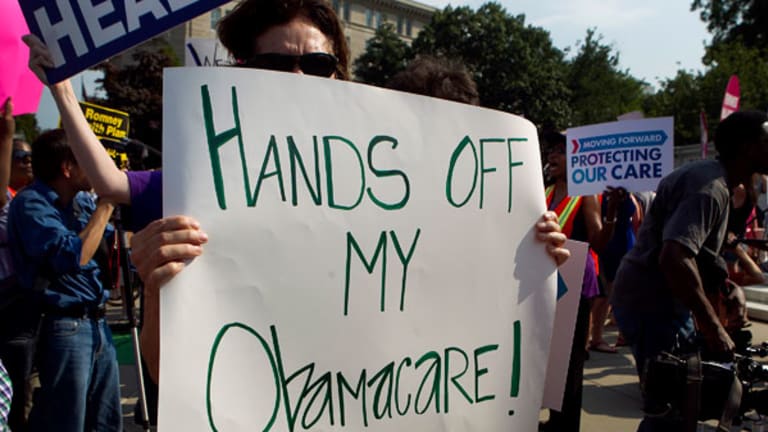 Obamacare Countdown: Americans Still in the Dark about Health Insurance Exchanges
Few Americans know what they are and how they will work.
Few Americans know what they are and how they will work.
NEW YORK (MainStreet) ¿ Obamacare looms, but more Americans ¿ including those without health insurance ¿ have little idea how it works or what they should do. With health insurance exchanges set to open in days, a new Harris Poll reports 70% of those surveyed are not at all or not very familiar with them. Those without health insurance are even less familiar, with 73% not at all or not very familiar.
Also see: Trading Options to Pay for College >>
"As health insurance exchanges go live, consumers will have the opportunity to evaluate and select the health insurance plan and benefits that best fit their medical needs and wallet," says Debra Richman, Senior Vice President, Healthcare Strategy, and Co-Chair of Strategic Health Perspectives. "These findings suggest that unless knowledge and understanding of the exchanges begin to grow, particularly among those who aren't covered today, some of consumers may be slow to utilize them. Health insurers must first understand these new individual customers and work to close the huge consumer education gap."
Just 9% of the public report that they are extremely or very familiar with the term health insurance exchange, while another 21% are somewhat familiar. But one thing Americans can agree on: they don't want to pay the penalty for not having coverage. When asked what they would do if their employer did not provide insurance, over half (59%) of those with employer-provided coverage say that they would purchase insurance through the exchanges, as opposed to paying a penalty.
Also see: Worth More Dead Than Alive: Get Real With Life Insurance >>
Nearly three-quarters of Americans believe the insurance exchanges will be difficult to understand and that health insurance purchased through an exchange will be expensive-- but still half believe that they will be able to find a health plan on an exchange that will meet their needs at a reasonable price.
"We see a fairly high percentage of Americans that actually believe the exchanges will enable them to find affordable health insurance that will meet their needs. This offers health plans a strong opportunity to engage consumers," Richman adds. "The key to a plan's success will be the ability to address consumers' exchange familiarity and also understand the important differences in consumer preferences and purchasing behaviors."
Also see: Subprime Loans Are Back? >>
While the Harris survey referenced the Obamacare insurance sources as "exchanges," the official government Affordable Care Act website (healthcare.gov) refers to them as "marketplaces."
Beginning October 1, open enrollment will begin and consumers will be able to fill out an application for health insurance coverage through these marketplaces. Coverage commences on January 1, 2014. Americans without "minimum essential coverage" will still be responsible for paying any costs incurred for healthcare, as well as a penalty fee. The fee in 2014 is 1% of annual income or $95 per person for the year, whichever is higher. The fee increases every year. In 2016 it is 2.5% of income or $695 per person, whichever is higher.
--Written by Hal M. Bundrick for MainStreet