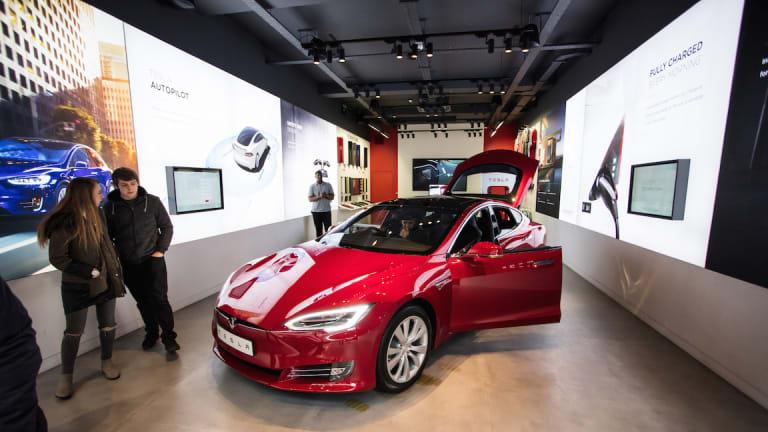 Now You Have Your Choice of All of These Electric Cars
They're no longer the slow, experimental, dorky-looking cars that you feared would leave you stranded in the middle of nowhere.
Anyone who owned an electric car in the late 1990s doesn't need to be reminded that the last of them were repossessed and crushed in 2001 and 2002, as told by the 2006 documentary, "Who Killed the Electric Car?"
But electric cars are making a comeback. Tesla alone sold more than 220,000 electric cars in 2018, and they aren't the only EV maker -- Volkswagen, Toyota, (TM) - Get Toyota Motor Corporation Report Honda, (HMC) - Get Honda Motor Company Ltd. Report BMW, Chevrolet and Ford (F) - Get Ford Motor Company Report have all jumped on the electric bandwagon, and EVs are expected to outsell gas cars in the next 20 years, according to CNN.
Perhaps you've been putting off buying one because the cost is too high (there are now several below $35,000, and don't forget the federal tax credit of $2,500 to $7,500 and there are now plenty of used EVs on the market.)
Or maybe you're afraid the battery will run out and you'll be stranded somewhere like Death Valley (except that even Death Valley has free chargers) or maybe you were waiting for them to be in some other color than green (they come in all sorts of colors) or you simply must have a luxury car (hello, Tesla, BMW, Jaguar and Audi.)
So if you've been dragging your feet on looking at an EV for your next car because you thought they were still experimental and dorky-looking (they're not,) and you're still driving one of those old internal combustion engines (so yesterday!) you now have your choice of all of these electric cars, and if that's not enough, we've included a list of plug-in hybrids, too.
Photo: J. Lekavicius / Shutterstock