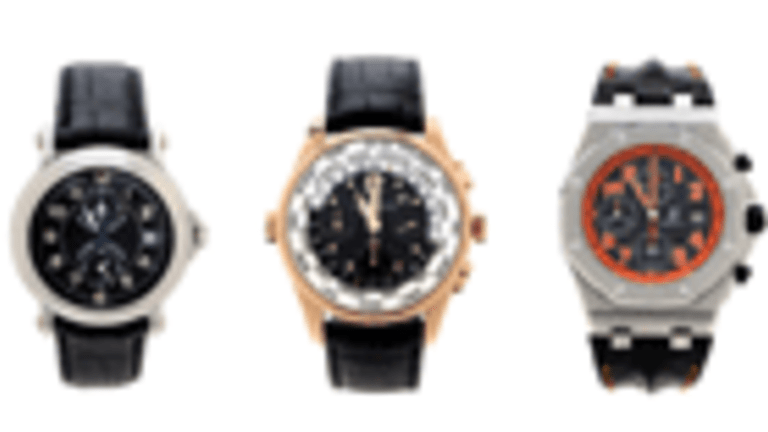 Now There's Netflix for High-End Watches
More than 40% of consumers are open to renting almost anything in the New Year, including high-end watches and jewelry.
SAN DIEGO ( TheStreet) -- A new luxury watch aligning with your style can be shipped to your home every few months -- part of the same new culture of renting most people experience by building a profile on Pandora or Spotify or being a member of Netflix.
Enter Eleven James -- a luxury watch rental membership program launched late last month.
"We've already had inquiries from every continent on the planet, so clearly there's an interest in this," says Eleven James founder and CEO Randy Brandoff, former chief marketing officer of the Berkshire Hathaway-owned NetJets jet ownership and rental business.
For the entry-level membership fee of $249 a month, Eleven James members get to wear watches worth an average $10,000 or more for two months at a time. The annual rental program allows members to experience three to six different watches per year, depending on the membership level bought.
If you're still scratching your head wondering why such a program is necessary, you're probably not among Eleven James' target audience.
True watch connoisseurs totally get it.
Eleven James attracts several different types of luxury watch lovers, Brandoff says.
There are those of ultra high net worth who already own so many luxury watches they're hesitant to buy another.
"At some point those individuals get fatigued from having more watches then they can possibly wear," Brandoff explains. "We allow them to reinvigorate their watch collection without overgrowing it."
On the other end of the spectrum is the watch connoisseur in his early 30s for whom membership buys exposure to a variety of luxury watches as something of a learning experience, before making such a substantial purchase.
"For the sub-35-year-old, membership is firmly about access and experience," Brandoff continues. "When you are 30 years old you don't own your car, you don't own your apartment and when you go on vacation, you don't own your vacation home. Owning is not what this generation is about."
Also see: Most of Our Richest Don't Care About Brands>>
Somewhere between those categories is the highly paid executive member.
"The middle case is the well-compensated, six-figure executive who is at a phase in life where the kids are in private school and membership is their way to take it easy and still access these watches," Brandoff says.
The watches Eleven James members have access to include IWC, Panerai, Rolex, Hublot and Zenith with the lower-priced Aficionado Collection membership. The value of the watches in this tier range from $7,000 to $15,000, Brandoff says.
With more expensive Connoisseur Collection comes watch brands including Audemars Piguet, Vacheron Constantin, Patek Philippe and Girard-Perregaux. The value of the watches in this collection range between $15,00 and $30,000, with an average value of more than $20,000.
Eleven James is among a wave of businesses seizing on the growing penchant for renting big-ticket luxury items rather than buying.
Miami-based, fifth-generation jewelers Jono and Taylor King launched an online luxury jewelry and watch rental business in November named Haute Vault that works much the same as Eleven James.
For a monthly membership fee, members have access to glamorous baubles in various price categories. In the case of Haute Vault, though, members pay a rental fee on top of membership charges.
"We had screaming demand from our clients, coming into the store asking if we rent things," Jono King explains.
When you visit Haute Vault for a rental you should definitely be dreaming big. Among the items rented recently by the website was a haute couture 15.4-carat diamond constellation necklace that retails for a cool $75,600 and matching 5.2-carat diamond earrings that sell for $27,000.
"That was rented to a doctor and his wife for their wedding," Taylor King says.
People from all walks of life are opting to rent luxury items such as theirs, with Haute Vault clientele ranging from 20- and 20-year-olds to the mother of the bride, Taylor King says.
Also see: This Luxury App Takes You Window Shopping Around the World>>
"There's the aspirational buyer, mid- to late-20s, who is just getting started, with a somewhat decent income, but still can't afford to plunk down a lot of money, to those in their late 40s, 50s and into their 60s who find it awesome to wear the pieces," Taylor King continues. "It's about having access to incredible pieces to wear, before buying them."
Where are such fabulous jewels being worn?
Charity events, important fundraisers, or simply on fabulous vacations, Taylor King says.
"These are renting to people who specifically say 'I have to look my best.' These are people who are out being photographed at events, women who are out and about, who are successful in their own right, or whose husbands are successful," Taylor King says. "Or some people are simply coming up with their 'vacation look' when they rent, whether it's Vegas or a business retreat."
Membership in Haute Vault begins with the Sterling level for a $15 monthly fee and access to items $5,000 or less. The Diamond-level membership is the highest and costs $250 a month. Diamond members can access the entire Haute Vault collection and rent items up to $100,000 in value.
Eleven James and Haute Vault appear to have picked a good time to launch.
According to the 2014 Future of Retail study by Walker Sands Communications, 43% of consumers are open to renting almost anything in the New Year.
Rentals of luxury items, sporting goods and tools are expected to more than double in 2014, according to the study.
While less than 2% of consumers have rented high-end products such as jewelry or handbags online, when asked if they'd be willing to in the coming year that number jumped to almost 5%, according to the Walker Sands study.
Of those consumers who rented instead of bought during this past year, 42% did so because they wanted to save money, while 51% did not have a need for the item afterward.
"Not everyone has the discretionary funds to purchase everything they like," Jono King says. "But through Haute Vault you can wear everything you like. We really believe it's a smarter way to wear things. We are removing a lot of the confinements people had -- whether it was budget or accessibility or geography. There's a lot of different scenarios in which rental makes sense."
Adds Taylor: "I think five or six years ago, it was hush hush -- people had mixed emotions about renting. Now it's become the savvy way to enjoy these pieces."