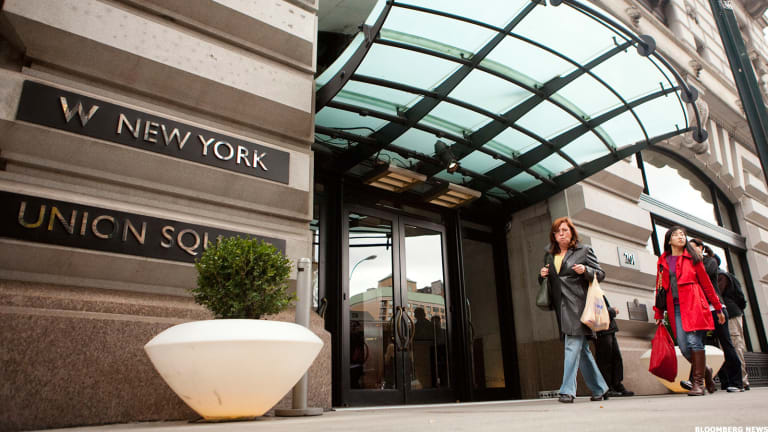 New York City Hotel Week in January: Bargains or a Bust?
Want to enjoy the Big Apple on the cheap? January is your time. Hotel Week beckons.
Manhattan is a fiercely expensive city for hotel stays - over $300 a night is not atypical for humdrum, run-of-the-mill accommodations, and if you want prime Central Park digs, be prepared to shell out nearer to $1,000. And then there is New York City Hotel Week when what appears to be bargains abound. Mark your calendar: January 3 - 15.
The rationale, according to New York publicist Nancy J. Friedman, whose brainchild Hotel Week is, is that hotels traditionally have struggled with high vacancy rates in January. The city is packed from Thanksgiving until New Year's Eve and then, poof, it empties out in January. So five years ago Friedman created NYC Hotel Week - modeled on the fabulously successful Restaurant Week.
Now approaching 20 hotels participate in Hotel Week. Rooms are priced at a flat $100, $200, or $300 (though at this writing, there are no $300 offers).
Are there in fact good deals?
"It depends on the hotel," said Andrew Young, editorial director at deals company Travelzoo. But he quickly praised one deal in particular: $200 a night rates at the two trendy Gansevoort hotel locations in Manhattan (Meatpacking district and Park Ave.). "That usually would be much more." A quick check found late January rates at the Park Ave. hotel are generally around $325. Ditto for the Meatpacking hotel. So when booked through NYC Hotel Week, there's a fast and easy $125 savings.
Young said Travelzoo has New York pegged as a "great deals" city in 2016 because some 30,000 new hotel rooms have come on stream in the past seven years. That's put downward pressure on prices. Young added he was impressed with some of the the $100 deals in New York City Hotel Week. "$100 is a good deal for a 3-star hotel," he said. "We usually see $129 - $149."
The Cosmopolitan Hotel in Tribeca is $100 in Hotel Week - the cheapest rate on the website in late January is $118.30. The Hotel Wolcott in Nomad, also $100 in Hotel Week, has a best rate of $125 later in January.

Not all $100 deals are necessarily great, however. On offer for $100 is the Paul Hotel in Nomad - although in late January, after Hotel Week, the price dips to $93.
Some deals are a wash. The Library Hotel is $200 in Hotel Week. But in most of late January nights are $210, except on January 31 when it is $187. The Hotel Elysee is $200 in Hotel Week; later in January it is $208.
But know this: on December 11, the Elysee is $603. On the 12th it is sold out. So $200 - through that lens - is a deal.
As for how to book New York City Hotel Week deals - always directly at the hotels, not through online travel agencies. Specifics as well as booking codes are here.
Word of advice: double check at the hotel to make sure the deal is as good as you want. 
Here's the other question: who goes to New York in early January? Not that many of us, obviously, but maybe it is time for a rethink. The city is hectic in the holidays; afterwards, a slow pace takes hold. What to do? Shop, said Friedman, who pointed out that Hotel Week overlaps with the annual sales at most Manhattan department stores and shops.
Young at Travelzoo added: "Broadway shows, restaurants, spas are all trying to pull in business in January, too." There may be deals and - just as importantly - places that are sold out in peak periods may be happy for your business in January.
What about the weather? Joe Brancatelli, a travel expert who blogs at JoeSentMe, said: "As for stays in January, actually terrific in New York. The weather can sometimes be surprisingly good and the bad snows, when they come, are usually in February." Average high temperatures in New York in January are in the very high 30s. Average lows are mid 20s. That would count as mild in much of the country.
Add it up and when you carefully choose your Hotel Week hotel, you just may score big - and may also have a great time in a New York where the pace is abnormally slow for the Big Apple.
This article is commentary by an independent contributor. At the time of publication, the author held TK positions in the stocks mentioned.