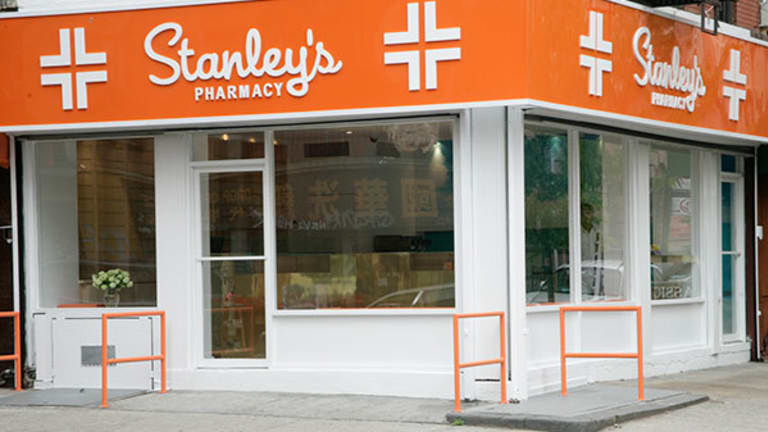 New York City Gets a Luxury Pharmacy
It's less CVS or Walgreen's, more new age wellness destination meets old-fashioned neighborhood drugstore and soda fountain.
SAN DIEGO (TheStreet) -- When was the last time you walked into a pharmacy, described your ailment and had a pharmacist whip up a wellness drink designed to treat you on the spot?
That's how 40-year-old Stanley George runs his new, luxury pharmacy in New York City's Lower East Side.
Have a headache? PMS? Had a stress-filled day at work?
No problem, Stanley's Pharmacy has custom wellness drinks to address all of it.
Stanley's Pharmacy is less CVS, Walgreen's or Eckerd and more new age wellness destination meets old-fashioned neighborhood drug store and soda fountain.
"Pharmacies have gone so far away from their roots. I felt a mission to bring that back," says George, a Bronx native.
Located at Ludlow and Hester streets, Stanley's combines a wellness bar that specializes in drinks blended by George with the standard prescription services other pharmacies offer and a wellness library stocked with glossy monthly health, fitness and fashion publications -- all in an atmosphere that is California cool meets 1970s retro.
The store's trademarked Drinks + Drugs menu features pharmacist-recommended wellness cocktails paired with over-the-counter drugs or an herbal remedy to treat ailments. There are also hot and cold medicinal teas, custom organic sodas made by George, espresso drinks and raw coconut water fresh from Thailand.
Also see: What It's Like Turning Off Your Phone at 'World's Best' Spa>>
As for calling it a luxury pharmacy  that's less about the prices at Stanley's and more about the overall experience.
After all, anyone can go to a sterile local drugstore and buy a bottle of aspirin to treat a hangover. Stanley's is a throwback to the time customers knew their pharmacist by name and got personalized treatment.
"When you walk into store, from the moment you walk in, I'm the first thing you see, so I can immediately address your concerns," George says. "You're getting time with a health care professional and custom wellness treatments, all in a relaxing environment with great music. It's such a far cry from what you're experiencing walking down the street in New York City."
George has nearly two decades of experience as a pharmacist developed working in New York and Los Angeles. While in L.A. he grew to be a go-to pharmacist for A-list celebrities. He developed a substantial following on both coasts.
That experience helped George launch the pharmacy he describes as a true embodiment of both the "urban" and the "hick" elements of his personality. One wall of the pharmacy is covered with a picture of an ocean  a nod to his time in Southern California and the connection he felt there to nature and the outdoors. Meanwhile, the pharmacy's floors are a luminous white and the bar has a warm brass facade.
"Those who don't know who I am walk in thoroughly confused and ask 'What is this place?'" George says.
Also see: From Beverly Hills Comes the Champagne of Water>>
George is promoting his custom-blended detox drink for people still recovering from too much holiday partying: the "Life Changer." The drink is made with fresh-squeezed lemons, a concentrated batch of ginger tea, Psyllium husk and blue-green algae from one of oldest volcanic lakes in world.
"It is amazing for detoxing because it goes into the digestive tract and expands and literally scrubs the inside of the intestines," George says.
He's also designed a drink for the overstressed Wall Street professional. It's called Chilax and includes George's homemade mint soda, fresh lime and Motherwort, among other things.
"It makes you feel calm and inspired," George says of the drink, which costs $3 for a shot and $5 for a glass.
The pharmacy's website offers such things as "Stanley's Pharmacy Rx + Antioxidant Collection" for $40 -- a collection of teas such as Hangover Rx; ImmuniTea; Detox Rx; Sore Throat Rx; Tummy Ache Rx; and PMS Rx.
The "Girls Goody Bag" for $44 is a package of Hangover Rx; Detox Rx; and PMS Rx, as well as Tampax and a box of Midol Menstrual Complete.
It's hard to imagine what to expect next from George. But George knows exactly where he wants to go from here.
"We definitely want to expand," George says. "We want people to experience this all over the world."