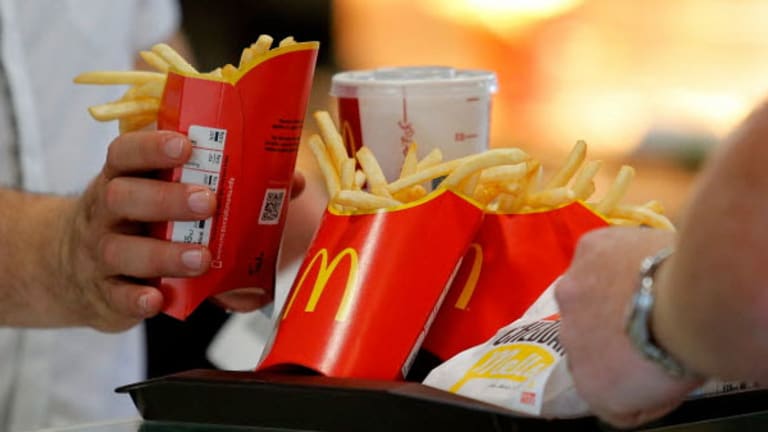 New York City Cracks Down on Salt: Will the Nation Follow?
A lawsuit threatens to derail the new rule that declares war on too much salt in our food.
Too much salt in your diet is bad for your health, and that is why at least some New York City restaurants now have to label menu items that deliver more than 2,300 mg of salt, around one teaspoon.
Early reactions are mixed. One big trade association has said it will file suit. Some physicians applaud the measure; others shrug. Some restaurants may have big trouble, others say it has no impact on them. The rule incidentally applies only to New York City and only to restaurant chains with 15 or more locations in the U.S.. The neighborhood deli won't need to comply.
All this matters, however, to much more than New York. The state is where laws requiring menu calorie counts took hold in 2009 and now that is rolling out nationally in 2016. Anti-salt advocates hope similar will happen with New York City's sodium labeling.
Understand: New York City is not telling restaurants they cannot sell high sodium food, said lawyer Thomas Wassel with Cullen and Dykman. "What they need to do is label it." Items with sodium above the 2,300 mg threshold need to be identified on the menu with a salt shaker shrouded in black.
Why sodium, why now? New York City's Health Department, in an explanatory Internet posting, said: "The average American adult consumes almost 50% more sodium than the recommended limit per day. Restaurant food tends to have more sodium than food prepared at home. Consuming too much sodium is linked to
• Increased blood pressure
• Risk of heart disease
• Risk of stroke
Together, heart disease and stroke kill more Americans each year than any other cause."
As for why we may need an explicit warning, Dyan Hes, medical director at Gramercy Pediatrics in New York, said, "People are not mindful of their sodium intake. Nobody really talks about how much salt is in this dish. That salt shaker on the menu will make you think about what you are eating." He's added that one in every six children has high blood pressure which she attributed in large measure to too much salt in processed food and restaurant food.
Alexandra Sowa, clinical instructor in medicine at Weill Cornell Medical College and a New York City internist, took a more nuanced position and in particular doubted the effectiveness of the New York City rule. She pointed to calorie labeling on menus. "Some people actually are known to order higher calorie items to get more for their money," she said. In saying that, Sowa was not judging those diners, just indicating that outcomes of laws are not always what was intended. "We don't know what the impacts of the New York sodium labeling will be," said Sowa. She also wondered "if we are inundating people with too much information."
"If it makes us more aware of what we are eating, that is good," she added. 

At least some restaurants said the New York City rule on sodium had no meaningful effect on them. Panera Bread, for instance, said that it would have had to label three items on its menu with the salt shaker, "but we revised the recipes," said Sara Burnett, director of wellness and food policy at Panera. She added: "Our goal is that this does not live just in New York. We plan to roll out new versions nationwide."
McDonald's, too, has said the New York rule has no impact on it. Its statement said, "We do not have national McDonald's menu items on our menu boards in New York City that exceed this criteria. We'll continue to evolve our menu to meet our customers' needs."
The National Restaurant Association, a trade group based in Washington, DC, told MainStreet it intended to file suit against the rule this week. In a statement the group elaborated that it supports a national menu labeling law initiated by the Food and Drug Administration, to take effect nationally in late 2016. That law requires calorie counts on menus and information on sodium to be provided on request.
The trade group elaborated: "Local mandates like the one the [New York City] Board of Health put forth unravel that uniformity. They are also placing an overly onerous and costly burden on New York's restaurants.... With its sodium mandate, not only is the Board inflicting financial burden on restaurants, it is imposing on both restaurant owners and consumers, a view regarding the health effects of sodium intake that is the subject of scrutiny based on recent and evolving scientific research."
Physician Sowa, incidentally, agreed with that last bit: "There is conflicting evidence about what is a 'safe' level of salt -- salt is not the enemy!" 
Lawyer Wassel voiced skepticism about any challenge. "I don't see a substantive challenge to this rule," he said. "It is not preventing any restaurant from serving high sodium food. I would be optimistic this [New York rule] would survive a challenge."
Over at ZoneManhattan.com, a delivery service that provides subscribers with three meals and two snacks daily, CEO Steve Lindner indicated that really - for a thoughtful cook - there's no problem with coming in below the New York salt limits. "We are always under 2,000 mg per day, for all the meals," said Lindner. "Our target is 1,500 mg per day."
He did add one culinary tip, in terms of maintaining flavor while improving health. "You can't just remove salt," he said. "You have to replace it. We add spices, herbs, citrus zest. You don't cut out salt completely, but you can keep the count down. The body adapts."
This article is commentary by an independent contributor. At the time of publication, the author held TK positions in the stocks mentioned.