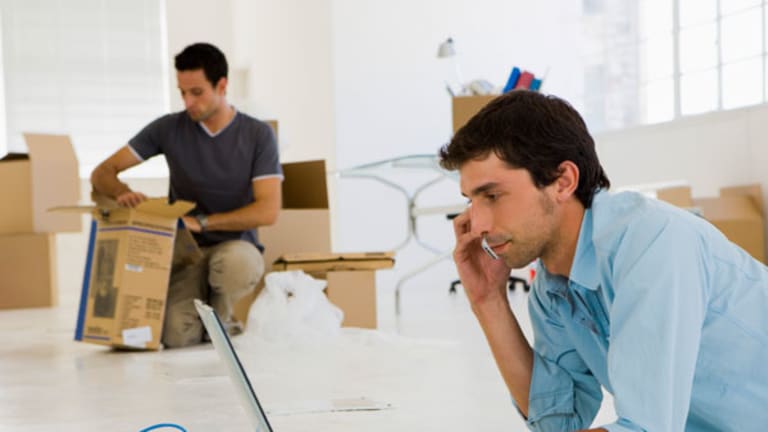 Publish date:
New Study Cites Cancer Risk of Cell Phones
A new study and upcoming conference are resurrecting the debate over whether cell phone user is tied to cancer.
A new study and upcoming conference are resurrecting the debate over whether cell phone user is tied to cancer.
BOSTON (TheStreet) -- Whether cell phones cause brain tumors is a question that falls into vogue every once in a while, and this is one of those times.
On Sept. 13, concerned doctors from all over the world will descend upon Washington for the
Expert Conference on Cell Phones and Health
. The conference is meant to coincide with a possible Senate hearing on the subject, according to event organizers. Second, last week a collection of industry watchdogs released a fairly compelling study on the topic, including the fact that many cell phone user manuals warn against carrying the devices directly against our bodies.
Cellphones and Brain Tumors: 15 Reasons For Concern
concludes there's a big risk for brain tumors among cell phone users, especially children. The report also says there are major design flaws in a major multinational study called Interphone, which was launched more than 10 years ago but has yet to be released other than in piecemeal reports by individual countries. Design flaws aside, those initial
indicate risks, too, especially among people who have been using cell phones for more than 10 years.
"We can expect an enormous pandemic of brain tumors," says Lloyd Morgan, lead author of the study, which is endorsed by more than 40 doctors and scientists. A retired electrical engineer, Morgan says his passion for the topic stemmed from finding out he had a brain tumor in 1998. A neurosurgeon told him exposure to electromagnetic fields was a possible cause. "I pray I'm wrong, but I don't believe I am."
If Morgan's right, we're in trouble.
Americans spent a total of 2.2 trillion minutes on their mobile phones in 2008, up from 1.5 trillion the previous year, according to the
CTIA - The Wireless Association
, an industry lobbying group in Washington. The percentage of adults in the U.S. who give up their landlines to use wireless phones exclusively continues to grow every year, from 14% in 2007 to 16% in the first half of 2008, according to the Centers for Disease Control and Prevention. (The CDC tracks this data not because of the potential risks of cell phones, but because it wants to gauge the accuracy of its surveys, which historically have been conducted on calls to landline phone numbers.) For those of us who work out of home offices, that means hours of cell phone time every day.
Industry lobbyists argue that while the watchdog report is endorsed by several doctors, no major health organization has linked cancer to cell phones. "The peer-reviewed scientific evidence has overwhelmingly indicated that wireless devices do not pose a public health risk," said John Walls, CTIA's vice president of public affairs, in an e-mailed statement. "There is no known mechanism for microwave energy within the limits established by the Federal Communications Commission (FCC) to cause any adverse health effects. That is why the leading global health organizations such as the American Cancer Society, National Cancer Institute, World Health Organization and the U.S. Food and Drug Administration all have concurred that wireless devices are not a public health risk."
The thing is, though, that none of those groups has actually given cell phone users a definitive bill of health. They use terms like "unlikely" and "low plausibility." The future isn't scientifically definite.
And while there are FCC regulations mandating that mobile phones have a "specific absorption rate," or SAR, of 1.6 watts per kilogram or less, it's naturally disconcerting that the company documentation that comes with many phones specifically tells users to avoid extended direct contact with the devices.
The
user guide
for
Research In Motion's
(RIMM)
BlackBerry 8300 says, "If you do not use a body-worn accessory supplied or approved by RIM when you carry the BlackBerry device, keep the device at least 0.98 inches (25 millimeters) from your body when the BlackBerry device is turned on and connected to a wireless network. When using any data feature of the BlackBerry device, with or without a USB cable, keep the device at least 0.98 inches from your body."
And from the
Apple
(AAPL) - Get Report
iPhone guide
: "For body-worn operation, iPhone's SAR measurement may exceed the FCC exposure guidelines if positioned less than 15 millimeters (0.63 inches) from the body." The company recommends that when people talk on the iPhone they hold it "with the 30-pin connector pointed down toward your shoulder to increase separation from the antenna."
"Almost nobody reads those manuals," Morgan says. "There should be a warning label right on the cell phones."
I'm thinking it might be a good idea to at least move your smart phone from your front pocket to your back pocket.
-- Reported by Carmen Nobel in Boston.
Follow TheStreet.com on
and become a fan on