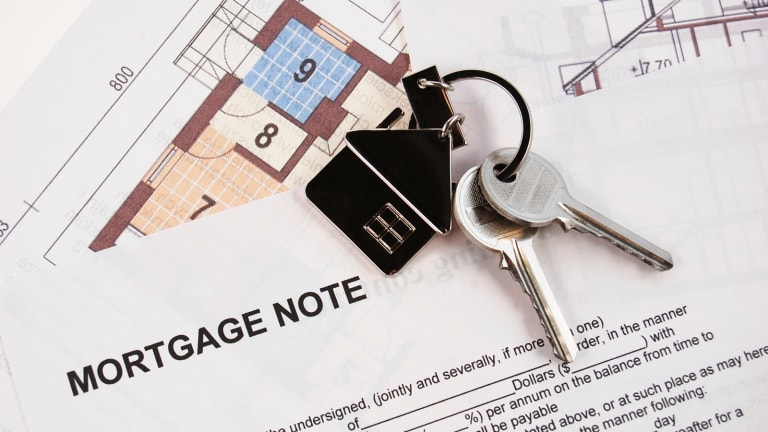 New Mortgage Rule Requires Disclosure Documents to Help Consumers Compare Costs
A new set of shorter and simpler mortgage documents will be disclosed to consumers before they close on a loan, making the costs more transparent.
A new set of shorter and simpler mortgage documents will be disclosed to consumers before they close on a loan, making the costs more transparent.
NEW YORK (MainStreet) — A new set of shorter and simpler mortgage documents will be disclosed to consumers before they close on a loan, making the costs more transparent and helping home buyers compare offers from multiple lenders easier.
Mortgage lenders are required to start giving loan applicants the new disclosure documents starting on October 3, a new government requirement imposed by the Dodd-Frank Act.
"The disclosures will be easier and shorter so that consumers understand the mortgage they are getting because it will be simpler to compare offers," said Holden Lewis, a mortgage analyst for Bankrate.com, the Palm Beach Gardens, Fla.-based financial content company.
Fewer Documents to Pore Over
Instead of reviewing four documents between the application and closing, the new disclosure documents will be limited to two documents and will also be shorter, he said. Current potential homebuyers receive a Good Faith Estimate and a TILA (Truth in Lending Act) disclosure, a HUD-1 and a closing TILA document in addition to other servicing documents.
The new documents will be streamlined and will be replaced with the new Loan Estimate, plus the new Closing Disclosure.
"It will be easier to understand if the loan at closing is the same one that you were promised," Lewis said. "This was really a problem before. With the new documents, you can set it side by side and see the numbers if they jacked up the closing costs and if the interest rates are the same."
The current forms have been around for over three decadeswith slight updates, so "it's time to implement these changes," said Ben Niernberg, an executive vice president at Proper Title, a Northbrook, Ill. title insurance agency.

Changes to Documents Occur Less Often
One benefit is that consumers will experience fewer changes to their loans, because lenders can no longer make "substantive changes" a few days before the closing, Lewis said. Now any major changes require issuing new closing disclosures and a three-day waiting period.
Current homebuyers receive the HUD-1 document before they close on the mortgage. But in practice, "most people get it the day they close and it doesn't give them much time to compare and got the loan they were promised," he said.
Now lenders can't make substantive changes at the last minute. The new regulations will make them more competitive and the information on the documents will be clearer and better for borrowers and will "keep a lid on costs," Lewis said.
In the future, there will be two three-day periods which "count down consecutively, not concurrently, making it really a six-day period," said Niernberg. There is one three-day period for receiving the Closing Disclosure and once the consumer has received it, the three-day review period starts.
Postponing the closing only occurs when there are significant changes such as if the APR increased by "more than an eighth of a percent or if it changes from a fixed rate to a variable rate loan," he said.
The advantage of receiving the Closing Disclosure at least three days before the closing is that both buyers and sellers can "review all their final numbers in advance rather than the day of the closing and it eliminates the mad rush to get accurate funds at the last minute," said Alice Miles, a broker at Coldwell Banker in Brookline, Mass.
In the past, many people were able to close on the sale of a house and buy another one the same day.
"This new rule makes this pretty much impossible," she said.
Now consumers will have a more clear view of what they are agreeing to in the documents, said Jason van den Brand, CEO of Lenda, a San Francisco-based online mortgage lender.
"The sleight-of-hand game that a lot of lenders and loan officers still play is last-minute changes at the signing table," he said. "This gives borrowers no out and forces their hand to sign the documents."
New Comparison Section Shows Costs Clearly
One of the highlights of the new regulation is a section called comparison. It shows consumers the closing costs, principal, mortgage insurance and interest they will pay during the first five years. One key factor is that it clearly states the amount of principal homeowners are paying compared to interest, which is a significant, because the more your monthly mortgage is allocated toward the principal amount, the greater equity consumers have in their home, Lewis said.
Drawbacks of New Documents
Of course, it's not all positive. You can now expect your closing to take longer than before while lenders and title companies adjust to the new procedures. Consumers should definitely lock in their interest rates "a little longer to be safe in case there are delays," he said. The process might stretch to three days, so lock in your mortgage rates for 45 days instead of the traditional 30 days and "err on side of caution," Lewis said.
Major changes to the terms in a mortgage can push back the closing and this can present a serious problem if the current interest rate lock is "on the verge of expiring and interest rates are rising," said David Reiss, a law professor at Brooklyn Law School. In a worst case scenario, a lender could withdraw an offer because the consumer cannot afford higher monthly payments due to an increase in interest rates.
Homebuyers can mitigate this issue by negotiating the terms of their interest rates cautiously and discussing them with their lender or real estate broker who can help determine "whether there is enough of a cushion to take into account all of the things that can delay a closing," he said. "Borrowers should know that a rate lock without a sufficient cushion of time offers a false sense of security."
Closing on a house might take longer, so consumers should make sure their timing meshes with the apartment or house they are renting or if they are selling their current home. This is more critical right now because of the transition to the new documents.
"Through the end of the year, homebuyers may want to build in a cushion as to when they have to close on the purchase," Reiss said. "This could offer some protection if the mortgage application process takes longer than expected because of TRID-related issues."
If tax reasons are prompting homeowners to close on a sale by a certain date, then it is even more vital to focus on documents a buyer, lender or tittle company might require during the process.
"As with many things, staying on top of everyone at each stage such as the contract negotiation, mortgage application and closing is the best bet for avoiding surprises and bad results," he said.
The changes are positive and "ultimately streamline the lending process and protect the consumer," Miles said.