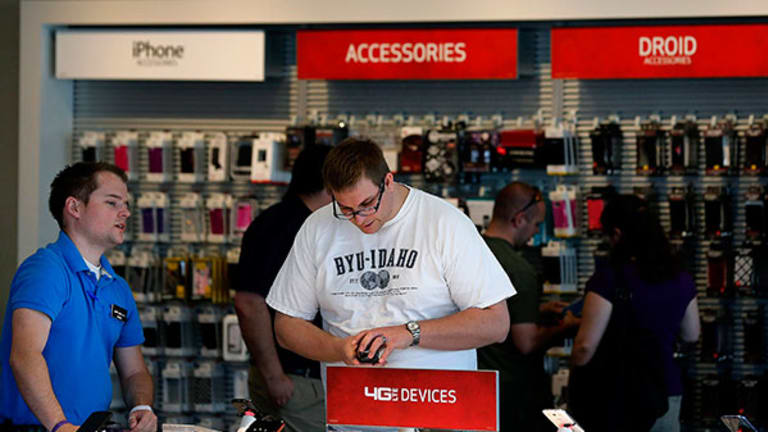 Publish date:
New iPhone or Not, Smartphone Owners Aren't Moving Up
Mobile phone manufacturers keep making fancier devices, but customers are taking longer to move up.
Mobile phone manufacturers keep making fancier devices, but customers are taking longer to move up.
NEW YORK (
) -- With the release of the
,
Apple
(AAPL) - Get Report
is looking to get a jump on its rivals, including
Google
(GOOG) - Get Report
,
Blackberry
(RIMM)
and
Samsung
.
You can't blame Apple for pumping out newer and hopefully
improved versions
of its ubiquitous smartphone -- a standard setter if there ever was one in the history of great U.S. brands.
The stakes are high in that market, even as Apple seems to be slipping a bit.
New data from Framingham, Mass.-based
IDC
shows
that smartphone makers shipped 236 million devices in the second quarter of 2013, up from 156 million units in the second quarter of last year. That's a 51% jump in total global shipments.
But Apple's share of those unit shipments is in decline, just as Android and Windows-based phones "managed slight increases" on a year-to-year basis, IDC says.
Also see: Parents Say Kids Absolutely Need Electronics, Even Smartphones>>
IDC's chief technology analyst, Ramon Llamas, says the new iPhone release could allow Apple to play catch-up, but there's a new fly in the ointment that could slow smartphone sales across the board in the second half of 2013.
Simply put, more and more U.S. mobile phone users are waiting to upgrade their devices. The "upgrade cycle" -- a term used by tech industry insiders to gauge the number of smartphone users ugrading to new devices -- has grown decidedly longer in the past year, reaching a market high of 22 months,
.
The site says smartphone manufacturers need mobile phone customers to keep churning into new devices, but now those consumers are resisting.
New data from
American Express
(AXP) - Get Report
via its Spending and Savings Tracker confirms that trend. According to data provided by American Express, consumers are not jumping to upgrade to the latest smartphones, despite seemingly constant technology launches.
Also see: This Is How Much Women Love Smartphones and Not You>>
More than half of respondents (53%) say it's not important to them to have the newest technology when it hits the market.
Fewer than half of smartphone users have upgraded their phones, and a mere 8% of consumers say they upgrade right when a new model -- such as this week's new iPhone -- comes out.
35% of consumers who upgrade their phones wait until their contract is up to jump to the latest model.
"Even with so many new smartphone options in the market, we are not seeing consumers jumping to upgrade," says David Rabkin, a senior vice president at American Express who tracks consumer sentiment. "As providers roll out new handsets, they'll need to think hard about upgrade incentives or more flexible plans such as those we are starting to see allowing more frequent upgrades."
If that's all it takes, expect smartphone providers to do just that.
But if there's a deeper meaning behind that consumer slowdown in upgrade cycles, smartphone providers may have a bigger problem on their hands than they think.