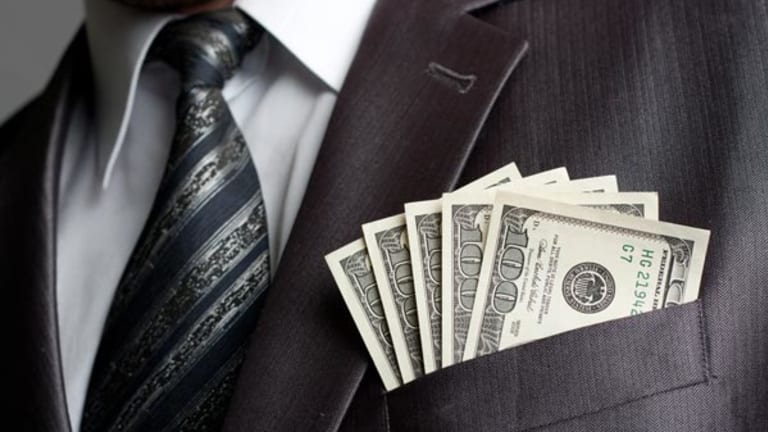 Publish date:
New High-Yield Bond ETFs Reach for Yield
New exchange-traded funds such as the Market Vectors Fallen Angel High Yield Bond Fund allow investors to chase yield, but they do come with risks.
New exchange-traded funds such as the Market Vectors Fallen Angel High Yield Bond Fund allow investors to chase yield, but they do come with risks.
NEW YORK (
) -- A couple of weeks ago
at the sorts of risk investors face going too far out on the yield curve when trying to build a fixed-income portfolio.
Interest rates are close to all-time lows, which means that the prices are high. Prices can certainly stay high for a long time, but buying high is obviously a risky proposition.
Many investors believe that they need to enter different or traditionally higher-yielding segments of the bond market in order to get a reasonable yield. In an effort to accommodate that sentiment, the exchange-traded products industry has come out with many funds targeting these high-yield segments of the bond market.
For example,
Van Eck
recently launched the
Market Vectors Fallen Angel High Yield Bond Fund
(ANGL) - Get Report
.
The investment universe for this fund is bonds that were rated investment grade when they were issued but that have since been cut to less-than-investment-grade ratings.
Not surprisingly, the fund is heavy in bonds issued by financial companies. These make up 32% of the portfolio, with bonds from issuers such as
Ally Financial
,
Royal Bank of Scotland
(RBS) - Get Report
and
Capital One Financial
(COF) - Get Report
.
Not surprisingly, there are also bonds from struggling companies in other sectors such as
Sprint
(S) - Get Report
,
Pulte Group
(PHM) - Get Report
and even
Toys R Us
.
> > Bull or Bear? Vote in Our Poll
According to the fund's fact sheet, the modified duration is five years with an average yield to worst of 7.48%. Of course, yield information for ETFs can always change, and the fund has an expense ratio of 0.40%.
Another example of a new high-yield bond segment is the
iShares Emerging Markets High Yield Bond Fund
(EMHY) - Get Report
.
This fund has similar duration and yield statistics as ANGL but charges a 0.65% expense ratio because trading emerging-market high-yield debt is more expensive than trading domestic debt even if the bonds in EMHY are dollar-denominated.
The largest country weightings in EMHY are Venezuela at 14%, and Turkey and the Philippines at 13% each. Lebanon and Nigeria each get 4% weightings in the fund, so this is legitimately new exposure for retail investors.
Broadly speaking, one of the benchmark funds for the high-yield space is the
iShares iBoxx $ High Yield Corporate Bond ETF
(HYG) - Get Report
, which has been trading for five years and has $14 billion in assets under management.
In 2008, which was clearly a bad year for most assets, HYG was down 23%, which is a large decline in the context of bond market safety. In 2009 it came partially back going up 16% but is still 15% below its all-time high in 2007.
The segments captured in ANGL and EMHY, along with other new and narrower high-yield funds issued by other companies, stand to be more volatile than HYG.
One reason to own any fixed-income security is to offset the volatility of the stock market or perhaps to even see the security's value rise when the stock market declines.
This happened during 2008, when stocks slumped but the
iShares Barclays 7-10 Year Treasury ETF
(IEF) - Get Report
was up 10%, providing some offset to the stock market's decline.
High-yield bonds are also known as junk bonds, which often aren't considered high quality.
Based on how markets and human behavior tend to work, the next time there is a large, fast decline in equities, it is likely that high yield bond funds will also go down a lot, thus offering no real diversification vs. the equity portion of a diversified portfolio.
This is the risk that investors take when they validate the idea in the media that they must load up on higher-risk assets to get a decent return.
The point here is not to avoid all higher-yield fixed-income market segments but to include only moderate amounts of these investments in one's portfolio.
At the time of publication, Nusbaum had no positions in securities mentioned.
This contributor reads:
On Twitter, this contributor follows: