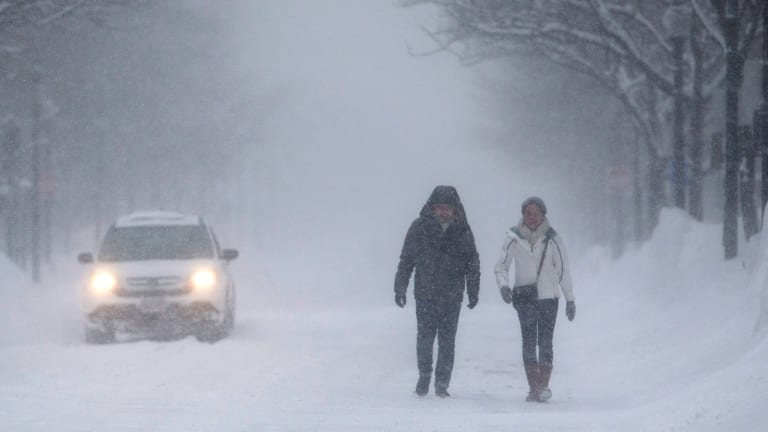 New England Winters Likely to Have Broad Economic Impacts
Studies show that major snowstorms and other extreme weather events not only lead to lost wages and revenue, but to disruptions in supply chains
NEW YORK (MainStreet) — With New England currently wrapping up one of the coldest and snowiest winters in recent memory, and the Boston area alone experiencing the snowiest season in recorded history--totaling nearly nine feet of snow as of the middle of March--many financial experts have been scrambling to calculate the economic damage.
The economic analysis firm IHS Global Insight estimated that Massachusetts has suffered $1 billion in lost wages and profits this winter season--or $265 million per every significant snowstorm that hit the Boston Metro area.
"We looked at employment losses in small businesses," says Doug Handler, Chief U.S. Economist with IHS Global Insight, who explained the study focused on losses sustained in the retail and hospitality industries. 
Additionally, a survey released in early March revealed that sales in Massachusetts dropped by 24% and payroll dropped 7%, among small business members.
However, the economic impact of natural disasters, including snowstorms, is not limited to the cities or even the states where they occur.
In particular, new research released by the Sloan School of Management at the Massachusetts Institute of Technology finds that natural disasters can have significant financial repercussions that ripple far beyond the disaster zone.
The study, spearheaded by Professor Jean-Noel Barrot, revealed that customers of suppliers hit by a natural disaster experience a large drop in sales growth and stock price.
Specifically, Barrot and his colleague, postdoctoral researcher Julien Sauvagnat, found that the sales growth of supplier firms directly hit by a natural disaster drops by around five percentage points. The customers of these suppliers are also disrupted, with their sales growth dropping by two percentage points when one of their suppliers is struck by a natural disaster.
For their study--titled Input Specificity and the Propagation of Idiosyncratic Shocks in Production Networks-- the researchers studied natural disasters in the past 30 years in the United States to discover how shocks to individual firms spread along supply chains. From there, they investigated whether the drop in firms' sales caused by supply disruptions led to value losses.
"You might expect shocks to easily be absorbed in production networks, as firms could adjust their production mix or switch to other suppliers," says Barrot. "However, our research shows that that when a supplier is hit by a natural disaster, there are important disruptive effects along the supply chain."
The research from Barrot and Sauvagnat revealed that supply disruptions caused a one percent drop in the equity value of customer firms. This effect is almost twice as large as when the disrupted supplier is a specific kind of supplier--meaning a supplier that produces differentiated goods, generates high R&D expenses or holds patents.
Barrot and his colleague also examined whether the shock originating from one supplier spreads to other suppliers of the same firm, even if they are not directly impacted by the natural disaster.
"You might expect that firms would continue to buy from other suppliers outside of the natural disaster zone, or that the other suppliers would find alternative buyers," says Brarot. "However, our research shows large negative spillovers of the initial shock to other suppliers. Surprisingly, we found that other suppliers of a main customer see a drop in sales growth by roughly three percentage points."
Barrot clarifies that these results are only seen when the supplier is in an active relationship with the customer. When the connections aren't active, there is no effect.
"Our findings highlight the presence of strong interdependencies in production networks," says Barrot. "In other words, production networks matter. When one of your suppliers or customers is experiencing a negative event, there will be important implications for you."
As for the economic impact of the weather in New England this winter, Barrot believes there is good reason to think that the effects will not be isolated to the region, but will spread to other parts of the economy through relationships that Massachusetts firms have with customers all over the country.
In the meantime, Massachusetts fared better at weathering any economic fallout from the frosty winter one would guess.
"New England was able to dig out of each storm as it occurred," says IHS's Handler. "We theorize that when manufacturers can't get supplies [due to snow] that the losses would start mounting to a large degree, but we didn't really see that."
Yet, Handler said there were some substantial economic losses on the national level the prior winter due to the bone-chilling temperatures from the phenomenon of the "polar vortex," which decimated GDP (a loss of over 2% at an annual rate) in the first quarter of 2014. Those losses were spread across the nation and were not as significant on a statewide or regional level in the Northeast.
Harlan Platt, a professor of finance at the D'Amore-McKim School of Business at Northeastern University in Boston, notes that the fact that so many transactions occur online has served as a buffer against some of the potential negative impacts to supply chains due to severe weather.
"In our economy so much of the work is done in the clouds or online that the potential economic damage [of severe weather] is lessened far below what it would have been just a decade ago," says Platt.
--Written by Laura Kiesel of Main Street