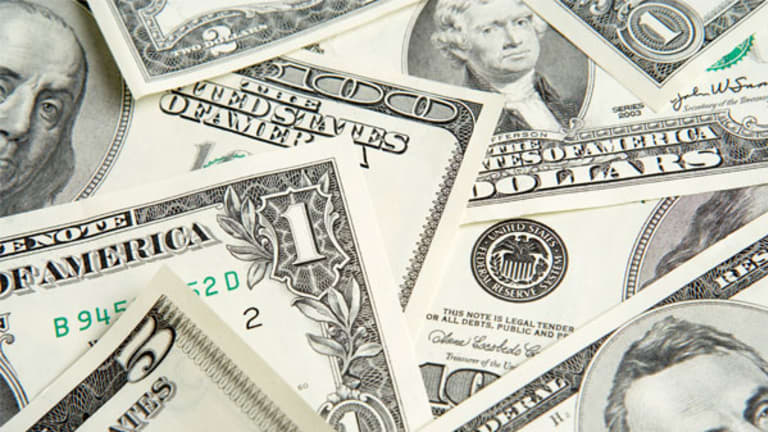 New Billboards Revive Old Battles
Traditional billboards are falling by the wayside as new, digital ads gain traction, and garner opposition.
BOSTON (TheStreet) -- They were signs of the apocalypse. For the better part of a year, roughly 5,000 billboards proclaiming May 21 was Judgment Day rose around the country.
Armageddon failed to materialize, leaving the question of what will happen to all those doomsday-predicting advertisements. They could yield insight into the state of the nation's outdoor advertising industry. Are there companies and organizations hungry to take over the roadside ads? Or will they grow sun-bleached, torn and outdated?
Billboard companies are switching from plywood to electronic, animated and brightly lit screens -- and facing opposition and demands for increased revenue.
Financially, the news has been improving for the biggest players in the billboard space.
Out-of-home advertising revenue rose 4.1% last year, accounting for more than $6.1 billion, according to the
Outdoor Advertising Association of America
. Of that total, which includes transit ads and decorated street furniture, 65% is commanded by billboards.
Revenue rose 6.5% in the last quarter compared with the same period in 2009 and increased revenue rose 4.2% in the first quarter this year, compared with the same period in 2010, accounting for nearly $1.4 billion
The association's CEO, Nancy Fletcher, says, "2010 was a positive year for the out-of-home advertising industry. The industry held strong through the recession and is now in a position to embrace financial stability and new opportunities head on."
"Optimism remains high throughout all sectors of the industry as business strengthens," she says.
On May 4,
Lamar Advertising
(LAMR) - Get Free Report
reported its financial results for the first quarter of the fiscal year: Earnings per share in the quarter were down 14 cents, but showed a recovery from the 27 cents-per-share loss it posted in the first quarter of last year. Other key players in the space include
Clear Channel Outdoor Holdings
(CCO) - Get Free Report
and CBS Outdoor.
Things may be looking a bit brighter -- literally -- as the industry positions itself for the future.
New, electronic advertisements are already starting to grab eyeballs away from the traditional giant posters. The technology is touted as a game changer for the industry and a boost for bottom lines for years to come. Their digital displays can flip through several ads at a time on a space once limited to one, static ad.
Customizable content, information (such as news headlines), animation and a full palette of custom colors are designed to attract the all-important "impressions" advertisers want from all who pass by.
A recent study by Arbitron, cited by OAAA, found nine out of 10 people notice advertising copy on digital billboards some or most of the time; recall for specific brands hit 50% for some advertisers.
Digital billboards represent a significant advance in technology used by the outdoor advertising industry that may also help level the playing field with social media and online competition.
"For example, consumers can interact with street-level ads by scanning codes that direct them to networking sites," OAAA spokeswoman Nicole Hayes says. "Digital billboards can accept and post tweets in real time. Foursquare check-ins can trigger interactive outdoor ads."
"Because digital ads can be created and replaced quickly, advertisers can customize their message by time of day, provide audiences with timely updates, and interact with targeted audiences," Hayes says. "While only about 2,400 digital billboards currently exist in the United States, hundreds more are expected to be erected each year, over the next several years."
They're used as everything from "wanted" posters for criminals to spreading relief information after natural disasters, Hayes points out.
The emergence of these cutting-edge billboards, however, has stirred long-simmering battles.
For decades, outdoor advertising -- mostly billboards -- have come under fire from civic groups and organizations that view them as a blight upon the landscape. The bigger, brighter billboards using next-generation technology have added safety concerns to their longstanding aesthetic challenges.
Among the foes are Scenic America, a national nonprofit organization "dedicated solely to preserving and enhancing the visual character of America's communities and countryside." Its motto: "Change is Inevitable; Ugliness is Not."
"Humans are hardwired to look at the brightest light, especially flashing lights," says Mary Tracy, president of
. "For drivers who are trying to be safe, not using cellphones and who wouldn't think of texting while driving, they still have no control over the fact that they going to be distracted looking over at this digital billboard."
Hayes disputes the safety concerns. "Studies have shown that the billboards are safety neutral and there is no evidence to support claims of driver distraction," she says. "In fact, many state law enforcement and transportation agencies use digital billboards to promote anti-driver distraction campaigns, such as texting while driving."
In Tracy's view, the new billboards violate the decades-old Highway Beautification Act's prohibition on intermittent light and run contrary to "green" policies intended to reduce power consumption.
"You have an industry that used no power during the day with a traditional billboard and now they need it 24/7," she says. "They are using 10,000 diodes per sign, each one consumes from two to 10 watts each, and they have to be at their brightest during the day to compete with the light of the sun. We did a study last year and found that just one digital sign uses as much energy as 30 houses."
Billboard owners have "been doing everything they can to hold onto these old signs" that were regulated by the Highway Beautification Act decades ago, Tracy says.
"They should have disappeared," she says. "They are nonconforming signs and the word 'nonconforming' mean that it is not supposed to last forever."
Instead, she sees these old-school billboards giving way to the new, more profitable digital variety. In fact, old, underused billboards are becoming a bargaining chip.
"If they can get one
new, digital billboard strategically placed, or 10 of them, they can get rid of all this junk," Tracy says. "It's a win-win for them. They have all these signs and they are nonconforming. Really, nobody is looking at them. They are not worth anything, so they are trying to leverage those things. It is a trick they are trying to do."
As for elected officials and government regulators stepping in, she isn't holding out much hope. Not only are activists such as her going up against high-powered lobbyists, sizable campaign contributions and PR campaigns, tight municipal budgets are also a roadblock.
"You have cash-strapped municipalities who see a way to make a few extra dollars that will help them balance their budget, but at what price?" she asks. "They don't have money for schools or to fix potholes, so they don't want to be spending money fighting billboards."
She recounts a road-widening project in Wisconsin that sought to buy out a billboard for removal. The offer was $50,000; the value assessed by the company was $5 million.
"With these electronic billboards, another big point is if you have to widen a road and it is an electronic billboard, those things cost far more to put up and then make far more money," she says.
Nevertheless anti-billboard activists have found increasing traction for their message.
North Carolina, Texas and Ohio are among the states where grassroots-inspired efforts have led local governments to add to their billboard restrictions and regulations.
Not all such efforts succeed. By a nearly 4-to-1 ration, West Hollywood voters yesterday rejected a proposed 7% tax on billboards.
Mike Dawida, head of
, is among the local activists hoping to garner support for new, more restrictive local ordinances.
He believes that, within the next few weeks, Pittsburgh will have "a very strong ordinance, particularly dealing with these new electronic billboards."
Dawida is working with Pittsburgh's city council on a ban for new billboards. At the least, 7% of gross revenues (or a negotiated rate between 3% to 10%) would be assessed as a "user fee" owing to the fact billboards need roadways and sidewalks to attract views, he says.
On Scenic Pittsburgh's website, the group minces no words.
"Each new billboard that is constructed tarnishes our communities and despoils our countryside," it reads. "Most billboards in Pittsburgh, built before zoning regulations were enacted, are not in compliance with current zoning requirements."
"It is very difficult to get rid of the old ones, but four states have done that," Dawida says. "There are literally hundreds of cities and towns across the country who are beginning to impose very strict bans and things that deal with size and lighting."
Tracy thinks the current billboard industry strategy has the potential to backfire.
"If you are an advertiser, it is like the emperor has no clothes," she says. "If you are an advertiser who likes to use billboards, you used to be able to have your billboard up there for a month, 24/7, so that everybody who went by, if they bothered to look at a billboard, would look at your message. Now you have that same billboard with five, eight or more ads, each one up five seconds and then onto the next one. Now all those people going by, if they are actually looking at it, how do you know they are looking at your message? How do you know they are going to remember it? How much do you remember when things are scrolling by you?"
-- Written by Joe Mont in Boston.
>To contact the writer of this article, click here:
Joe Mont
.
>To follow the writer on Twitter, go to
.
>To submit a news tip, send an email to:
.
RELATED STORIES:
>>Companies Put Billions into Promo 'Freebies'
>>Social Media Remakes Rules of Advertising
>>Sonic Logos Now a 'Sound' Business Practice
Get more stock ideas and investing advice on our sister site,