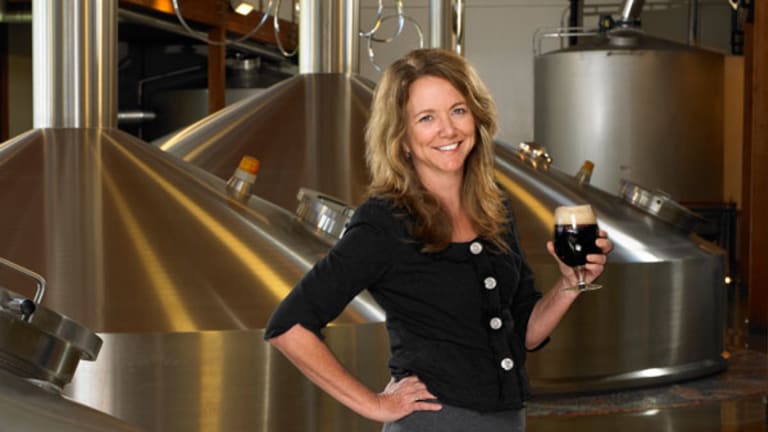 New Belgium Brewing's Kim Jordan Heads East
There's a lot of distance between the once-tiny start-up and this burgeoning bicoastal beer empire.
PORTLAND, Ore. (TheStreet) -- New Belgium Brewing started its life as a basement in 1991, grew into a Colorado craft beer institution and is now expanding east into a former stockyard in Asheville, N.C.
That's a lot of miles on its bicycle logo's fat tires. It's also a lot of distance between the once-tiny start-up and the burgeoning bicoastal beer empire Chief Executive Kim Jordan oversees today.
New Belgium was started by Jordan and then-husband Jeff Lebesch after a bicycle brewery tour through Belgium. Since then, its flagship Fat Tire Amber Ale, its Explorer series of hoppy India Pale Ales and its traditional Belgian brews such as its Abbey, Trippel and Lips of Faith limited edition Heavenly Feijoa Tripel are available in 28 states.The company makes all of them in a facility that serves as a testing site for Colorado State University environmental studies, including the measurement of the brewery's carbon footprint, the potential gasification of used grain and the use of brewing waste water for breeding tilapia and growing algae for biodiesel. New Belgium's employees, meanwhile, own 100% of the company's stock through a shared ownership program.
Since 2007, New Belgium's annual production has swelled from 476,000 barrels to 750,000 barrels just last year. Last spring, New Belgium announced plans to open a brewery in Asheville just after Chico, Calif.-based
and founder
came forward with a similar plan for an Asheville brewery. Around the same time, New Belgium's neighbor in Lyons, Colo., and craft beer can pioneers
announced their own intentions to build a brewery in the Asheville area.
New Belgium's facility won't be ready until 2015, but should add an extra 400,000 barrels to New Belgium's total production and room for even more expansion. That would push combined production of Fat Tire, 1554 Dark Ale, Shift Pale Ale, Ranger IPA and other beers above 1 million barrels. By comparison, the only two other brewers that produce 1 million barrels or more in the U.S. not named
MolsonCoors
(TAP) - Get Molson Coors Beverage Company Class B Report
or
Anheuser-Busch InBev
(BUD) - Get Anheuser-Busch InBev SA/NV Report
are
and
producer
Boston Beer
(SAM) - Get Boston Beer Company, Inc. Class A Report
.
Jordan's overseen all of that exponential growth and has worked to balance its demands with key elements of the brewery's culture, including its ski-mountain scavenger hunts, independent film festivals and Tour de Fat bicycle parades. In recent years, the brewery's started canning, added hops and increased its collaboration with other brewers as younger, smaller start-up breweries push older, larger craft craft mainstays such as New Belgium to keep active and stop bloating on its own supply.
We got Jordan on the phone and spoke with her about New Belgium's upcoming East Coast expansion, increased competition within the craft beer community and how to remain relevant as a craft brewer when your new customers were born the year you started brewing:
Once Asheville kicks in and New Belgium's brewing capacity tops 1 million barrels, will it change the way you approach your business and the brewery's growth?
Jordan:
I don't think there is a magic number that says things have fundamentally changed. I think it sneaks up on you over time. You get a little bigger and things seem more complex until you start putting in systems structure to handle that.
I don't think we will see a change in how we roll out new states once Asheville is on line, because we will move on from trying to be really measured in our approach because of our capacity constraints in Fort Collins. It's a huge step function that in our past has had many small breaks in our steps. This one will be a lot bigger and, so, I think we will probably roll out more states faster starting in 2015 because it's a $120 million investment we're making. There's a lot of inefficiency in bringing in a staff of people ahead of time for learning and training and we'll have to see a return there more quickly than we have to date.
Is your current selection of markets beyond Colorado based on how receptive those markets have been to craft beer in the past?
Jordan:
That's part of it, certainly.
If you go to Pennsylvania, for instance, that's a big state and it has a lot of volume to it and a lot of craft beer awareness. We were being careful about our ability to have enough capacity to open a state like Pennsylvania. New York would be similar and Massachusetts would be similar. It's a more competitive landscape than those examples, but it's also a much more populated state, so we wanted to be able to pick up smaller states.
We will be in those markets starting in the next few years.
A couple of years back, you told the folks at the Brewers Association that you were hoping to see craft beer become 10% of the U.S. beer market. Last year, according to the Brewers Association, craft beer made up 9% of U.S. beer sales. Considering your own company's growth in recent years, are things proceeding as well as you'd hoped for small brewers?
Jordan:
It's one thing to say that when you're not doing it, especially on an industry level.
It's easier for me to visualize vividly New Belgium's trajectory, because I have my fingers on it all the time. For the industry as a whole, it's sort of a theoretical "I think we can do this, that would be great." It's hard to actually, in my mind's eye, picture it because it's a much more diffuse and broad proposition.
While I said it and I believed it could happen, the fact that it is happening is pretty damed exciting.
There's a culture surrounding New Belgium that includes its ties to the bike community, its contribution to independent film and its events such as citywide scavenger hunts and Tour de Fat bike races. As New Belgium expands to other markets, do the other elements come along for the ride?
Jordan:
I think other brewers do that more or less successfully. This is also a very competitive business that we're in.
I was just at the Brewery Association board of directors meeting this week and we're seeing 400 new breweries a year, or more than one a day opening. So we'll see more competition and I think we'll have our collective ability to garner more market share, but with that will come more of a need for breweries to tell their story.
We find at New Belgium that branded events are a great way to tell our story, but they're expensive and time-consuming and it takes building up over a few years. But I think that human beings are storytelling creatures, and the story of craft beer and New Belgium's journey through the craft beer landscape is interesting.
For us at New Belgium, we're looking to be business role models. We're committed to the notion that you can make a splash through your practice, but you also have the ability to make ripples. We like that and like the opportunity to cause people in various endeavors to think what they could do that's consistent with their values, good for the planet and collaborative with their co-workers.
One of those ripples is your Employee Stock Ownership Program that gives your workers a stake in the company. Last year, New Belgium went from 41% employee ownership to 100%. How does that affect day-to-day operations and employee relations and how do you to plan to go forward with the ESOP plan in Asheville?
Jordan:
We started sharing equity and practicing open-book management in 1995. We also have what we call high-involvement culture, so not only do my coworkers look at the financial statements, but they're also been involved in the strategic planning process for a very long time.
We've held a retreat every year since we've been in business and we've evolved it over the years to have it be the place where we start our strategy thinking, and that starts with the coworkers. That's the solid foundation that led to 100%. What's interesting to me is that, at 41%, we had good practice on it. At 100%, on one hand nothing changed: I'm still the CEO and the management team is still the management team. We are not running in anarchy or management by 470-person committee on every decision.
Having said that, I feel that there's this palpable sense that now that we collectively own the whole thing, we're more enthusiastic about the challenges -- how are we going to pay selling shareholders, invest in Asheville and grow our infrastructure to manage that well -- and own those challenges more than we used to.
There seems to be a bit more ingenuity and creativity in New Belgium's beer making in recent years as well. Is that part of the pride in ownership that's developed as New Belgium's ESOP plan took shape?
Jordan:
Four to five years ago, I think the marketplace changed. I think the attention of beer drinkers on craft brewers and on the beers that they were making and the competitive landscape of smaller, more innovative start-ups took a big leap forward.
I think, honestly, for New Belgium, for Sierra, for Boston, for Deschutes and some of the larger craft brewers who were just doing what we were doing, we were just like "Wait a minute, the portfolio needs to change." Things are a little bit different. I think there was sort of a catalyst for enthusiasm and attention to beer that started back then.
Personally, four to five years ago, I also got a divorce and, not too long after that, started dating someone who was in the brewing industry: Dick Cantwell of
Elysian Brewing
in Seattle. For me, on a personal level, that was energizing -- to be re-engaged in the craft beer industry in a new way. For New Belgium, I think the combination of things that were happening in the marketplace and things that were happening for me personally really caused us to say "I think we need to do some collaboration."
I met Dick through the Brewers Association -- we were both on the board of directors -- but then we started collaborating on making beer for Elysian and started collaborating with other people and started ramping up offerings in our portfolio. Our collective enthusiasm for grabbing this new energy around the growing craft beer landscape really multiplied.
It showed on the shelves. The Trip series between New Belgium and Elysian has produced some inspired varieties that are more akin to limited offerings from smaller breweries in recent years. Does it take you back to New Belgium's early days as a basement brewer?
Jordan:
Yeah, which is super fun. We've been doing this for almost 22 years, and I think it's almost a natural part of a process like that when your energy and enthusiasm for it has peaks and mesas, to use the geology of it.
It's been really fun to watch our industry have this burgeoning enthusiasm, to watch beer drinkers be interested in really understanding more about the craft and the history of the American movement and others. We are lucky to be the stewards of something ancient, and I think beer drinkers get that.
Looking at your brewery's 1991 start date, the folks who were born the year you started brewing are now your clientele. Is your brand facing some of the same challenges as first-wave craft brewers such as Sierra Nevada and Boston Beer, which are now old enough to be considered somebody's parents' beer?
Jordan:
I think there's an element of that. I also think for New Belgium that we were the first brewer in the United States to specialize in Belgian styles. In some ways, we pioneered things where, at the time, we said "Well, I guess no one's interested in wood beer"
Editor's note: wood beer is beer aged in wooden barrels, sometimes using old whiskey or wine barrels just to have someone else come along and make it and make us think maybe we shouldn't give up yet.
We've had a wood beer cellar since 1997, and it's a pretty big thing now. I think there is a mixed curse or blessing in that we have practiced wisdom and have learned some things. We're able to invest in very good technology and equipment.
Ultimately, we want beer drinkers to get very well-made beers, and some of us have made the decision to become national companies: Like Sierra and like New Belgium. That requires a level of expertise that's different from someone making beer and selling it in their pub or making beer and selling it within a 10-mile radius. I think there is value in that as well, and I'll be interested to see how that unfolds.
New Belgium also got into canning about four years ago, before much of the craft beer industry started embracing cans. Dale Katechis at Oskar Blues once told us that he started canning just to draw more people up to his brewpub in Lyons, Colo. What inspired New Belgium to do the same, and was it a big additional expense at the time?
Jordan:
It was a big expense at the time. We started with a smaller canning line, and canning lines are funny because you have the very small ones -- Dale started with one -- that are super slow and the can stays open for a very long time before it gets its lid on it, which is not good for beer.
Then you have ones that are slightly bigger than that and only slightly more advanced than that technology. Then you have ones that do 700 cans a minute, but there's very little in between so it's really a financial step up to invest in the larger, faster equipment.
For us, it was of those things where we thought that there were lots of places that people would like to be able to drink craft beer where a bottle is not a good idea: rafting, kayaking, skiing, back-country skiing, golfing or watching sports in stadiums where bottles just aren't allowed. Cans gave us the opportunity to offer our customers good, fresh beer in places where they wanted to be able to drink good, fresh beer.
We all owe Dale a debt of gratitude for being bold enough to consider this notion. Maybe because we're in Colorado and we see Dale regularly, but I kind of just got this bee in my bonnet and said "Do cans." People thought that was crazy, and that's one of those CEO moments where you say "No, I want to do cans, let's get started on it." Sometimes I think pioneers get arrows in the back and sometimes they're rewarded with some kind of competitive advantage.
Speaking of Dale, he and Oskar Blues are coming out to the Asheville area with you ...
Jordan:
He's already there. He's the first one.
Is it comforting to have one of your craft brewing neighbors come along for the ride, or is there a bit of competition to make it work out there?
Jordan:
There is certainly competition out in the marketplace, and we all know that. I'm sure Ken would describe it in his own way, as would Dale, but my feeling is that you kind of have to put those feelings in a box and, when you're together, ignore that.
I tell my people that I believe in competition and believe in them going out there and doing the best job they can, but I also believe it's a long life and you want to make sure you feel happy about the way you're living it. We try to be friendly and helpful and supportive of one another and we are not interested in talking smack about people.
Dale and Ken and I were just on a panel together in Durham, N.C., and then I spent the beginning of the week with Ken at the Brewers Association board meeting and then we joke that we've got to stop meeting like this. "How can I miss you if you won't go away?" And we also enjoy each other's company.
I don't think there's a rivalry except as might be expressed through healthy competition in the marketplace, and that's perfectly acceptable.
-- Written by Jason Notte in Portland, Ore.
>To contact the writer of this article, click here:
Jason Notte
.
>To follow the writer on Twitter, go to
.
>To submit a news tip, send an email to:
.
RELATED STORIES:
>>5 Big CES Products That Tanked
>>10 Cities Poised For Greatness In 2013
>>5 Most Infamous Cars Of 2012
Jason Notte is a reporter for TheStreet. His writing has appeared in The New York Times, The Huffington Post, Esquire.com, Time Out New York, the Boston Herald, the Boston Phoenix, the Metro newspaper and the Colorado Springs Independent. He previously served as the political and global affairs editor for Metro U.S., layout editor for Boston Now, assistant news editor for the Herald News of West Paterson, N.J., editor of Go Out! Magazine in Hoboken, N.J., and copy editor and lifestyle editor at the Jersey Journal in Jersey City, N.J.