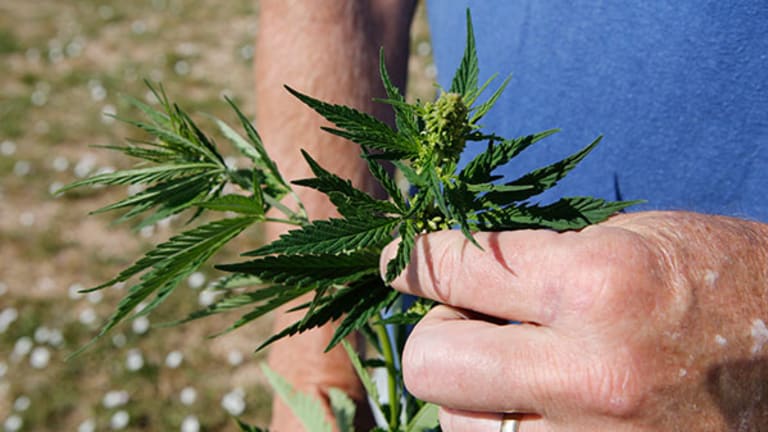 Nebraska and Oklahoma Sue Colorado in Supreme Court Over Legal Recreational Pot
Neighboring states want federal government to enforce federal law in Colorado.
NEW YORK (MainStreet) — The states of Nebraska and Oklahoma sued their neighboring state of Colorado, December 18, in the U.S. Supreme Court, challenging Colorado's Amendment 64 under Article 3 of the Constitution based on the federal preemption of Colorado's "recreational marijuana" law.
The action, filed by Nebraska Attorney General Jon Bruning and Oklahoma Attorney General E. Scott Pruitt, alleges, "Although states may exercise their police power in a manner which has an effect on drug policy and trafficking, a state may not establish its own policy that is directly counter to federal policy against trafficking in controlled substances or establish a state-sanctioned system for possession, production, licensing, and distribution of drugs in a manner which interferes with the federal drug laws that prohibit possession, use, manufacture, cultivation, and/or distribution of certain drugs, including marijuana." 
It goes on to state that the Constitution does not permit a patchwork of drug laws. There is no provision to permit the development of a scheme of state and local drug laws that conflict with federal laws. Colorado's enactment of recreational marijuana laws has distorted federal drug laws and created a "dangerous gap" in the federal drug control system. The states claim marijuana is flowing from Colorado into the Nebraska and Oklahoma posing a burden on law enforcement in those states, hurting the citizens, and draining the states' treasuries. They state unequivocally that Colorado's law is also unconstitutional.
Read more
: 
Marijuana Legalization Meets Challenges with Homeowner's Association
According to the complaint, "The diversion of marijuana from Colorado contradicts the clear Congressional intent, frustrates the federal interest in eliminating commercial transactions in the interstate controlled-substances market, and is particularly burdensome for neighboring states like Plaintiff States where law enforcement agencies and the citizens have endured the substantial expansion of Colorado marijuana." Nebraska and Oklahoma maintain that Colorado's recreational marijuana law the Supremacy Clause of the Constitution, which mandates that federal law supersedes state laws.
Bruning said that Colorado marijuana is heavily trafficked to Nebraska, and it is costing taxpayers a lot of money in interdiction efforts. He noted one city has seen five out of ten traffic stops resulting in marijuana arrests.  He also claims U.S. Attorney General Holder's limiting marijuana enforcement to eight specific criteria is also unconstitutional. He also noted that while Oklahoma is directly involved in the lawsuit the states of Wyoming and Kansas are supportive.
Read more: Marijuana Does Not Promote Crime, According to Study

According to some, speaking off the record, the lawsuit does not ask for damages, because it does not want to create a burden of proof. The attorneys general are strictly making this a constitutional issue and requesting an injunction and the law be stricken. They think this approach will provide a better chance for the case to be heard by the Supreme Court.
Bruning also disclosed that the lawsuit is only costing the state $3,000. This is  mostly for the printing necessary to be in compliance with the Supreme Court requirements for filing the suit.
He feels that this is not only a legal but it is also a moral issue. He believes marijuana is a gateway drug.
Reaction followed ideological lines. Legalization proponents derided the litigation and marijuana opponents praised Bruning and Pruitt. 
Read more: Marijuana Positive Drivers Increase
"Nebraska and Oklahoma were awash with marijuana before Colorado and three other states legalized marijuana. And marijuana will be widely available in their states regardless of what policies Colorado and other states set," said the Drug Policy Alliance (DPA) in a December 22 press release.
DPA's position is that "[t]he debate over marijuana legalization is not about whether people should use or sell marijuana, millions already are. The debate is about who should control the marijuana trade – drug cartels or regulated business owners – and where should the proceeds from marijuana sales go – to organized crime bosses or government coffers, for machine guns and hit men or education and treatment."
The anti-marijuana coalition is elated.
 "This is great news and we support Bruning and Pruitt's efforts wholeheartedly," said Calvina Fay, executive director of Drug Free America Foundation, Inc. and Save Our Society From Drugs. "Colorado's marijuana is being heavily trafficked into bordering states including Nebraska and Oklahoma, creating escalating costs in interdiction efforts for the states and costing the taxpayers' money. Officials in Nebraska and Oklahoma have done what is in the best interests of their residents."
"Colorado, among other states, is in conflict with our federal drug laws and it's obvious that those in authority of this Administration have chosen to bury their heads in the sand," Fay added. "However, it is high time someone steps up to the plate and holds the Department of Justice responsible for its failure to enforce our nation's drug laws which puts all of us in danger. I commend both AG Bruning and AG Pruitt for their efforts and their moxie." 
One thing that Bruning and Pruitt have going for them is the Supremacy Clause. The question will be if the Supreme Court rules in their favor on that basis.
Bruning said, "Federal law undisputedly prohibits the production and sale of marijuana. Colorado has undermined the United States Constitution, and I hope the U.S. Supreme Court will uphold our constitutional principles."
--Written for MainStreet.com by Michael P. Tremoglie