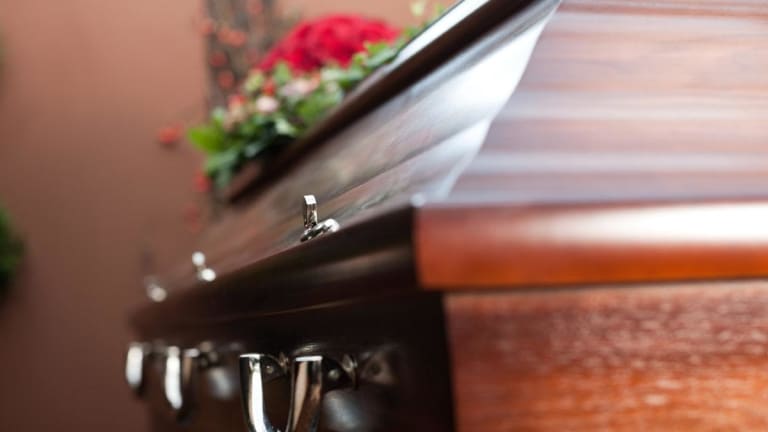 Nearly Half of Older Americans Don't Have Wills or Estate Plans
Dying without a will in place can lead to expensive consequences for your heirs.
If you die, who will get your house, your savings, or, for that matter, your prized collection of baseball cards or that valuable antique clock?
If you are like nearly half of Americans over 55, you don't have an answer -- or at least a legally binding one -- because you have no will, according to a new study released Thursday by Merrill Lynch and Age Wave.
The findings come as no surprise to financial planners, who say that it's not necessarily about income as much as not wanting to deal with an unpleasant subject.
Even relatively well-off clients can require a strong nudge to take the steps needed to ensure their financial affairs will be in order when they die.
"It can be arduous in getting clients to address that question few Americans like discussing," said Dennis Nolte, vice president and financial advisor at Seacoast National Bank in Florida and a certified financial planner. "We successfully referred about 23 clients to attorneys last year. It's a struggle."
Tough Subject
Death is a hard subject that many people would prefer to avoid, said Eric Walters, president and founder of SilverCrest Wealth Planning in the Denver area.
"I've found that some people are averse to considering their own mortality," said Walters, a CFP.
Other stumbling blocks can also prevent people from creating a will or engaging in related estate planning.
Parents might not be able to agree on who they want to name as guardians of their children.
Some "get bogged down with complicated "if/then" ideas" while others may recoil at the cost," Walters noted.
A worst-case scenario can happen if someone starts the process of drafting a will and estate documents, typically with a lawyer, and then never finishes the process by signing the documents, he noted.
If the person dies, the documents will be invalid, throwing the entire estate -- including any businesses or other assets -- into court for the probate system to sort out, which could take months or years.
Even so, the expense of the estate planning process can also be a turn off to some, planners say.
Fees can range from $1,500 on the low end to $5,000 on the high end for package that includes a will, powers of attorney and a living will, which lays out in advance your desires related to medical care and end- of-life decisions, Walters said.
Charles Weeks, founder and president of Barrister Wealth Management in Philadelphia, said many people don't fully understand all the implications of dying without a will in place.
Surprisingly or not, Weeks said attorneys are among the worst offenders.
"People also don't think it is money well spent, which again gets to people's lack of understanding/poor financial literacy," Weeks said. "There are a ton of problems dying intestate creates, namely higher costs, longer times for asset distribution."
Elaine Lee, a wealth management advisor at Summit Place Financial Advisors in Summit, N.J., has seen the consequences firsthand.
One client found she couldn't get into her husband's accounts after he had a stroke. Lee had urged her to get the proper estate planning documents in place.
"You just never know when bad things happen," said Lee, a CFP. "It's best to have a plan in place and know that your wishes will be carried out as you intended."
Getting Clients to Take Action
Making clients aware of the importance of having a will and some basic estate planning documents in place is one thing.
Getting them to stop procrastinating and take action is another, planners say.
Sean Williams, wealth advisor at Sojourn Wealth Advisory in Baltimore, asks new clients if they have a will in place. If they don't, then it "becomes an action item."
"When we do a financial plan review, we revisit it," said Williams, a CFP. "I think the accountability can be helpful."
George Gagliardi, founder of Coromandel Wealth Management in Lexington, Mass. and a CFP, has taken an even more direct approach.
He recalled one client, an older single man, who said he didn't have any estate planning documents because he wasn't married and had no children. The man was relying on his brother to take care of things after he died.
"I asked him if he wanted his brother to say nice things about him at his memorial service, because he would be less inclined to do so if my client died intestate," Gagliardi said.
He then had the client sit at the keyboard while Gagliardi pulled up Quicken WillMaker software on his computer. Within 20 minutes, they had printed out a living will, a health care proxy and durable power of attorney.
Gagliardi advised his client that he should at some point get the documents redone by an attorney. But in the meantime, his client should sign his will in front of two witnesses and get a notary for his signature on the durable power of attorney form, and then give copies of all the forms to his brother.
"I think of myself as a legal paramedic, not a legal MD," Gagliardi said. "This way, I can at least make sure that my clients have basic estate planning coverage."