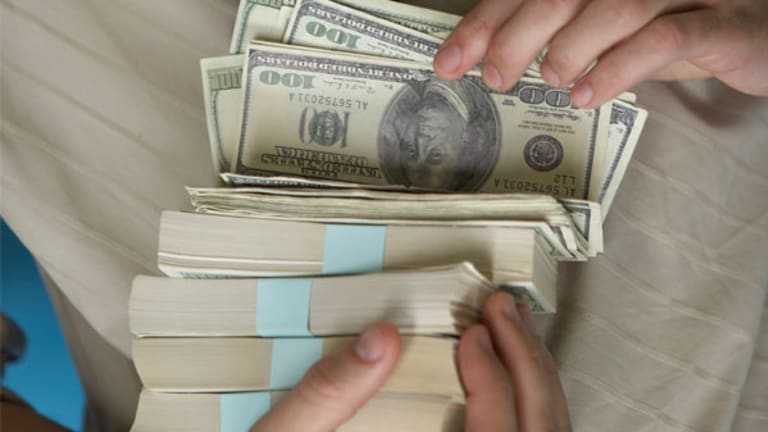 Names You Should Know (But Don't)
Under the radar and behind the scenes, lesser-known names are calling the shots.
BOSTON (TheStreet) -- "Pay no attention to the man behind the curtain."
The Wizard of Oz had it wrong. We should be focusing more on the men and women behind the scenes. Alongside every powerful politician, captain of industry, music impresario or box office draw there are folks who help make their magic happen from the shadows. There are also movers and shakers, people who make decisions that shape our lives, whose names may never be widely known to the general public.
There are plenty of movers and shakers whose work is done in the shadows and names may never be widely known.
Show of hands: How many readers knew who Dominique Strauss-Kahn was before his arrest on sexual assault charges? How many can identify
John Lipsky
as the interim head of the powerful International Monetary Fund?
Being well-known within a given power sphere doesn't mean your name trips off Main Street tongues.
Case in point:
Yi Gang
. Yi, deputy governor for the People's Bank of China, is in charge of China's $1 trillion held in U.S. Treasury bonds. Think of him as America's loan manager. Singlehandedly, his daily decisions can ripple through the economy.
And the suit-and-tied politicians and talking heads we identify most with our nation's capital are not the only power brokers in Washington
Anyone worth the right to vote can surely recognize John Boehner, the speaker of the house and a ubiquitous face of Republican policy.
You've probably never heard of his top aide, however, despite his key policy role. The
New York Times
headline to a profile last year of
Barry Jackson
proclaimed just that: "Boehner's Top Aide Is Little Known." Insiders, it said, describe him as a "master strategist, message guru and fixer -- Mr. Boehner's Karl Rove" and, politically speaking, "master of the Whac-a-Mole."
The "big three" of unions -- the AFL-CIO, AFSCME and the Service Employees International Union -- have roughly 14.7 million members and play an undisputed role in shaping labor-friendly policy and legislation. The heads of those unions may be well-known to their rank and file. Less recognizable, perhaps are people such as
Bill Looby
,
Brandon Davis
and
Larry Scanlon
, the union political directors who are on the frontline of policy battles lobbying legislators to their cause.
Karen White
, political director for the 3.2-million-member National Education Association, is another behind-the-scenes force to be reckoned with.
With budget battles and deficit debates raging between Democrats and Republicans, expect even more attention paid to the work of
, director of the Congressional Budget Office, the nonpartisan agency whose number crunching is either touted or argued with, depending of the findings.
The superstar of value investing, Warren Buffet, had a Canadian counterpart with only a fraction of his recognition.
Peter Cundill
who passed away earlier this year, was founder of
Peter Cundill & Associates
and later chairman emeritus of Mackenzie Financial, which now oversees the
Cundill Value Fund
. He's clearly as worthy of study as Buffett: Starting in 1975, he delivered to his investors a compound annual return of 15.2% for 33 years.
On his personal website,
recently brushed aside a
describing him as "The Most Powerful Man in Hollywood You Never Heard of."
Setting aside his Hollywood cache, there are plenty of other opportunities that mark him as an influential, but little known, figure.
Amanat was a pioneer in online trading. His online brokerage firm,
Datek Online
, was sold to
TD Ameritrade
(AMTD) - Get TD Ameritrade Holding Corporation Report
for $1.3 billion. He then co-founded Cyberblock and the CyberTrader trading platform, which was acquired by
Charles Schwab
(SCHW) - Get Charles Schwab Corporation Report
in 2000 for $488 million. As CEO and majority shareholder of Tradescape he oversaw a 2002 sale to
E*Trade
(ETFC) - Get E*TRADE Financial Corporation Report
for $280 million.
Added to his resume: Skybridge Capital, a $7.4 billion hedge fund, and Raine Partners, a media entertainment and sports private equity fund. He is Summit Entertainment's largest shareholder through his stake in Peak Group Holdings, which was responsible for half the $1 billion in financing that created the studio in 2007. Summit (for which Amanat has veto power over even the board of directors) has gone on to produce such films as the blockbuster
Twilight
series and the forthcoming Jodie Foster/Mel Gibson collaboration,
The Beaver.
may sound industrial, but it's a hot, if low-key, venture capital firm with an uncanny knack for picking new-media winners.
Founder
Michael Dearing
, who despite his time as a successful
eBay
executive is hardly a household name, scored big with its investments in mobile advertising startup (bought by
Google
(GOOG) - Get Alphabet Inc. Class C Report
for $750 million), Xoopit (acquired by
Yahoo!
(YHOO)
for $20 million) and Aardvark (bought by Google or $50 million). The firm also has a stake in such potential winners as CafePress, MocoSpace and StackMob, a platform for developing, deploying and managing mobile applications in the cloud.
The recording industry has a long line of session musicians who never achieved the fame (or money) of the artists they made sound great.
The Funk Brothers
, a coalition of 13 musicians, played on most of the songs released by Motown from 1959-72, including such hits as
My Girl
and
I Heard it Through the Grapevine
. Legend has it (if not the actual record) that the musicians played on more No. 1 hits than Elvis Presley, The Beatles, Rolling Stones and Beach Boys combined.
Ever wonder what the line "Now Muscle Shoals has got The Swampers" meant in Lynyrd Sknyrd's
Sweet Home Alabama
? It's a shout-out to the
Muscle Shoals Rhythm Section
(also known as The Swampers"). Barry Beckett, Roger Hawkins, David Hood and Jimmy Johnson were the musical force behind hits by the far-better-known Bob Seger, Elton John, Rod Stewart and Joe Cocker.
Back in the 1960s,some of the best sunshiny pop and "wall of sound" arrangements came courtesy of
The Wrecking Crew
, a coalition of musicians that included the after-the-fact famous Dr. John and Glen Campbell. Their talents backed the Beach Boys, The Carpenters and The Mamas & The Papas.
Songwriters also take a back seat to the stars who earn wealth and fame from their compositions.
In the 1980s and '90s
Jimmy Jam and Terry Lewis
were the hip-hop force behind hits by Michael Jackson, Janet Jackson and Mariah Carey.
Linda Perry
, formerly of the band 4 Non Blondes, has enjoyed greater success behind the scenes as the songwriter behind a string of hits for Pink, Christina Aguilera and Gwen Stefani.
Those over-the-top power ballads that dominate FM radio and cue tearjerk scenes at the movies? Many are the work of
Diane Warren
, whose hits have earned Grammy awards and Oscar nominations. Her song catalog -- which includes Aerosmith's
Don't Want to Miss A Thing
and Toni Braxton's
Un-Break My Heart
-- have been featured in more than 70 films and TV shows, and she once had seven songs, each by a different artist, positioned on the
Billboard
chart at the same time.
Mike Stock, Matt Aitken and Pete Waterman
, a prolific songwriting team behind numerous hits in the '80s, played a role in one of the Internet's greatest memes. They wrote Rick Astley's
Never Gonna Give You Up
, the soundtrack to the prankish URL misdirection known as the "Rick Roll."
-- Written by Joe Mont in Boston.
>To contact the writer of this article, click here:
Joe Mont
.
>To follow the writer on Twitter, go to
.
>To submit a news tip, send an email to:
.
RELATED STORIES:
>>17 Products That Were Invented by Accident
>>Business Leaders Vie for State Dinner Invites
>>>>10 Paths Congress Can Take to Job Creation
Get more stock ideas and investing advice on our sister site,