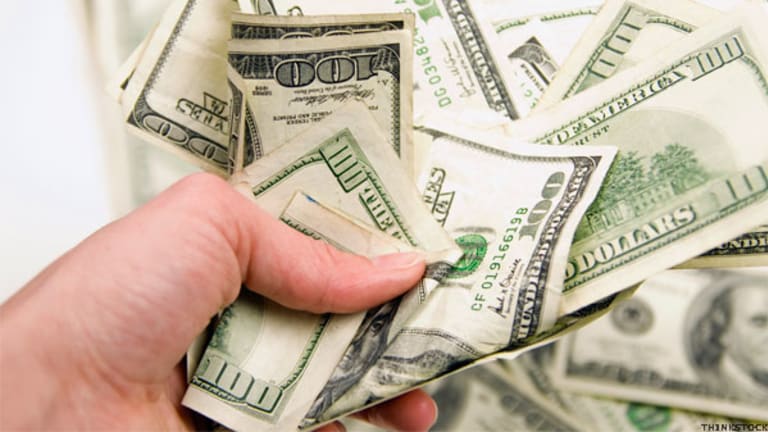 Move to an Irish-American City
Here's a St. Patrick's Day look at real estate in the five U.S. cities with the most Irish in them.
NEW YORK (
) -- If you love a good tinwhistle concert, real Irish butter or the Celtic game of hurling, consider moving to a U.S. city with a large Irish-American population.
"Irish culture is very welcoming of everybody, whether you're Irish or not," says Sinead McLaughlin of the
Irish Cultural Centre of New England
, a popular spot with suburban Boston's big Irish-American community.
Some U.S. cities' Irish populations trace their roots back as far as the 1600s, although the biggest wave of immigration came during Ireland's 1845-52 Great Famine.
More than a century later, many American communities offer a leprechaun's wealth of Irish culture, from authentic pubs and restaurants to local chapters of the Ancient Order of Hibernians social club.
Irish-American groups also offer classes on everything from Gaelic to playing the Irish tinwhistle or bodhran, a type of drum. Many communities even have leagues to play such traditional Celtic games such as hurling, which Denise Foley of
describes as "a cross between hockey, lacrosse and assault with a deadly weapon."

Here's a St. Patrick's Day look at real estate and cultural offerings in the five U.S. cities the Census Bureau says have the highest percentage of Irish-American residents among metro areas with 1 million people or more.
Population estimates come from the government's 2009-11
American Communities Survey
, while real-estate price refer to
latest median-value estimates for all properties in each metro area whether for sale or not. (The number of properties for sale in each locale reflects homes advertised on
Zillow
(Z) - Get Zillow Group, Inc. Class C Report
in each city proper, excluding suburban areas.)
Fifth-most-Irish U.S. city: Providence, R.I.
Irish-American population:
14.9%
Nearly one person in six in and around Rhode Island's capital is of Irish descent, giving rise to all sorts of Celtic-themed clubs, pubs, restaurants and activities.
"Providence's Irish contingent is strong enough that I can find lots of people of a like heritage, but not so dominant that I only have Irish friends," says Ned McCrory of the
Society of Friendly Sons of St. Patrick's
local chapter.
McCrory's 113-year-old club is just one of several Providence-area Irish cultural groups.
The Museum of Newport Irish History documents the community's experience going back to the 17th century, while the Ceilidhe Club of Rhode Island sponsors concerts and classes in Irish music, knitting, Gaelic and more. There's even an annual "Tour de Patrick" -- a series of three 5-kilometer running races held around St. Patrick's Day.
If you're looking to move to Providence, Zillow estimates the metro area's median home price at $212,800, up 3.4% over the past year. The site lists some
1,800 Providence properties for sale
.
Fourth-most-Irish U.S. city: Philadelphia
Irish-American population:
16.7%
The City of Brotherly Love has such a large Celtic population that some local groups don't merely cater to Irish-Americans in general, but to residents whose ancestors came from specific Irish counties.
"If you're interested in Irish heritage and culture, this is the place to be," says IrishPhiladelphia.com's Foley. "There are many times when I leave cultural events that I'm surprised I'm still in Philadelphia, because it feels like I'm
visiting Ireland."
Many cultural activities take place at the Commodore John Barry Irish Center, which not only hosts a local Irish Hall of Fame and a popular pub, but individual clubs for people whose forefathers arrived from Cavan, Galway and other Celtic locales.
The Philadelphia Ceili Group also sponsors local Irish music, while hurling and other traditional sports are so popular that the city's Gaelic Athletic Association is building a new complex in -- appropriately enough -- the suburb of Limerick Township. There's even an Irish Immigration Center to help modern-day expatriates.
If all of that sounds like your cup of Irish Breakfast, Zillow has
for Philadelphia homes. A median-priced place should cost you about $188,700 in the metro area, where prices have risen about 1.6% in past 12 months.
Third-most-Irish U.S. city: Worcester, Mass.
Irish-American population:
17.1%
This city some 40 miles west of Boston has had a large Celtic population ever since Irish-born Tobias Boland brought in lots of his countrymen in the early 1800s to build the Blackstone Canal and the Boston and Worcester Railroad.
Boland later went on to help found Worcester's College of the Holy Cross, a major U.S. Catholic institution to this day.
Stephen Beldon of the Ancient Order of Hibernians'
says the 181,000-population city once had some distinct Irish neighborhoods, "but now everybody is spread out."
The AOH runs a cultural center that hosts Celtic-themed dances, classes and a pub that features free Irish music every other Sunday. There are also several Irish Step Dancing academies in or around town, while the 3-year-old Worcester Hurling Club competes with other teams across New England.
If you're interested in moving to Worcester, Zillow estimates the median home there costs $204,200 -- up 1.5% over the past year. There are some 1,300 homes listed on Zillow
.
Second-most-Irish U.S. city: Albany, N.Y.
Irish-American population:
17.8%
If you haven't found your pot of gold at the end of the rainbow just yet, Albany offers the lowest median home price of the five metro areas that boast America's most heavily Irish-American populations.
Zillow calculates that a typical Albany home costs a relatively modest $183,700, even though prices have risen 3.4% over the past year. (
for a rundown of local properties for sale.)
Jeff Cleary of Albany's
Irish American Heritage Museum
() says the city's Celtic community dates back to the early 1800s, when laborers came from the old country to help build the Erie Canal.
"Then the Great Famine struck and people came to Albany because they had relatives or connections here to get work through a cousin or a long-lost son," he says.
Ultimately, so many Irish immigrants flocked to the south side of New York's capital city that the neighborhood is still called Limerick.
Albany also hosts two Irish cultural organizations, the Capital District Celtic Cultural Association and the Capital District Irish American Center/Albany Ancient Order of Hibernians. Both offer concerts and other cultural activities, while Cleary says more than a half-dozen shops in an around Albany import authentic Irish butter, cheese, clothes and other goods.
America's No. 1 Most-Irish City: Boston
Irish-American population:
19.3%
It's little surprise that the home of the Kennedys and the Boston Celtics is America's most Irish city, with nearly one resident in five tracing their lineage back to the Emerald Isle.
"Boston is basically a kind of home away from home for people from Ireland," says the Irish Cultural Centre's McLaughlin, who's originally from Donegal.
McLauglin's group holds Irish-themed classes, a Celtic day camp for kids and a large Irish Festival each June.
A host of other local organizations -- from the Eire Society of Boston to Comhaltas Ceoltoiri Eireann (Gaelic for "Gathering of Musicians of Ireland") -- also sponsor lectures, concerts or charitable endeavors. Additionally, athletes can join the Boston Irish Wolfhounds rugby club or other local teams that play traditional Gaelic sports.
"Someone who's from Ireland can feel right at home here," McLaughlin says.
Unfortunately, immersing yourself in Boston's Irish culture will cost you a fair amount of airgead ("money" in Gaelic).
Zillow.com estimates median Boston home values rose 4.8% over the past year to hit $319,500 -- the highest price for any of the five U.S. cities with the largest Irish-American populations. If that doesn't put you off, Zillow lists more than 2,000 Hub properties
.