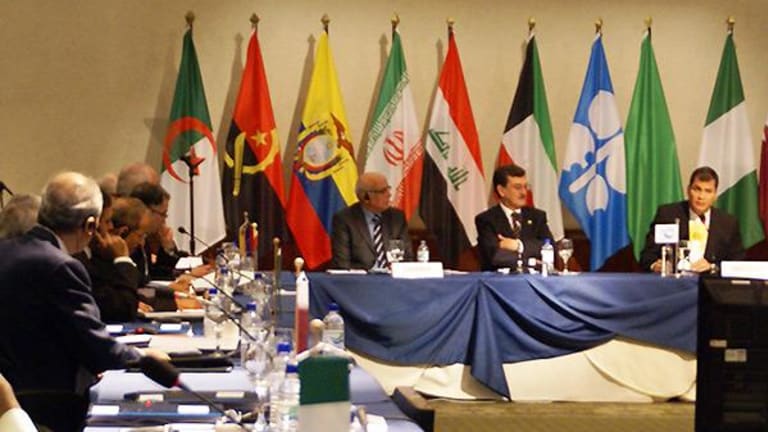 Motorists Face Moderate Gas Prices for Memorial Day Weekend as Crude Oil Slumps
Drivers headed out for trips during the Memorial Day weekend are facing moderate gasoline prices as crude oil prices slumped massively after OPEC extended their production cuts through March 2018.
Motorists headed out for extended trips during the Memorial Day weekend are facing moderate gasoline prices as crude oil prices slumped massively after OPEC extended their production cuts through March 2018.
While the Organization of the Petroleum Exporting Countries' prior production cuts strengthened crude oil prices in the past, the euphoria in the market appears to have faded. West Texas Intermediate (WTI) crude prices fell to $49.00 at 1:50 EST, declining by 4.6% as the global glut in supply is not abating in the near term. Brent crude oil, the international benchmark, also dipped to $51.71 or 4%.
The OPEC ministers said they would cut supply by 1.8 million barrels a day from the market during their meeting on Thursday in Vienna. Non-OPEC exporters are also expected to participate in the cutback.
Oil prices continue to see pricing pressure because OPEC "keeps kicking the proverbial can down the road," said Chris Faulkner, CEO of Breitling Energy, a Dallas oil and gas exploration and production company. "The previous cuts have only done so much to stabilize the markets. The global supply swamp has depressed markets since 2014. The pricing outlook for oil has far more downside than upside potential."
U.S. shale producers ramped their production in 2017, "eroding" the benefits of cuts by OPEC, which refuses to slash production even more, he said.
The oversupply of oil in the market should not persist past the third quarter as inventory numbers are declining and continue moving in a downward trend despite higher U.S. production and high levels of imports, said Patrick Morris, CEO of New York-based HAGIN Investment Management.
Crude oil inventories decreased by 4.4 million barrels during the week which ended May 19, said the Energy Information Administration (EIA), the independent statistical arm of the Department of Energy based in Washington, D.C. This decline is the seventh consecutive weekly drop in U.S. crude supply.
"Crude oil has slumped in trading as some commentators believe that OPEC has not provided for big enough cuts in production," Morris said. "The market is being affected by a couple of factors that should begin to fade off in the not too distant future and the global oversupply should swing to a noticeable deficit over the next two to three months."
By mid July, crude oil prices should rebound to the $55 to $61 per barrel range by mid July and reaching the $60 to $67 levels by December, he said.
"Crude and gasoline have been pretty volatile lately, but I think it is just a function of sentiment and not the fundamental reality," Morris said. "Drilling will continue fast and wild in the Permian basin, but will struggle everywhere else. The longer term issue is whether or not the private equity folks will see the rates of return that they are hoping for in the active basins."
Gasoline prices should remain low as the refiners are at 93.5% of capacity and churning out the summer blend at "breakneck speed," he said. Prices might increase by 35 cents to 55 cents over the summer months if there is a lack of any pipeline disruptions or other deliverability issues.
National gas prices are basically unchanged from where they started this year, said Patrick DeHaan, a senior petroleum analyst for GasBuddy.com, a Boston-based provider of retail fuel pricing information and data. The typical spike in prices during the spring which causes prices to rise by 35 to 70 cents per gallon did not occur because of the supply glut.
OPEC's decision to extend production cuts no longer boosts prices in the market as the market reacted with a sell-off with WTI back under $50 per barrel, "just days after breaking through the psychologically important barrier," he said.
"The extension is hardly a surprise, given the damage inflicted on OPEC producers as a result of a high stakes poker game it started in 2014 when Saudi Arabia announced it was 'opening the spigots' and oil prices promptly plunged, bottoming out near $25 per barrel in February 2016," DeHaan said. "Last November, OPEC announced the cuts at its annual meeting, an about-face after two years of previously ignoring its quotas."
For several months in 2016, oil prices have been rangebound between $45 to $55 per barrel as a tug of war persists in the market, he said.
"Should oil prices drop too low, market forces would kick in and producers would slow output, which would lead prices to rebound," DeHaan said. "If oil prices were to rise over $55 per barrel, producers would likely begin to ramp up production or cheat on established quotas."
Another factor which could put more pressure on prices and increase volatility is that hurricane season starts in one week. While storms have not impacted oil prices in many years, the market could "swing wildly should a hurricane head for the Gulf of Mexico," he said. "These weather events are impossible to predict, but many remember the damage inflicted by Hurricane Katrina in 2005, which resulted in catastrophic losses and shutdowns to oil production and refining operations."
The bottom line for motorists is to watch the actions of OPEC closely as any negative impact to production could affect retail gas prices.
"Pay attention to hurricane season, especially for motorists in the south and east coasts, where such weather events could result in impacts to gas prices or infrastructure," DeHaan said.
Gasoline prices have remained stable for 2017 and prices are up just 4 cents per gallon year to date, the smallest such increase seen in 17 years of data.
"Prices will likely stray no more than 20 to 30 cents from today's national average of $2.37 per gallon for much of the summer," he said.
An analysis of fuel price data during three years conducted by GasBuddy.com determined that gas prices were the lowest average amount on Mondays. The worst day for drivers to fill up is Thursday.
"With station owners out of office and the market closed, it should be a good day to fill up before the market re-opens Tuesday," DeHaan said.
Editors' pick: Originally published May 25.