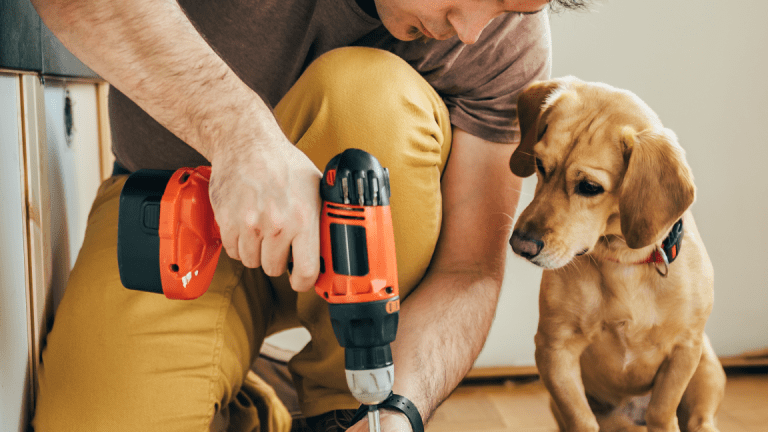 Most Popular Home Renovations and How to Pay for Them
Homeowners want finished basements and decks, but they'd get better returns from stone veneer and garage doors. When your home equity is footing the bill, choose home improvements wisely.
Homeowners want to renovate and remodel their homes, but some projects pay off more than others.
According to the Leading Indicator of Remodeling Activity, overseen by the Remodeling Futures Program at the Joint Center for Housing Studies of Harvard University, home renovation spending increased 6.5% by the end of 2017 to $314 billion. With existing home prices increasing for more than four consecutive years and housing inventory still low, according to the National Association of Realtors, the Joint Center for housing studies predicts that remodeling will continue to increase 7.5% through 2018, to $339 billion.
"Steady gains in the broader economy, and in home sales and prices, are supporting growing demand for home improvements," says Chris Herbert, managing director of the Joint Center. "We expect the remodeling market will also get a boost this year from ongoing restoration efforts in many areas of the country impacted by last year's record-setting natural disasters."
But just about all homeowners are still feeling a bit tentative about making renovations or taking out a home equity line of credit to pay for it. Though TD Bank finds that 55% of homeowners believe their home's value has increased, only about 41% of homeowners surveyed at the Philly Home Show in January have ever taken out a HELOC to pay for one. Though market research firm Core Logic finds that U.S. home values increased by an average of $14,900 last year, just 51.5% would consider using a HELOC to renovate their homes. As of Dec. 15, 2017, interest from a HELOC is only tax-deductible if it's used to improve a home, but homeowners have good reason to approach them cautiously.
Many homeowners are still a bit stunned by the last housing crisis and remember all too well how many homeowners were stuck with "underwater" homes worth less than the mortgage on them. At the height of the U.S. housing crisis in 2012, according to ATTOM Data Solutions' RealtyTrac, more than 12.8 million U.S. homeowners (29%) were seriously underwater. That number has fallen to 4.6 million (8.7% of all mortgaged properties), while the number of equity-rich homes (with at least 50% positive equity) has climbed to more than 14 million, or 26.4% of all mortgaged properties.
"Consumers have been reluctant to start home renovations in recent years because of all the uncertainties in the economy," said Mike Kinane, senior vice president of home equity for TD Bank. "It's encouraging to see a growing appetite for these projects."
Even when homeowners do decide to renovate, they're being extremely judicious about where and how they spend. According to TD Bank's Home Equity Sentiment Index, 54% would renovate a kitchen and 46% would renovate a bathroom -- with a renovated backyard coming in a distant third at 20%. Roughly 35% of homeowners would make renovations to increase their home's value, but the folks surveyed at the Philly Home Show had different ideas about which of the following projects would add value:
Bathroom (32%): According to Remodeling Magazine's Cost vs. Value Report, a mid-range bathroom remodel of $19,134 would return about 70% of its value upon sale of the house. Since people tend to be picky about their bathrooms, an upscale overhaul ($62,000) would only add about 56% of its value. However, a $16,000 bathroom redesign to make it more wheelchair accessible adds about 71% of its value to a home.
Outdoor renovations (23%): TD Bank was thinking decks, patios and pools, and Remodeling Magazine loves the first two. A $54,000 patio adds 48% of its value to a house, while a $17,000 composite deck brings back 63.6%. Can't afford more than a wooden deck? Don't worry: About 83% of the $11,000 cost will find its way into your home's sale price.
Finished basement (15.5%): This didn't make its way onto Remodeling Magazine's Top 25 renovations, but those looking to make it into a bedroom and bathroom could recoup up to 57% of the costs.
Adding granite or quartz countertops in the kitchen (3.8%): It's a shame more people aren't considering it, as Remodeling Magazine says making this project part of a $22,000 minor kitchen remodel would add more than $17,000 (81% of the cost) to the price of a home.
If homeowners are looking for the best return on their renovation investment, however, they might want to consider a $1,471 steel entry door (91.3% return on investment), an $8,221 stone veneer for the house's exterior (97.1%) or a $3,470 garage door replacement (98.3%). They may want to book a contractor sooner rather than later, though. The HomeAdvisor Farnsworth index of home improvement professionals finds that while 78% of home improvement companies predict an increase in revenue this year thanks to homeowners taking on large projects, 58% have had a hard time finding skilled labor to do these jobs.
"Despite continuing challenges of low for-sale housing inventories and contractor labor availability, 2018 could post the strongest gains for home remodeling in more than a decade," says Abbe Will, research associate in the Remodeling Futures Program at the Joint Center.
This article is commentary by an independent contributor. At the time of publication, the author held no positions in the stocks mentioned.