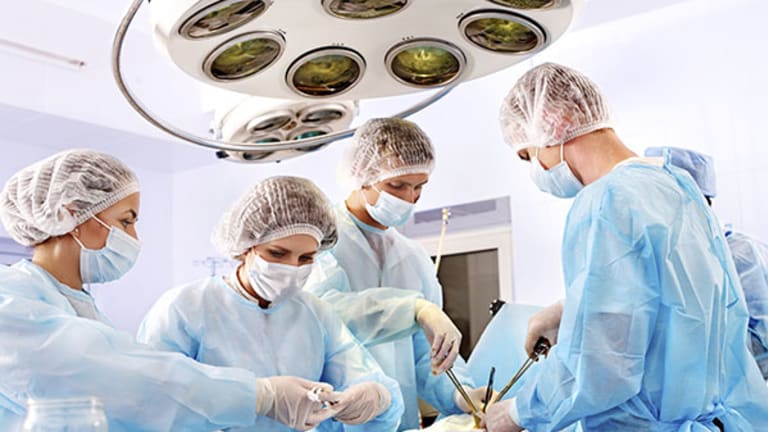 Most Common Surgery in the U.S. For Women is Over-Prescribed
New study finds one out of five hysterectomies performed in the nation may be unnecessary with costly results. Why aren't doctors discussing alternative treatments with their patients?
NEW YORK (MainStreet) — One of the most common surgical procedures for women in the United States might actually not be necessary in up to 20% of cases, with a new study finding that an estimated one out of five women who undergo a hysterectomy may not have needed it at all.
The study, which was conducted at the University of Michigan and surveyed 3,400 women who have had hysterectomies, was published in a recent issue of the American Journal of Obstetrics and Gynecology. The findings indicate that women are not being offered alternative treatments or options to hysterectomies to treat benign conditions.
The hysterectomy is a medical procedure that includes the surgical removal of the uterus and in some case other parts of the female reproductive system, such as the cervix, fallopian tubes and in some cases, the ovaries (known as an oophorectomy). The surgery renders a woman infertile and, in cases where the ovaries are removed, instigates menopause if the woman is still in her child bearing years.
As of 2010, approximately 600,000 hysterectomies were being performed in the nation annually, accounting for over $5 billion health care costs. A hysterectomy can typically cost between from $10,000 and $20,000, depending on the type of hysterectomy performed and the state and hospital it is performed in. In most cases, it is covered by health insurance if it is deemed medically necessary. For patients covered by health insurance out-of-pocket costs can range from co-pays of $100 or more and between 10% to 50% of the cost of the procedure. 
Though the number of surgeries performed has gone down recently to 400,000, the hysterectomy is still the most performed surgical procedure on women in the U.S. In fact, one in three women in the U.S. will have had had a hysterectomy by age 60.
"Over the past decade, there has been a substantial decline in the number of hysterectomies performed annually in the United States," said senior author Daniel M. Morgan, M.D., associate professor in the Department of Obstetrics and Gynecology at the U-M Medical School, who notes there has been a 36.4% decrease in the number of surgeries performed between 2002 and 2010. "However, despite the decrease in numbers of hysterectomies in the U.S., appropriateness of hysterectomy is still an area of concern and it continues to be a target for quality improvement."
Hysterectomies are often used for first line treatment is serious and potentially fatal conditions such as cervical, ovarian and uterine cancers. Yet, researchers of the study found that nearly 18% of the time they were being performed for less serious conditions such as endometriosis (the abnormal growth of endometrial tissue outside of the uterus), fibroids and abnormal bleeding.
Lorraine Watson, who recently had a hysterectomy last September at the age of 42 to treat her endometriosis and a benign tumor in her cervix, believes she was pressured into having the surgery.
"My doctor…didn't even tell me what was going on except that he was doing full hysterectomy while keeping the ovaries intact," says Watson. "I didn't like how I was pushed and not given information or told any options."
On a national level, approximately 68% of hysterectomies were performed for non-cancer conditions. For these kinds of conditions, the American Congress of Obstetricians and Gynecologists recommends alternatives to hysterectomy that include hormonal management, operative hysteroscopy to remove fibroids and laparoscopy to remove endometriosis.
For the University of Michigan study, researchers examined the medical records of 3,397 women at 52 different hospitals who underwent hysterectomies for benign conditions in Michigan to determine whether other options were explored beforehand. Nearly 40% of records failed to include any documentation of alternative treatments used or recommended before the hysterectomy was performed. Furthermore, fewer than 30% of the women received medical therapy, while 24% underwent other minor surgical procedures before the hysterectomy.
Women under 40 were more likely to be offered alternative treatments--at a rate of 68%. By contrast, only 56% of women over 50 were offered alternatives to hysterectomy; that jumped to 62% for women aged 40 to 50. About 38% of the women under 40 had diagnoses that did not support undergoing a hysterectomy, compared to 12% for women ages 40 to 50 and 7.5% for those over 50 years. Most of the women who underwent hysterectomies did so for either endometriosis or chronic pelvic pain.
"This study provides evidence that alternatives to hysterectomy are underutilized," Morgan says.
However, there are those with benign conditions who exhausted their other options and still found that having a hysterectomy was ultimately the best course of treatment.
"I have no regrets," says Nancy Thurman, who had a hysterectomy six years ago at the age of 43 for her endometriosis. She believes it was worth the $500 co-pay for her insurance. "The [endometriosis] pain was a hindrance to my daily life and I missed too much work."
Bobbi Hoff, another sufferer of endometriosis, also thinks her hysterectomy at the age of 25 was a good decision, despite the $3,200 price tag leftover after insurance. Even though she felt pressured into getting the procedure, she had tried multiple other treatments without success.
"I am pain free, and I can't tell you how much that means to me," says Hoff. "I'm not suffering like I was before, and I have my life back."
--Written by Laura Kiesel for MainStreet