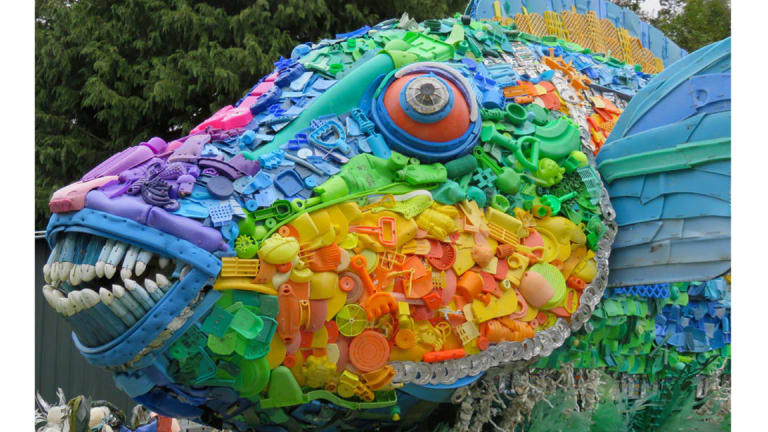 The Most Common Plastics That Pollute U.S. Watersheds
Here are the worst plastic products, and some of the most common brands that pollute U.S. rivers, lakes and oceans, and what you can do about it.
Plastic has its benefits. It's cheap, convenient, light, durable, easily formed and helps keep food safe.
But it's piling up in our rivers, lakes and oceans.
The fish sculpture pictured here in Oregon, part of a traveling exhibit called Washed Ashore, Art to Save the Sea, is made entirely of plastic trash found in the beaches and waters of the Pacific coast.
Globally, an average of eight million tons of plastic escapes collection systems, winding up in the environment and eventually the ocean, according to a report by Break Free From Plastics, an organized movement calling on corporations and consumers to reduce their use of single-use plastic.
The report, Better Alternatives Now, says that the combination of toxic chemicals in manufacturing of plastic, and plastic's persistence in the environment point to the need to reduce and redesign the use of plastics.
To identify the types of products and packaging that are causing the most harm in the environment and to human health in the U.S., several organizations partnered to examine data sources from Ocean Conservancy's International Coastal Cleanup Day, NOAA's Marine Debris Tracker, Clean Ocean Action, Project Aware, and Heal the Bay.
Available data on the top 20 items by count were combined, resulting in a hierarchy beginning with the most common plastic, which was food wrappers. Nine of the 20 categories had data on the most prevalent brands; those brands are included here where available.
Recommended alternatives are also from the BAN report. Read on to see what you can do to reduce plastic waste.
These are the worst plastic products, and some of the most common brands polluting U.S. rivers, lakes and oceans.
Photo: WashedAshore.org