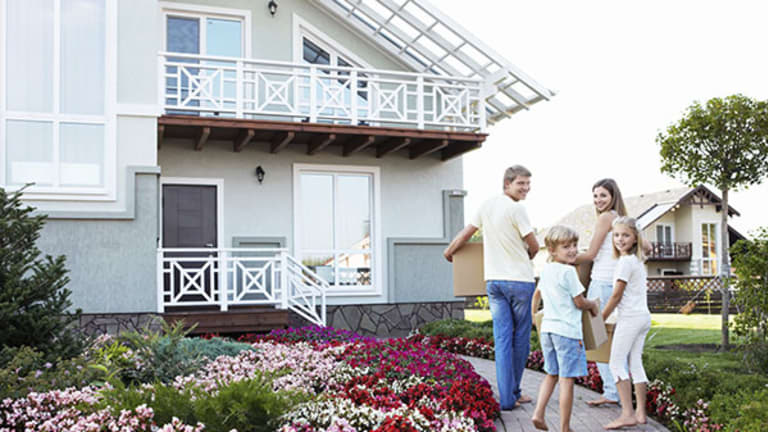 You Can Still Find "No Money Down" Mortgages, But Are They Worth the Risk?
Many associate the 100 percent mortgage with the housing bubble. However, these products are still around; Are they right for you?
NEW YORK (MainStreet) - No money down mortgages? Do those still exist? In the wake of the financial crisis of 2008 and the collapse of the housing bubble, a lot of people think that the no money down mortgage has gone the way of the dinosaur. However, while these types of products are rarer than they were throughout the last decade, they can still be found. The no money down or 100% mortgage is a double-edged sword: on the one hand, it can allow people in expensive markets to get their foot in the door. On the other hand, they often come with very high fees and interest rates. So how can you know if a no money down mortgage is right for you and your family?
Where Are the No Money Down Mortgages?
Mike Sullivan, director of education with Take Charge America, points out that there are a number of no money down mortgages specifically targeted for niche groups of Americans.
"VA mortgages often require no down payment, but there's still a funding fee of 2 or 3%," he says. That fee has to be paid in advance, so that constitutes a sort of down payment in and of itself. What's more, Sullivan points out a U.S. Department of Agriculture program that offers rural housing at no money down. "This can be an attractive option for people who have no cash," he says, adding that you can't get that loan anywhere, but you can get it more places than you might think -- some suburban areas are considered "rural" by USDA.
In fact, Sullivan is incredibly bearish on the question of a no money down loan. "Outside of a government program, I can't see anywhere that this would be a good idea," he said.
Why's that? Sullivan argues that consumers ought to be wary of lenders willing to give you a home loan when you have no skin in the game.
"It's a bad idea for lenders, so why are they doing this?" he says. It might be a good idea for a borrower because of the availability of the money up front with very little risk. Still, Sullivan points out that in most cases this is going to mean exorbitant interest rates that aren't really going to make it worth it in the final analysis.
John Heath, managing attorney with Lexington Law, is rather blunt.
"I think these types of products are what got us into trouble back in 2008," he says. "Basically how these work typically is they give you a mortgage for 80%, then finance the remaining 20% with a second mortgage."
He also pointed to government programs that allow no and low money down.
"You need to be mindful of the product you're looking at and know your limits on what you can afford," Heath says.
However, there's one place where you might be able to get a no money down mortgage without a high interest rate or crippling fees: your local credit union.
Read More:Adjustable Rate Mortgages Are a Wise Choice for Borrowers
Credit Unions and No Money Down Mortgages
Banks are run on a for-profit basis for investors. In contrast, credit unions are membership organizations run not for profit. This makes it easier for them to offer no money down mortgages for their member-owners. Katie Miller is vice president of mortgage products with Navy Federal Credit Union, one of the few institutions around still offering no money down mortgages after the housing crunch.
Read More:Mortgage Lenders Have a Major Racket
"First-time homebuyers are the ones looking at our no-money down mortgages," she says, adding that most of the time these can make more sense than an FHA loan.
In terms of getting a return on the loan, their 100% loan products performed better than industry prime. So what if you have a bunch of money saved up for a down payment and you qualify for a 100% mortgage? Miller points out that NavyFed does a holistic approach, which looks at a number of loan products and helps people to figure out which will work best for their near- and long-term plans.
However, if the consumer opts for a no money down mortgage and still have a substantial down payment, there's ways to put that money to good use throughout the mortgage process.
The no money down loan itself has a 1.71% funding fee, which can be wrapped into the loan but also can be paid up front using what was going to be your down payment. There are also closing costs associated with buying a new home that you can put that down payment money toward.
If you do opt for a no money down loan, you should talk to a financial advisor, whether it's a loan advisor or an investment professional, about what you should do with the significant chunk of change you'll have lying around after getting that kind of loan product.
In the final analysis, if you qualify for a no money down loan, it's best to look at it from a holistic perspective: How much is the interest? How much are the fees? Are there other loan products that will meet your needs with lower costs?