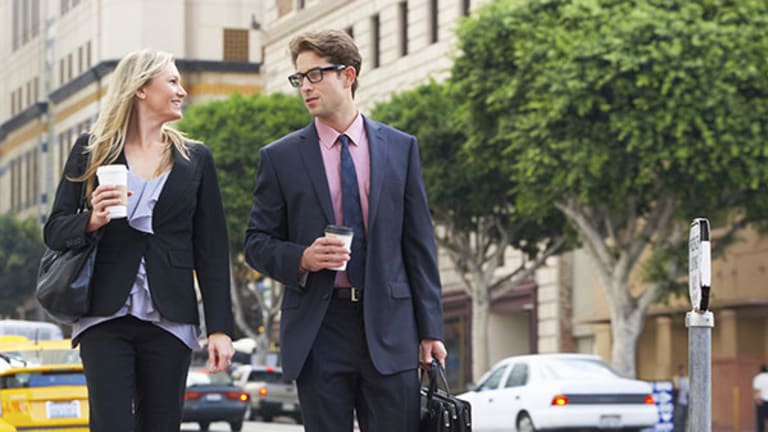 Why Americans Move Closer to Their Jobs or Neighborhoods Where They Can Walk
Americans still believe that the location of their home ranks at the top of the list.
NEW YORK (MainStreet) — Americans still believe that the location of their home ranks as most important among their real estate criteria. And the prospect of walking-distance proximity to their most important locales motivates their real estate decisions. 
People are moving to be closer to their jobs, to live in more diverse neighborhoods or to be within walking distance of stores, according to a report conducted by The Demand Institute, a New York-based non-profit think tank jointly operated by The Conference Board and Nielsen.
Most Americans (60%) are only moving within 30 miles of their current home. A large group or 32% said they want to live close to their workplace, while 39% want to live in neighborhoods where walking to restaurants, grocery stores, services and public transit are an option. Nearly one-third want to live where there are good schools for their children. Only 18% said they plan to move to the city where rent and housing costs are typically more expensive.
"Walkability is more popular in areas with more traffic congestion and with single households or dual-worker households," said Jeremy Burbank vice president at The Demand Institute and Nielsen. "People who don't have a lot of time to sit in traffic every day. At one end of the spectrum, we have more people delaying marriage and kids and at the other end we have more empty nest Baby Boomers."
Some generations, especially Millennials and Baby Boomers, are striving now to live in areas where they don't have to depend on having a car to get everywhere and have more of a urban and communal atmosphere, said Juliann Emmons Allison, associate director of the Center for Sustainable Suburban Development at the University of California, Riverside School of Public Policy.
"Members of the two largest living generations demand smaller, attached housing and prefer to walk or rely on public transportation or car-sharing services to get to work or go out," she said.
Aging Boomers want to live on their own "well into old-age, and this is easier when homes are smaller and require less upkeep and most life necessities and amenities do not require long commutes or a driver's license," Allison said.
Younger people, especially new college graduates, cannot afford to live far from work. They have also traveled and experienced urban life and remain "accustomed to the communal experience characterized by roommates, close quarters, little money and a walk home from the bar," Allison said.
The appeal of living in a city is increasing for many residents who prefer the ease of walking to their local deli or to run an errand.
"The American dream is shifting and instead of white picket fences, more and more people are looking to live in the city," said Armando Codina, executive chairman of Codina Partners, a real estate investment and development firm based in Coral Gables, Florida. "As Baby Boomers retire and Millennials seek an urban experience with the amenities of suburbia, things aren't quite so black and white. Suburban city centers fuse the best of both urban and suburban lifestyles, giving access to the amenities of a major metropolis with the comfort of a suburban neighborhood."
More people are opting to live in neighborhoods where they can walk often, if not daily. Walking is becoming more important as car ownership decreases and becomes less of a priority, especially for younger people, said Stuart Eisenberg, real estate practice leader and partner at BDO USA, the Chicago professional services firm. From 2007 to 2011, the number of cars purchased by people ages 18 to 34 fell almost 30%, according to a study from the AAA Foundation for Traffic Safety.
"Today people are opting to live more mindfully as they crave a sense of ease, and walking helps contribute to this," Eisenberg said. "Transit-oriented developments continue to be built in response to a demand for work, live and play communities."
Buying a home is becoming less of a priority for many consumers, so many American are opting to be renters, which also impacts where they live, Eisenberg said.
Another trend which could occur in the future is the construction of additional "town center" or mixed-use concepts in suburban development which gives consumers the option of living in a more affordable area away from the city, but also combines city features of having shops and stores nearby, said Burbank.
"With more people flocking to large metropolitan areas and many city centers becoming too congested or expensive, I expect to see more focus on the infill and redevelopment of inner suburbs," he said.
--Written by Ellen Chang for MainStreet