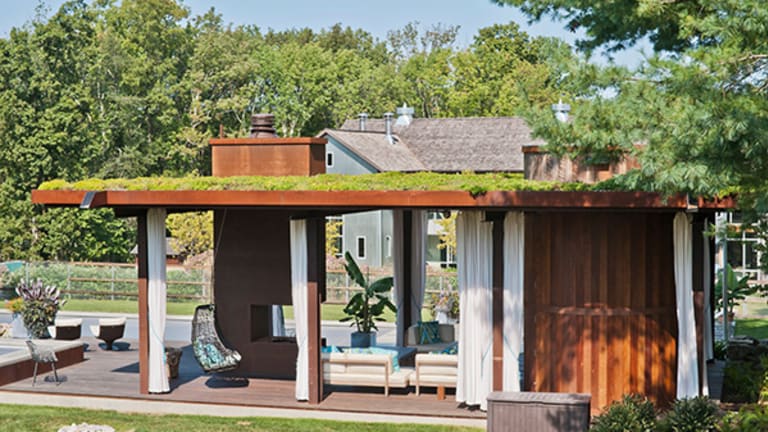 What a Green Roof Costs You on the Way to Saving Everything
Planting a garden on your roof provides insulation in the winter and cooling in the summer, saves money and the Earth and might just keep you healthy as well.
NEW YORK (MainStreet) — Maybe Bilbo Baggins was onto something, living in a house built into a hillside, its roof covered in grass and flowers.
In The Hobbit and Lord of the Rings, Bilbo was one of many Hobbits living in homes that today would be viewed as cutting-edge eco-friendly.
A recent, visually stunning article in Dwell, the trendy, forward-thinking home publication, was dedicated to this very topic — the increasing number of homeowners around the country and world who are building or redesigning homes to include a living roof, literally planting a garden on a roof whether with succulents, grass or some other combination of local plants. 
Green roofs are not entirely new. That's essentially what the ancient Hanging Gardens of Babylon were.
But in today's world of global warming, dwindling natural resources and increasing utility costs, a green roof has taken on a new and increasingly popular appeal for businesses and homeowners from Massachusetts to California and beyond. A green roof comes with numerous benefits for the property owner and community at large. 
"If designed and maintained properly, a green roof can save you money," says Breeze Glazer, sustainable design director for the New York firm Perkins + Will. "The savings comes from reduced utility costs and even reduced [roof] maintenance over time. But the green roof has to be properly installed and inspected from time to time."
Growing plants on your roof provides insulation in the winter and a cooling effect in the summer, Glazer explains, saving money on air conditioning and heating.
The exact amount of savings is difficult to calculate, as utility costs vary from state to state. But according to the National Research Council of Canada, a green roof can reduce air conditioning demand in the summer by as much as 75%.
An exposed roof can get as hot as 158 degrees on a sunny day, while a green, shady roof heats to just 77 degrees, according to the council.
And green roofs do their part for the environment. By lowering air conditioning demand, green roofs decrease production of associated air pollution and greenhouse gas emissions, says the U.S. Environmental Protection Agency.
There are also numerous additional benefits, according to research from Michigan State University, including that living or green roofs improve stormwater management by reducing runoff, reduce noise pollution, increase urban biodiversity by providing habitat for wildlife, provide space for urban agriculture, provide a more aesthetically pleasing and healthy environment to work and live and improve return on investment compared with traditional roofs.
The University of Michigan, for instance, compared the expected costs of conventional roofs with the cost of a 21,000-square-foot green roof and all of its benefits, such as stormwater management and improved public health from the absorption of nitrogen oxides. The university found that the green roof would cost $464,000 to install versus $335,000 for a conventional roof in 2006 dollars. Over its lifetime, though, the green roof would save about $200,000. Nearly two-thirds of the savings come from reduced energy needs for the building below it.
Another important financial benefit is the reduction in home maintenance costs.
"They prolong the life of the roof underneath it. They protect the roof from sun, which can wear down the roof, and from snow and rain. They have been proven to increase the length of roof life," Glazer says.
A green roof or living roof is not an option for every homeowner. For one thing, the roof must be the right pitch, Glazer says.
"The type of roof you have matters less then the slope of your roof," he says. "You don't need a flat roof, but you can't have a steep roof either. It should have no more then a 20-degree slope, if not lower. Ideally, you want it to be as flat as possible."
The roof must also be capable of bearing the weight of a garden.
There are two types of living roofs — extensive and intensive, Glazer explains. Extensive roof gardens are lighter, cheaper and shallower. Intensive gardens are heavier and more expensive. For existing homes, Glazer recommends the extensive roof garden.
Some stores sell modular trays specifically for extensive gardens. The trays are sold in a grid that can be put on a roof and grouped tightly.
The type of plants used is also key, Glazer says. 
"The goal is no matter where you live, the type of plants should be native to your region," he says. "And then you don't have to irrigate at all. Find out what plants are natural to your region."
The EPA estimates that the cost of installing a green roof starts at around $10 per square foot for simpler extensive roofing, and $25 per square foot for intensive roofs. Annual maintenance costs for either type may range from 75 cents to $1.50 per square foot.
Urban areas such as New York City are among the biggest participants in the trend.
Elliott Maltby, principal at Brooklyn-based architecture, urban and landscape design firm Thread Collective, has not only designed green roofs for clients, but created one on her home, and can rattle off numerous buildings throughout the city that now have one.
"In New York City you have a strong history of roof terraces, so the transition from roof terraces to green roof isn't such a big leap," she says. 
Among the more sizable in the city is the 2.5-acre green roof atop the U.S. Postal Service's Morgan Processing and Distribution Center on Ninth Avenue, between 29th and 30th streets. The New York City Parks Department started a living roof in 2007 on its Five Borough Administrative Building. Now covering more than 29,000 square feet, the building's roof is at the forefront of the movement.
"I think there's an increasing awareness of citywide problems, like the temperature or stormwater management," Maltby says. "People are feeling a togetherness in dealing with these issues, and green roofs have a pleasure and beauty associated with them as well."
"I think it's slowly becoming more mainstream, probably a little bit more at the higher end of construction," she adds. "People are seeing green roofs as these aesthetic places that also do all of this amazing ecological stuff."
In nearby Connecticut, Burt DeMarche's firm The LaurelRock Co., an award-winning landscape development business, has built living roofs on a handful of properties over the past five years, on pool houses and primary residences. Describing the trend as still in its early phases, he predicts it will continue to pick up momentum in the coming years.
"I would say by 2020 you will see more of them. There are more people talking about it now," he says. "I don't think there has been a lot of information or publicity about them out there yet."
Glazer, meanwhile, of Perkins+Will, says there's an additional value impossible to measure in dollars.
"There are many studies linking just being able to see nature, whether it's a park next door or a green roof, to health benefits," Glazer says. "Things such as increased productivity and reduced errors, and reduced stress levels ... There's many different ways that simply being able to see nature can quantifiably benefit your health."
— Written by Mia Taylor for MainStreet