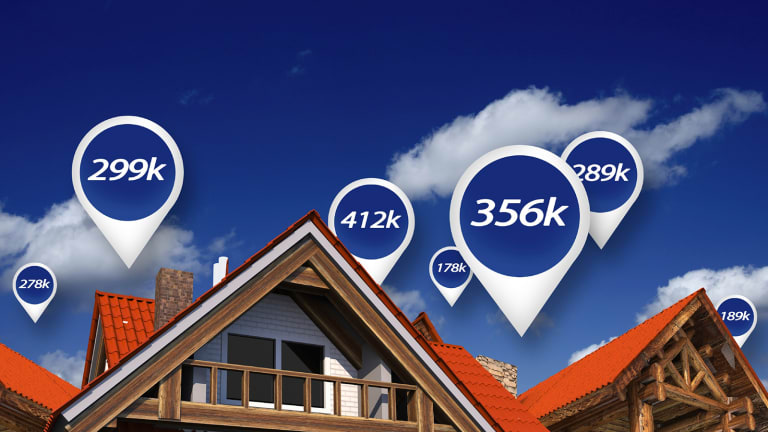 U.S. Home Prices up 4% in '16, But Are Clouds Brewing for '17?
August residential real estate data was all over the map, but at least U.S. home prices are moving in the right direction - this year.
At first glance, the August residential home sales numbers looked grim. But a deeper dive into the data snaps a brighter picture - at least for right now.
That's after the U.S. Census Bureau and the Department of Housing and Urban Development reported an almost 8% decline in sales from July to August, on an updated basis.
"Sales of new single-family houses in August, 2016 were at a seasonally adjusted annual rate of 609,000, according to estimates released jointly today by the U.S. Census Bureau and the Department of Housing and Urban Development," the Census Bureau states. "This is 7.6% below the revised July rate of 659,000, but is 20.6% above the August, 2015 estimate of 505,000."
Analysts were quick to slice and dice the numbers.
"Based on recent data, you might think that the housing market took a turn for the worse in August - but it didn't," says Jonathan Smoke, chief economist at Realtor.com.
In fact, Smoke says his organization is seeing "good signs" that the new home market is finally growing substantially, with sales of new homes "up big time" over this time last year, and so far this year. "It looks like these gains are happening because builders are shifting product towards more affordable price points and responding to strong demand by building with contracts in hand," he explains. "This August, only 30% of new homes sold were already completed."
"Even with a continued lack of homes on the market, total home sales are up 4% over last year," Smoke adds. "That shows a clear shift in the composition of sales - new homes have more room to grow while existing homes are limited by their owners' willingness to sell."
On the other side of the ledger, the residential real estate market may have some stiff headwinds going forward.
"Year-to-year, lower interest rates, stronger consumer confidence, and flat inventories have spurred buyer demand, and fueled higher home prices," says Janine Acquafredda, associate broker at House n Key Realty, in Brooklyn, N.Y.
But on a regional bases, at least, that could spell trouble down the road for maxed-out buyers.
"We have come to a point, at least in certain places like New York City, where owning a home even in the outer boroughs has become virtually out of reach for most middle class families, where buyers are putting their foot down.," Acquafredda says. "Not only has inventory gotten tight, so has the buyer pool. As prices for homes in places like Brooklyn reach a minimum of $1 million, there just aren't as many people who can afford or who are willing to pay those prices and I'm seeing sort of a universal freeze."
Acquafredda says that buyers are asking about any deals under $1 million, and she's coming up empty.
"I just don't have them," she says. "If inventory continues to be tight, which is one of the main factors driving the prices up, the market will be stagnant. Additionally, if enough buyers refuse to purchase at these high prices, the market will have to correct itself if there is going to be movement."
Another big issue - home sales in highly-populated areas of the country may be muted due to solid price increases, as owners look to rebuild equity.
"Domestically, housing prices are increasing thanks to restricted supply and a low-rate lending environment," notes Rich Murdocco, a real estate specialist for CBS 2 and Newsday, in New York City and on Long Island. "In older suburban areas in the Northeast, homeowners are looking at the growing economy as an opportunity for their home to gain some of the value lost during the recession years."
Homeowners shouldn't get too excited about home prices soaring to record heights, Murdocco adds. "As new construction remains restricted and housing demand continues to increase, prices are expected to continue to climb, but not anywhere close to pre-recession levels," he adds.
That said, the outlook for U.S. home prices in 2017 remains positive, but at a much slower pace, real estate experts say.
"The low unemployment environment, steady jobs outlook, low interest rates and rising wage growth should all support housing appreciation," explains Hessam Nadji, CEO at Marcus & Millichap, a real estate broker age firm. "In addition, builders have thus far been slow to add inventory, particularly at the entry-level home price point, so risks of oversupply have been muted."
Nadji offers another factor impacting the U.S. home sales market going forward. "Many people prefer the flexibility and lifestyle offered by renting, as reiterated by falling homeownership rates, so although demand for home purchases will remain good, it's unlikely to increase dramatically in 2017," he says.