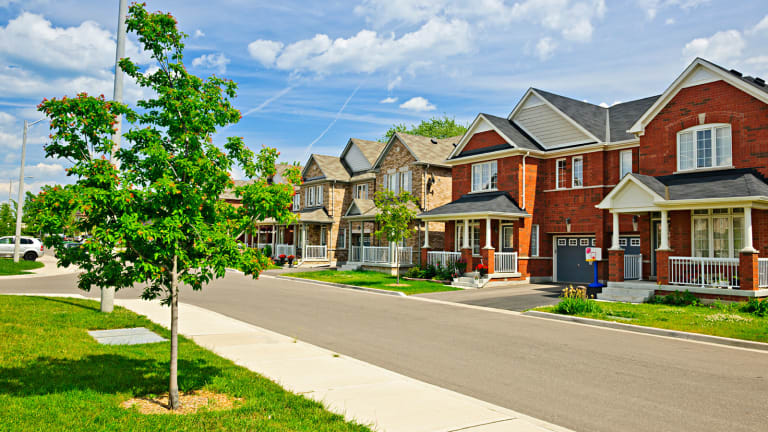 Top Predictions for U.S. Home Prices In 2018
U.S. home prices are up in 2017 -- expect that trend to continue, albeit at a slower rate in 2018, and here's why.
These are good times for U.S. homeowners, and they should continue to roll in 2018, experts say.
U.S. home prices rose by 7% from September 2016 to September 2017, according to CoreLogic. The property information data firm expects home values to continue to land in the "plus" category in 2018, but at a lower growth rate of 4.7%.
At these growth levels, many U.S. regions could become overvalued, home price-wise, which would contribute to the slight decline in prices that CoreLogic estimates.
Do other real estate experts agree with that sentiment? TheStreet canvassed several real estate gurus to see where they believe home prices will go and how the real estate market will look like in 2018. Here's what they had to say:
Danni Springfield, a real estate agent at The Springfield Group in San Antonio, Tx. - Even relatively steady markets are seeing impressive growth in the housing market, Springfield says. "In San Antonio, it cost 10% more on average to buy a home in 2016 than in 2015, although 2017 numbers have not been released yet," she says. "All indications are that this trend will continue in 2018 based on one item - inventory." A market is considered balanced with about six months of inventory, and, in a balanced market, homes will appreciate at 2% to 3% on average, Springfield notes. "In a low inventory market, like much of the country is currently experiencing -- San Antonio is at 3.1 months -- the average price appreciation will be 6% to 7%, and high-demand pockets will grow in double digits," she says. "As long as jobs are up, interest rates are low, and homes are appreciating, we are going to see a high volume of real estate transactions."
Janine Acquafredda, real estate broker with House n Key, Realty, in Brooklyn, N.Y. - More people are looking to buy and fewer are looking to rent, and that's a big impactor on home prices going forward, Acquafredda says. "Rental prices have moved so high the last several years that it makes sense for people to buy, since mortgage payments and rent are comparable in terms of a monthly expense," she explains. "I think we will see rental prices continue to move lower as inventory grows and demand shrinks." Acquafredda says that as long as mortgage interest rates remain low and the overall health of the economy stays strong, 2018 should be a healthy year for real estate. "That said, I don't predict any surges in pricing, but I do see more of a level, consistent sales activity." Acquafredda also says there is one potential fly in the ointment for the U.S. real estate market in 2018. "One big impactor could be the GOP tax plan especially in major cities, like New York City, where the change to the mortgage interest deduction could have a huge impact," she notes. "You'll see fewer people buying multiple properties and the proposal to scale back the ability of Americans to deduct state and local tax payments from their federal bill is also going to impact what and where people buy."
Allison Bethell, Real Estate Investor Analyst, at FitSmallBusiness.com, in New York City - Home prices are affected by the stability or lack of stability in the economy, unemployment rates, interest rates and supply and demand of housing inventory, says Bethell. "A lot of new homes are being built and will be delivered in 2018, and housing has recovered from the hurricanes in Texas and Florida and the fires in California are behind us," she says. "Also, interest rates have risen this year so this, along with low unemployment rates indicates that home prices will rise next year by a few percentages. They won't rise as high as they have in the past, but they will still see a small incline." Bethell also says that "lack of available inventory" especially in Los Angeles, New York City, Boston, and San Francisco will keep the prices going up and may price out professionals looking to purchase in those areas.
Greg Moers, a real estate agent at Triplemint, a real estate start-up brokerage firm in New York City - Home prices will rise faster than incomes in 2018, says Moers. "Even though the rental market is still strong in most markets with little inventory, we should expect to see continued positive home pricing growth," he says. "Housing will also become less affordable hurting millennials and renters the most. Any big government policy change, like tax reform, will stimulate demand more than supply, which will push the prices upwards." As for home prices, Moers says that if the industry is currently building more houses than we need, then prices don't need to firm up. "I expect long-term interest rates to rise a little, which won't help prices," he says. "Although there's not much reason to expect a collapse, the recent 7% nationwide price increase seems a bit much given the demographics. I would think that 3% would be more realistic next year."
Denise Supplee, Realtor and co-founder and operations director at SparkRental.com in Hatboro, Pa. - "We will see some interesting fluctuations in the U.S. real estate market in 2018," Supplee states. "One largely will hinge on the up-the-air tax reforms that directly affect housing." Another emerging factor is that the millennials are moving, Supplee adds. "I'm seeing more younger homeowners fleeing the city life for the quieter suburban life," she says. "With family planning on the horizon, a need for neighborhoods with sidewalks, better schools and fenced in yards are replacing the nightlife and culture of the city.' Additionally, Supplee says that complaints of "no inventory" most likely will continue. "Another oddity I'm noticing is that the baby boomers are holding onto their homes. Whether that's due to an increase in multigenerational living or modern medicine providing a higher quality of life, this is definitely a contributing factor to ongoing low home inventories."
More of What's Trending on TheStreet:
Here Is How Millennials Can Get Rich From Exchange Traded Funds