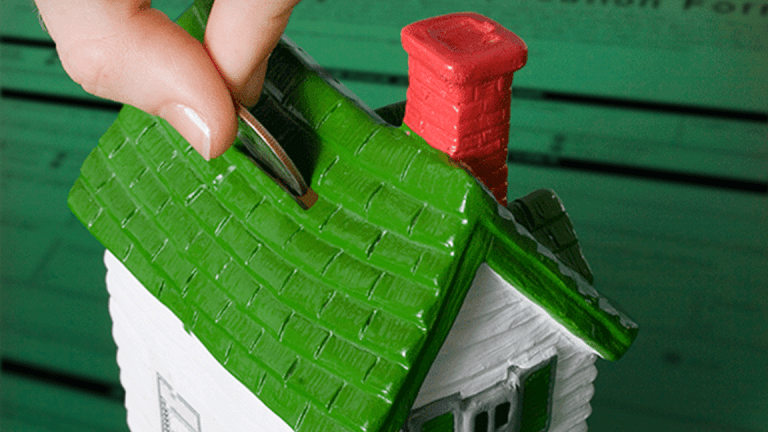 In the aftermath of the Great Recession, no-money-down mortgages got a bad rap, blamed for being part of a toxic brew of bad lending that crashed the real estate market.
But in a bid to reach credit-worthy buyers struggling to save up thousands to secure a loan, mortgage lenders are experimenting again with very low down-payment mortgages.
These are not your parents' zero-down loans. Unlike the days of the real estate bubble of more than a decade ago, they require strong credit scores, mortgage brokers say.
Even so, there are a number of trade-offs buyers have to consider before going the no-money-down route, including the prospect of paying more over the long term of their mortgages.
"There are significant barriers preventing people from attaining homeownership and one of the major barriers is the down payment," says Elliot Schmiedl, homeownership director for the Massachusetts Housing Partnership. "The days of saving up 20 percent down are long gone -- now it's 3% to 6% and people even have trouble making those payments."
For potential buyers, there are a number of options to look at when considering whether to pursue a mortgage with a tiny down payment or none at all.
United Wholesale Mortgage is promoting a mortgage in which the buyer would have to put down just 1%, with the lender kicking in an additional 2% as a gift. Buyers can't get the deal directly from United, but have to go through a national network of independent mortgage brokers, according to the company.
Troy, Mich.-based Flagstar Bank and Cincinnati-based Fifth Third Bank have rolled out their own zero-down mortgage programs across much of the Midwest and parts of the South.
Flagstar offers its zero-down mortgages in low- and moderate-income areas of the state. The loans are targeted at those making between $35,000 and $62,000 and looking to buy in the $80,000 to $175,000 price range, according to the Detroit Free Press. The bank offers as a "gift" the 3% down payment plus up to $3,500 in closing costs in "challenged" areas like Detroit, where total assistance can go up to $7,500, according to a spokeswoman for the bank.
Fifth Third Bank offers no-money-down mortgages for people looking to buy in low-income areas in several states, including Indiana, Michigan, Illinois, North Carolina, Ohio, Tennessee and Georgia.
The bank gifts the 3% down payment -- up to a maximum of $3,600.
Still, some lenders, including Quicken Loans, have pulled back from mortgages with little or no down payments in the wake of a decision last year by Freddie Mac, a giant, federal home loan financing authority, to tighten up the rules.
Given that Freddie Mac buys billions in mortgages each month from banks and mortgage companies, the new rules, which make it more difficult for buyers to avoid putting any money down, has had a big impact.
Bill Banfield, the executive vice president of capital markets for Quicken Loans, doesn't think the decision was based on any issues with the loans, with his own company's low-down-payment mortgages having performed well.
Rather, it was an issue of perception, he contends.
"I suspect there was some concern about the optics around offering no-down-payment mortgages," says Banfield of the Freddie Mac decision.
Still, the U.S. Department of Veterans Affairs and the U.S. Department of Agriculture both offer no-money-down loans. While you have to be a veteran to qualify for a VA loan, the $20 billion plus USDA program focuses on loans in rural areas, which can be found in every state and even on the fringes of major cities, Banfield said.
The Federal Housing Authority also offers a popular mortgage program that requires just a 3.5% down payment, he notes.
Low- or no-money-down mortgages are growing in popularity as the cost of buying increases. U.S. home prices have jumped 6.3% in December compared to the year before, according to the S&P CoreLogic Case-Shiller national home prices index. Many zip codes, especially in the Northeast and on the West Coast, have long since blown past their 2005/2006 highs.
And these mortgages are not just popular among low- and moderate-income buyers. Many professionals, such as doctors and lawyers, are also dealing with large amounts of debt but, with solid credit scores, make good candidates as well for zero-down loans, mortgage brokers say.
However, buyers need to think carefully before signing on the dotted line. While you may have to pay no money or little money up front, you will likely end up paying more over the long term, experts warn.
Some of the down-payment grants touted by banks aren't free, Jill Chodorov Kaminsky, a Maryland broker, warned in a recent column for The Washington Post, with banks often baking additional fees into the loan.
Buyers who put little or no money down are also likely to pay higher interest rates; even half a percentage point makes a difference over a 30-year mortgage.
With a conventional loan, every 5% more you put down will typically lower both the interest rate and the amount of mortgage insurance, required on all loans in which the down payment is under 20%, according to Quicken's Banfield.
And putting no money down also means you have all debt and no equity. When the next real estate downturn comes, this may increase the chances that you end up with a dreaded upside-down mortgage, owing more on your home than it is worth.
"What if the house goes down in value soon after the purchase?" asks Mark Smith, president of Vision Wealth Planning in Glen Allen, Va., and a certified financial planner. "They will be upside down on the mortgage. The past is not a predictor of the future, but it sure is a good teacher."
That said, if you are faced with not being able to buy now or buying now and being able to build up equity over the long term, a no or low down payment mortgage may still be worth it in the end, MHA's Schmiedl says.
"If you are not able to get into the market you won't be able to reap the rewards of homeownership in the long haul," he says. "I think they (zero down loans) are good in that regard."