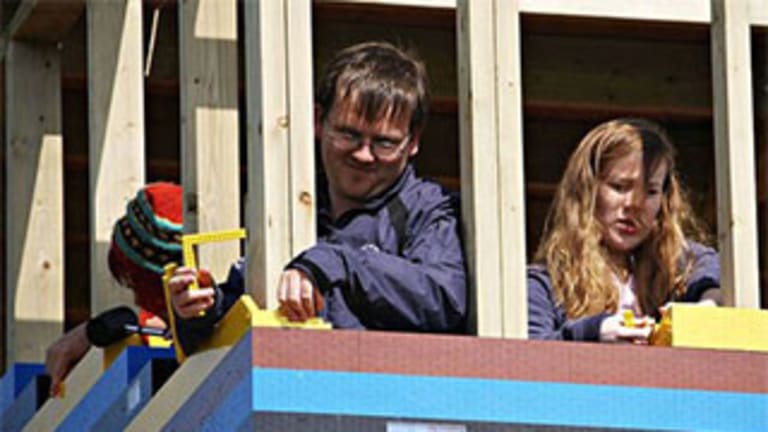 Is Lego-Inspired Housing the Future of Affordable Housing?
From 3D printed properities to Lego houses, when it comes to real estate, we're really getting desperate.
NEW YORK (MainStreet) — We've all played with Legos. Whether it was when we were children ourselves or helping our youngsters construct their own structural marvel, Lego has been inspiring imagination since the company was founded in Denmark in 1932.
If our Lego-constructed houses are good enough to be the home of tiny Lego figures, then why shouldn't they be good enough on a much bigger scale, to house real people?
Also See: Should You Buy a Single-Family Home to Rent Out?
Also See: Two-Thirds of Consumers Are Planning Home Renovations
Also See: Peak Home Prices Are Still Three Years Away, But Should You Sell?
With such thoughts in mind, Amsterdam has unveiled a prototype 3D printed home made from giant plastic bricks.
As we asked in our recent article about the 3D mini home being developed at British and American universities, could the "Lego House" be the answer to the housing crisis and getting youngsters on the property ladder?
The Lego House
The "Lego House" is made from 3D printed bricks, which can be slotted together on-site to form huge plastic bricks. The Dutch architects responsible for the project made parts of a canal house by slotting together what looks like over-sized, plastic Lego bricks.
The project required the use of a six meter-tall printer, known as the Kamermaker or "Room Builder."
Also See: Millennials Continue to Retreat from a Now-Recovering Housing Market
But you can wipe out any thoughts of 3D printed houses from being produced quickly and effortlessly by 3D printers, as each of the huge, honey-combed bricks produced by the Kamermaker takes a week to print out - layer by layer.
The huge, Lego-esque bricks will be later filled in with a foam material. Though still under development, it is expected the foam will harden like concrete to bind the blocks together and bring additional weight to the construction.
According to Hedwig Heinsman of the Dutch architect bureau Dus, the goal of the 3D project is to explore the potential of building houses with 3D printed materials.
It's not just the Dutch who are wrestling with Lego-inspired construction ideas to help assuage the pressure of affordable housing shortage.
A "Smart Brick" solution?
A property developer in Israel has designed Smart Bricks. Much like loveable Lego and the Dutch giant honeycombed 3D printed blocks, Smart Bricks simply slot together, as easy as child's play.
Also See: Does Living in Affordable Housing Lower Your IQ?
By cutting construction costs and resulting in cheaper housing, could Smart Bricks be another Lego-motivated solution to the housing crisis?
The Smart Bricks prototype was designed by Ronnie Zohar and his company Kite Bricks. Based on the plans of an architect, the bricks would come as a construction kit, with all the necessary components being sent in one package - similar to a box of Legos.
The bricks would then be slotted together and used to make all types of buildings, including houses, factories, offices and even bridges. What's more, the Smart Bricks' prototype includes insulation that can be installed and replaced easily through patented removable faces on the blocks.
"Bricks are designed to be easily joined together, with open internal spaces for insulation and infrastructure elements to be run through the bricks and allow for easy access to these elements," Kite Bricks told the Daily Mail.
Unlike 'conventional' bricks, Smart Bricks come finished and 'ready to go,' requiring no additional waterproofing or finishing work.
The firm also claims that as they come tailor-made to a specific size and with built-in insulation, the blocks will help save money on energy bills.
Cutting the costs of energy bills
We have to admit, with the cost of energy bills soaring and governments and citizens around the world are grappling with ideas to overcome rising energy costs, a building 'package' that helps lower such costs should not be sniffed at.
In the U.K., for example, energy prices are rising up to eight times the rate of earnings, according to research. These soaring costs have ignited fears that lower-paid families will rack up debt in order to pay for energy bills.
And it's not just in the U.K. where concerns are rife about rising energy bills. In the U.S., the Obama administration has adopted a number of policies to reduce energy costs for lower and middle-income families.
For example, the U.S. Department of Energy's (DOE) Weatherized Assistance Program is designed to improve home energy performance by "developing and demonstrating advanced energy efficiency technologies and practices that make homes in the United States more efficient, affordable and comfortable."
Perhaps constructing homes made from already weatherproof bricks would be a simpler and more cost-effective solution to what the New York Times refers to as a "besieged weatherization program" which "faces Republican attacks."
So what about the aspiring homeowners? How would they feel about living in a house that has been inspired from one of the world's leading toy manufacturers?
"Who cares if it's 3D printed and who cares if it's put together like a Lego house," said Graham Wood, a 28-year-old from London who still lives with his parents and sees no way of getting a place of his own. "As long as it provides a roof over your head, looks pretty cool and doesn't require you to have a six-figure salary to buy it like in London, I'm all ears."
--Written by Gabrielle Pickard Whitehead