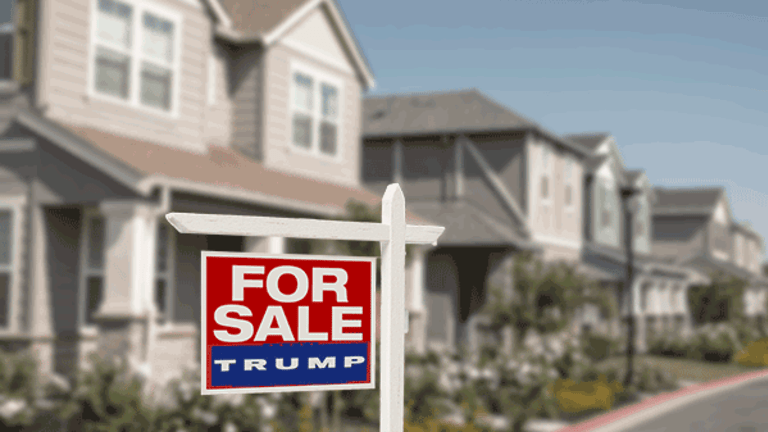 Is Trump a Negative for the Housing Market?
You'd think a guy who made his billions in real estate would be a big booster of the U.S. real estate market. But that's not so, industry insiders insist.
Editors' pick: Originally published Feb. 27.
At first blush, real estate industry professionals saw a lot to like with the election of Donald Trump to the presidency. Trump was and is pro-business, and he made his billions in the commercial real estate sector. This, real estate pro's thought, is a guy who has the industry's back.
But not every real estate specialist views the Trump presidency as a net positive.
Take Tommy Sowers, from GoldenKey, a real estate technology platform with locations in San Francisco and Durham, N.C.
Sowers holds a "strong belief" that President Donald Trump will actually be detrimental for the real estate industry, making it less affordable for Americans to buy homes.
"During the campaign, Donald Trump spoke about home ownership numbers being the lowest they have ever been since 1965 at 62.9%," says Sowers. In a nation where homeownership is seen as synonymous with the American dream, it's no surprise that he wanted to highlight this low rate and suggest ways to increase it, he says. "The reality is that his policies and actions indicate the opposite," he says.
Sowers lists several reasons why Trump may not be the industry savior some real estate professionals might have counted on:
Rising interest rates - "While this responsibility sits with the Federal Reserve, which has kept interest rates low in recent years, Trump has blasted them for doing this stating that they are 'creating a false economy,'" Sowers explains. "Most economists predict that interest rates will now rise in 2017."
Dismantling Government Sponsored Enterprises (GSEs) - "During the 2008 financial crisis, the taxpayer bought out Fannie Mae and Freddie Mac and now under government control they play a greater role than before the crisis in sustaining real estate sales and providing liquidity to the housing market," Sowers says. "Trump wants to privatize them - a shake up to this arrangement could mean that banks stop offering the lower cost 30-year fixed rate mortgages."
Cutting FHA home insurance - This was one of Trump's first acts in office, making it more expensive for borrowers to insure their homes, Sowers notes. "His pick for Treasury Secretary, Steve Mnuchin, wants to limit the mortgage interest deduction," he adds. "This may not impact the average US homebuyer but in many areas across the country the average home is above the threshold of $500,000."
Immigrant confidence - "We are a nation of immigrants and many are here legally with green cards," Sowers states. "His latest immigration policy has sent shock waves to foreign investors and will likely stunt confidence in immigrants that are here legally from buying a home." President Trump has said he hopes to encourage further building with the National Association of Home Builders, he adds. "However, with so many immigrants working in the construction industry, his policies are likely decrease the speed of development," Sowers says. "With less new homes being built, people are likely to wait and not move or buy a new house."
There are other areas of concern, experts say. For example, reducing government regulations may thrill real estate professionals, along with buyers and sellers, but industry experts say that will actually hurt the U.S. housing market.
"Trump's commitment to weakening the Consumer Financial Protection Bureau and the consumer protection provisions of the Dodd-Frank Act will have a harmful impact on the housing market in the long run," predicts David Reiss, a law professor at the Brooklyn Law School, in Brooklyn, N.Y.
Reiss says Trump and his allies argue that Dodd-Frank has cut off credit, but the numbers don't bear that out. "Mortgage rates are near their all-time lows," he says. "Dodd-Frank, which created the CFPB and mandated the Qualified Mortgage and Ability-to-Repay rules, put a brake on most of the predatory behavior that characterized the mortgage market before the financial crisis. Getting rid of Dodd-Frank and the CFPB may loosen mortgage lending a bit in the short term, but in the long term it will allow predatory lenders to return to the mortgage market, big-time."
"We will the see bigger booms followed by bigger busts," he adds. "That kind of volatility is not good for the housing market in the long term."
But most real estate professionals contacted by TheStreet over the past are of a different mind. They believe President Trump, given his decades in the real estate sector, is in their corner.
"Never before have we had a President that is not only a business person but one who made his mark in real estate," says Peter Vekselman, an Atlanta-based investor who owns three real estate companies and who conducts over 200 real estate transactions annually.
"This still leaves me extremely optimistic," Vekselman says. "We do expect rising interest rates to continue and that could impact those who would be first home buyers."
"But overall, we are also seeing a natural slowdown in home values as more product is becoming available," he adds. "Construction companies are building new homes and subdivisions to keep up with the growing demand. This was going to happen no matter who was elected."
Other Trump-related factors also work in the industry's favor, Vekselman says. "The stock market has reacted favorably to the Trump presidency," he says. "The expected repeal of Dodd Frank could open the doors for banks to loan more and keep the momentum going. Also if the President is able to reduce taxes it would instill even more confidence in the economy, as confident consumers could be more willing to upgrade to larger homes. Though some chatter has been negative, we remain confident that the real estate market will remain in positive territory for both the near and long term."