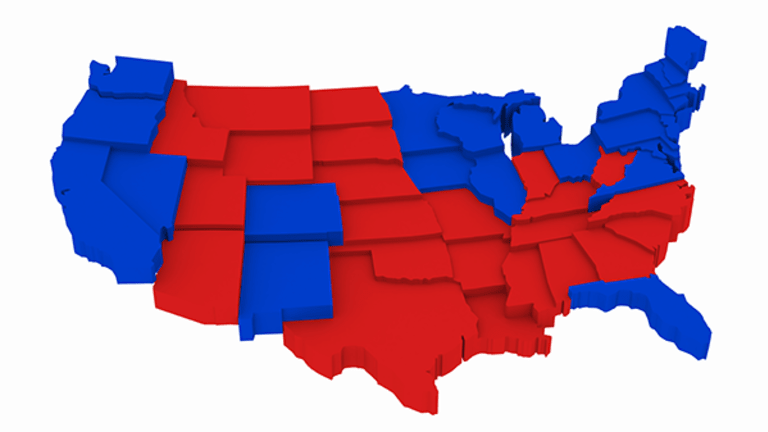 Editors' pick: Originally published Nov. 7.
Housing preferences and prices vary widely across the U.S. -- a disparity even more prominent during this presidential election season.
As many states have shifted their political preferences since the last election and some former red states are shifting from their Republican preference to a blue and Democratic stance, other states remain purple swing states.
Data from Realtor.com, a Santa Clara, Calif.-based real estate company, along with Nielsen Demographics, Nielsen Scarborough and Nielsen Financial demonstrated the geographic and political differences. The 11 swing states are Colorado, Florida, Iowa, Michigan, Nevada, New Hampshire, North Carolina, Ohio, Pennsylvania, Virginia and Wisconsin.
The states which have the most expensive homes tend to be Democratic strongholds and are located in California and the Northeast with a median household income of $62,564 -- 23% higher than Republican states, which have a median income of $50,820. Swing states have an income of $55,524, 13% higher than that of Red states.
The higher incomes mean homeowners can also afford more expensive homes, and the median home value is $301,000 in Democratic states, which is 91% more than Conservative areas and 59% higher than those middle-of-the-road regions of America. The most expensive homes are in Hawaii, followed by Washington, D.C. and California.
Ohio, an important swing state, has the least expensive homes, followed by the red states of Indiana and Kansas.
"It's amazing to see how the red/blue designation actually reveals fundamental differences in how people live," said Jonathan Smoke, chief economist for Realtor.com, a Santa Clara, Calif.-based real estate company. "Where we live and how we live shapes our views and maybe our views influence where we choose to live. It's a bit of a riddle, but it clearly illustrates how difficult it is to have platforms and policies that reflect the interests and values of everyone."
The states that have the most number of homeowners are in the Republican states, where housing is more less expensive although the difference is not large - 67.9% of households in Republican states are homeowners compared to 63.5% in Democratic ones and 67.8% in swing states. The state with the largest percentage of homeowners is Vermont, home of former Democratic presidential candidate Bernie Sanders. San Jose, Calif. is the city with the largest homeownership rate, even though liberal Silicon Valley city remains one of the most expensive real estate markets. The median list price of homes is $767,000, according to Realtor.com.
The lowest homeownership rate is in Washington, D.C., followed by New York. Florida, a prominent swing state counts its Miami, as the city with the lowest rate of homeownership in the country.
"There's often a tradeoff between home affordability and economic opportunity for those choosing to live in sparsely populated interior states," said Bruce McClary, spokesperson for the National Foundation for Credit Counseling, a Washington, D.C.-based non-profit organization, who just completed a personal road trip through rural Minnesota, South Dakota, Nebraska, Iowa, Wisconsin, Michigan and Illinois and in urban areas like Minneapolis, Omaha, Des Moines and Chicago and saw the differences firsthand.
"The variety of employment opportunities tend to be more limited than those in densely populated areas. Those fortunate enough to find employment will often earn less than their counterparts in urban areas, but they have more real estate buying power and more land to enjoy."
The difference on how much of your median household income goes toward a mortgage is higher in Democratic states which needs 32% while Republicans are paying 26%. The purple or swing states are cheaper and only 25% of your income goes toward buying a house.
"Our different ways of life have been true from our founding," Smoke said. "Georgia is still very different from Massachusetts. Purple states tend to be more like the national averages in the characteristics we studied."
Renting variations across the U.S. remain significant and averages to be $1,381 a month in liberal states, which is 52.1% more than those in red states who only spend $904 a month. Residents of purple states pay $1,204 a month. The cost of housing has a direct correlation with the amount of land available and the parts of the U.S. which have a large amount always have the cheapest costs, he said.